Felix 'xQc' Lengyel is no stranger to controversy yet he might've overdone himself with the whole Gamba fiasco.
Being bombarded with criticism across the interwebs for taking a "sketchy" sponsorship, the Canadian streamer is now fighting back with facts, not fiction.
Whilst an official report is yet to come out, xQc took to his Twitch chat and revealed the official number of users his Gamba ads have brought to the online gambling platform.
"People wanted to catch me in a lie, surprise surprise, I didn't lie", the content creator taunted. "Gamba stats: FTD's 593… means TOTAL people that actually used the thing, from WEEKs of Gamba combined", referring to First Time Depositors.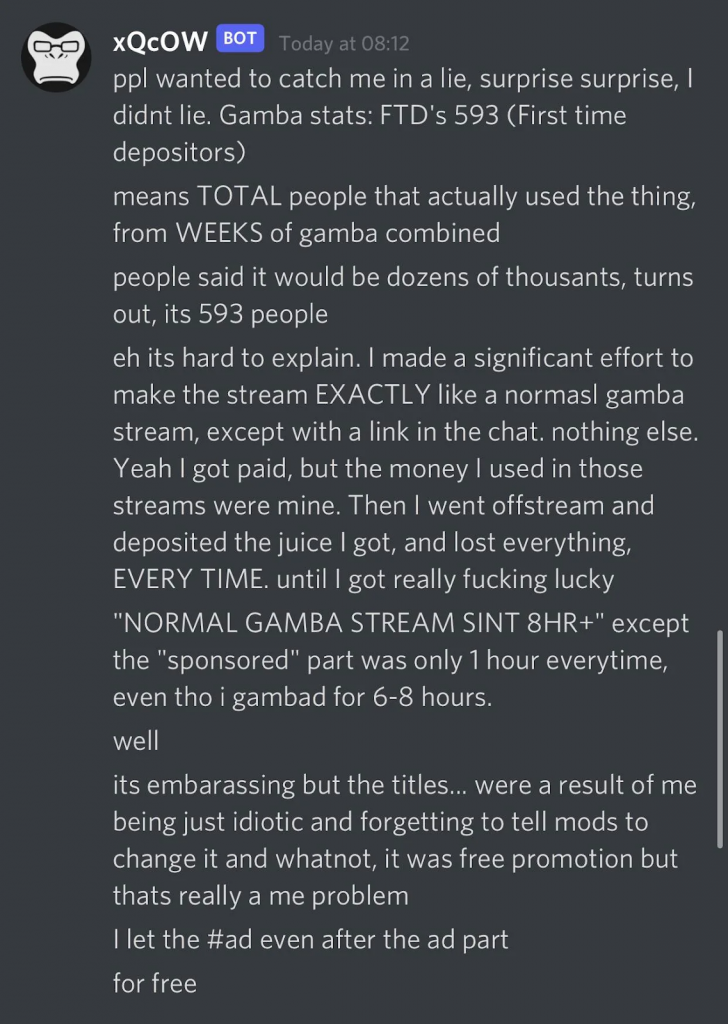 The log records and storages all of xQc's messages to his Twitch chat. (Picture: Discord)
He went on trying to explain how miscommunication with his team of mods led to the stream title not being changed and leaving the "#ad part for free." 
"It's embarrassing but the titles were a result of me being just idiotic and forgetting to tell mods to change it and whatnot", he continued. "It was free promotion but that's really a 'me problem.'"
xQc's efforts to clear his name are a response to the constant backfire for promoting a heavily regulated activity such as gambling to such a big and young demographic without investigating its veracity.
Whilst closely resembling the Hot Tub meta fiasco as Twitch purists try to push away any and all non-gaming content, the Gamba controversy goes beyond taste or preference.
With the Slots and Poker category deemed insufficient and Twitch yet to let out a single word on the matter, we'll keep you updated as the situation develops.