Rachell "Valkyrae" Hofstetter is supporting fellow YouTube streamer, Sean "Jacksepticeye" McLoughlin's Thankmas charity drive by starting a fundraiser for the charity drive. All contributions made towards the Thankmas event will support families globally who are unable to secure decent housing.
The 100 Thieves co-owner and YouTube streamer were shocked when an anonymous benefactor surprised her by donating a whopping $200,000 towards the fundraiser. The donation left the streamer to tears as she tried to hold back her emotions.
Valkyrae surprised by $200K charity donation
Valkyrae hosted a charity livestream on 11th December 2021 in support of Jacksepticeye's Thankmas charity drive. Adding her contribution to the cause, the streamer was left in disbelief when a $200,000 donation appeared on-screen.
The segment of her livestream begins at the 27:00 timestamp.
The large donation caught her off-guard as she couldn't believe what she saw as she shouted "What!?" before having to double-check the donation. She continued to shout, "What!? No! Where?"
"I'm going to throw up. There is no way. Is that real," the streamer exclaimed. "It's anonymous. Anonymous donated $200,000."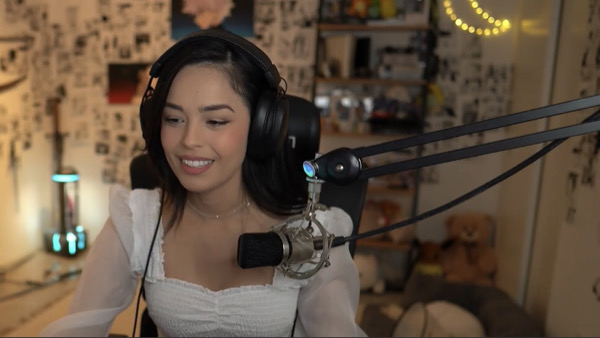 Furthermore, the anonymous donor left a kind-hearted message with the donation, thanking Valkyrae for her efforts. "Thanks for building homes, which means a lot to me. Also, you need to raise your goal!"
Valkyrae, still shocked at that point, was in disbelief over the large donation as she commented on how "nice" the donation was. "How do you have $200,000 to donate? That's crazy! What the heck! That's actually crazy. That's so nice."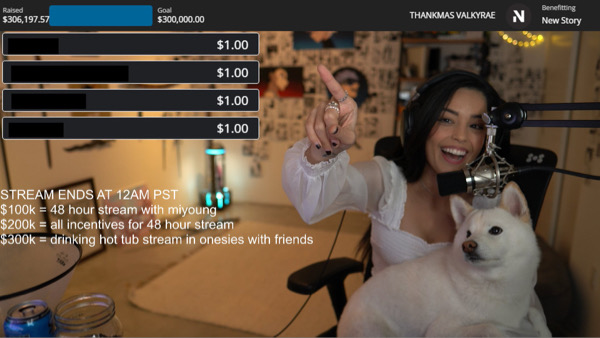 As the streamer tried to compose herself, she couldn't hold back the tears as she thanked the anonymous donor for the support. "Thank you. Every $10,000 is one home, so that's literally 20 homes. Did I math that right? That's so nice and so generous."
The generous donation knocked her original donation cap that her viewers urged the streamer to set a new donation cap, for which she did. By the end of the livestream, Valkyrae had raised over $300,000 towards the Thankmas charity drive.
FOUR MILLION RAISED (and another $1 million match) on @Jacksepticeye' s #thankmas stream today (over $7 million globally!!!). Such a phenomenal impact for @NewStoryCharity. There is plenty of time to support this amazing cause at https://t.co/oAuyU49FiXhttps://t.co/cSWEl3Krlr

— Tiltify (@tiltify) December 12, 2021
According to the crowdfunding platform, Tiltify, that's currently hosting the charity drive, $4,000,000 were raised during Jacksepticeye's Thankmas livestream, with another $1,000,000 matched. They also stated that in total, over $7,000,000 were raised globally since the start of the Thankmas charity drive.
Don't forget to check out our dedicated YouTube section for the latest news, updates, streamer antics, drama and more
Featured image courtesy of YouTube / Valkyrae.