Joe Rogan had recently issued a lengthy statement to his Instagram account regarding racism claims against him amid his ongoing Spotify controversy. This stems from a compilation video posted to musician India Arie's Instagram Stories that highlighted instances of Rogan making racist comments in past episodes of The Joe Rogan Experience.
According to the podcast host and UFC commentator, this latest incident is something that he deeply regrets having to talk about it in a public capacity. Rogan provided that the context of the compilation involves him using the N-word and making racist comments.
Joe Rogan responds to racism allegations
Rogan stated that the compilation video was taken completely "out of context" over the 12 years of debate and discussions on the podcast. Rogan noted that while he hadn't used the derogatory word in years, he had always phrased its usage "in context" so that his listeners could better understand what he was doing.
 

 

View this post on Instagram

 
"It's a very unusual word, but it's not my word to use. I'm well aware of that now, but for years I used it in that manner. I never used it to be racist because I'm not racist," Rogan explained on why the word is so widely disputed.
While Rogan stated that those who found themselves in a predicament, having to declare that they're not racist, in truth, they certainly have screwed up. The podcast host acknowledged that he has indeed screwed up; he revealed that"  there's nothing" he can do "to take" it back."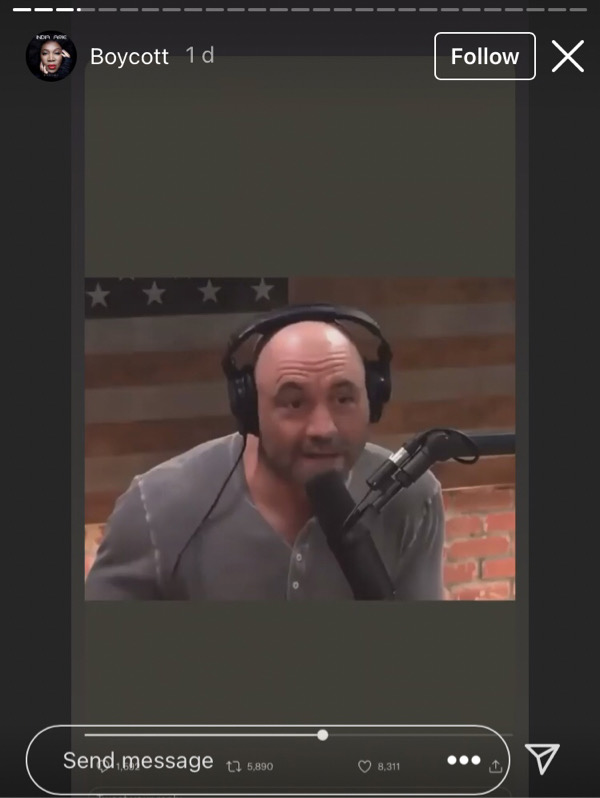 Nevertheless, Rogan realises that it's impossible to wish them away; he hopes his past mistakes can serve as a "teachable moment". "I never thought it would ever be taken out of context and put in a video like that. Now that it is, it looks bad," Rogan commented.
He wrapped up the video by apologising to those offended by his words and actions, saying, "My sincere and humble apologies. I wish there was more that I could say, but all of this is me just talking from the bottom of my heart."
Since issuing the statement, Rogan has received plenty of support from his fan base, with many stating that he hadn't needed to apologise at all.
One user on Instagram commented in response to the video, writing, "Keep pushing Joe; everyone needs you. You are the most influential voice of today's times. The truth always wins."
As Rogan continue to face amounting controversy stemming from his podcast spreading COVID-19 misinformation, he has stated that his podcast has spun "out of control".
Spotify will be implementing content advisory warnings on episodes discussing COVID-19, a move that Rogan has welcomed.
Featured image courtesy of YouTube / Powerful JRE.