When it comes to winning at YouTube few can come close to MrBeast his years of generous giveaways, often tied to crazy challenges, have built his combined subscriber account to well over 69 million.
It's the sort of following that has meant that those giveaways and challenges have just got bigger and bigger with seemingly no limit to content creator's ambitions. The YouTuber, real name Jimmy Donaldson, recently opened up over 300 virtual restaurants in the US and he has begun teasing his desire to own and operate a League of Legends team.
Whatever MrBeast has done and will do may not quite stand the test of time quite like his latest stunt -- at least in the strictly physical sense -- as he is offering his fans the opportunity to send a picture to the moon for just US$10 (£8).
MrBeast moon mission
Yes, really. In what can only be described as the MrBeast x NASA collab, the creator has managed to convince the US space agency to let him purchase a container worth of space in an uncrewed rover that is expected to be launched later this year. 
For $10 I'll put whatever picture you want, on the moon!https://t.co/zQyD5EGEkS

— MrBeast (@MrBeastYT) January 24, 2021
In a video that was released alongside the announcement, MrBeast also revealed that rather than do something dumb like put a "jar of farts" in the container, he would instead create the first digital time capsule, giving his followers the opportunity to send a picture that will be stored on a "Moon-ready hard drive".
Those that do so will also receive a certificate of authenticity which keep to as proof that your picture now lives on the moon.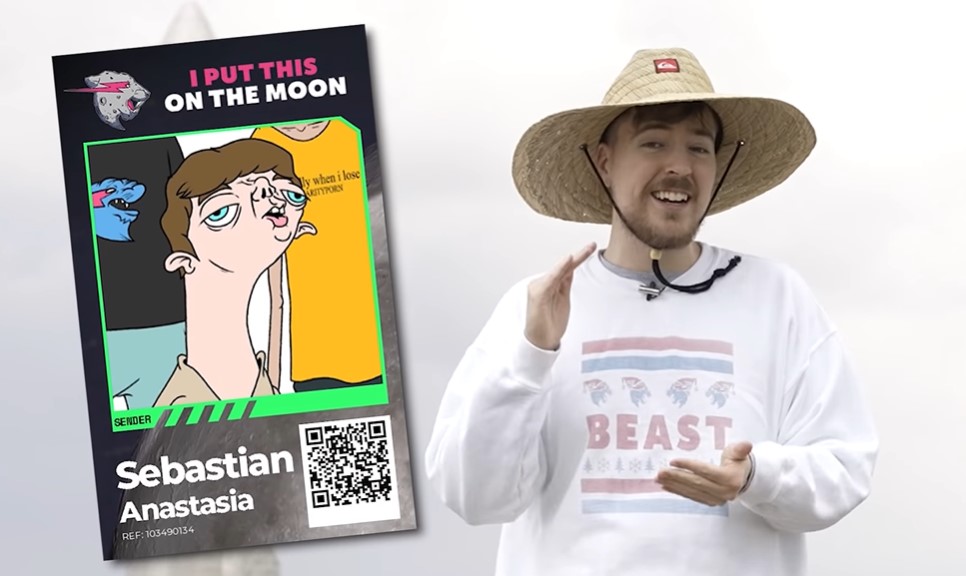 Those tempted have just over 35 days to make their purchase, and MrBeast has promised that if he sells enough he will also need a $1m worth of bitcoin up there too - I guess because he can?
NASA has ambitions plans in the next several years and is working closely with private companies such as Elon Musk's backed SpaceX to reduce the cost of space travel and thus be able to conduct more missions than is currently feasible.
In November of last year, NASA's SpaceX Crew-1 launched with a four-person crew, destination the International Space Station. A separate uncrewed rover, called Perseverance, is expected to land on Mars on 18th February of this year. A vital step towards the eventual human exploration of the Red Planet.
There is no fixed date for the NASA mission carrying the MrBeast cargo, though it is likely part of the first Commercial Lunar Payload Services (CLPS) flight which has a tentative date of "fall" 2021. This will be the first American robotic missions to land on the Moon in 50 years and is part of large program of private enterprise missions which will lay the groundwork for future human landings.