YouTube has announced the arrival of one of the most request features: Clips.
Clips are already implemented, but the feature is currently in limited alpha and available for testing on a small group of selected channels.
YouTube clips are functioning quite similar to Twitch Clips. Users will be able to select 5 to 60 seconds from either live streams or VODs and create a small video that can further share on the platform or send it anywhere as a link.
"It's in an experiment on a limited number of channels, but we recognize how important this feature is to Viewers, Creators, and Publishers for both Live and VOD," said Ryan Wyatt, YouTube's head of gaming and commerce.
The feature is still in early stages of development, and YouTube will implement changes and improvements based on users feedback during the testing period.
How to create a YouTube clip?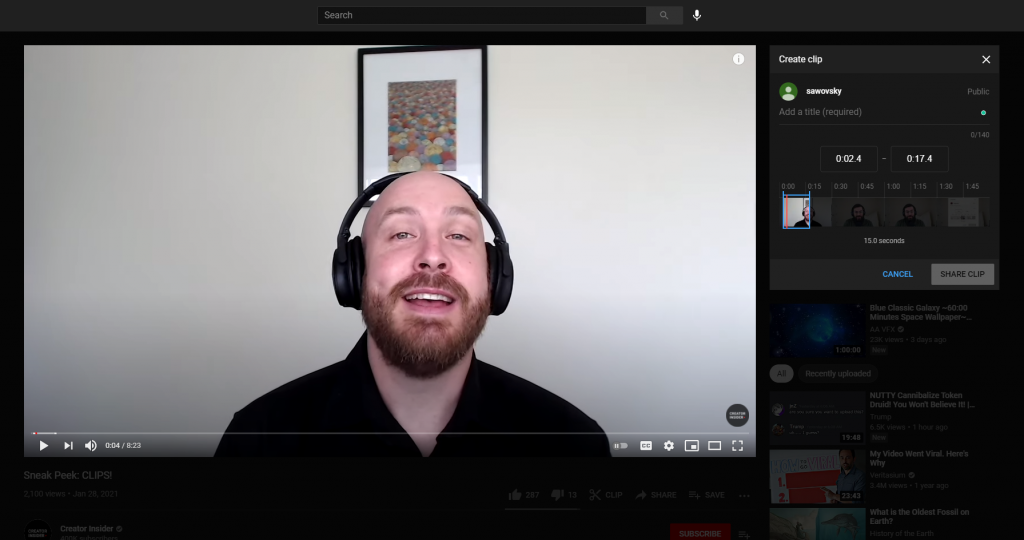 The screen which appears once you click on the Clip button (Picture: YouTube)
The selected channels which are participating in the testing phase will have a scissors icon below the video, right next to the "Dislike" button. Clicking on that icon will open a small menu where you can select which part of the video would you like to clip, name the clip, and share it.
Once created, clips will play on a loop directly on the original video's watch page. Both creators and viewers will be able to create clips, the only requirement is to have an account and sign in to YouTube.
Below is a full guide on how to create and share a YouTube clip, courtesy of Google.
Start watching an eligible video on YouTube
Under the video, click the clip icon
A create clip box will appear.
Select the section of the video you'd like to clip. You can increase (maximum of 60 seconds) or decrease (minimum of 5 seconds) the length of your selection by dragging the slider.
Give the clip a title (max 140 characters).
Click the SHARE CLIP button.
A panel will appear, presenting different sharing options for you to use:

Social networks: Click a social network icon (for example, Facebook or Twitter) to share the video there.
Embed: Click the Embed button to generate a code you can use to embed the video in a website.
Email: Choose the email icon to send an email using the default email software on your computer.
Copy the link: Click the COPY button to copy a link to the video that you can paste somewhere else, like in an email message.