Choc et stupeur ! Pour la première fois depuis 2014, SK Telecom T1 ne participera pas aux
championnats du monde de League of Legends
. Champions en 2015 et 2016 et médaillés d'argent en 2017, SKT est la meilleure équipe de League of Legends de tous les temps. SKT a vécu une année 2018 décevante et après une performance morose dans le Summer Split, Faker et ses coéquipiers devaient affronter le gauntlet des finales régionales de la LCK. Avec une série d'ouverture contre Gen.G, remake de la finale 2017, le chemin semblait compliqué pour SKT malgré des signes de vie et d'espoir pendant la série de cinq matchs. La première carte a vu SKT prendre une approche safe et battre Gen.G, mais le momentum s'est immédiatement retourné en faveur de leurs adversaires dans la game 2.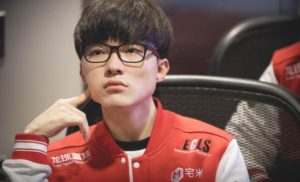 SKT a repris la tête après la game 3 et tout semblait possible. Une performance solide de Faker sur Irelia amène son équipe à la victoire avec 11 kills à 0. Avec un avantage de 2-1, SKT semblait parti pour éliminer une des équipes les plus fortes de
League of Legends
, champions en titre des Worlds 2017 sous le nom Samsung Galaxy. Cette vision d'un run de rêve de SKT pris forme et semblait réellement possible dans les premières minutes de la game 4, les icônes coréennes prenant une avance dominante contre leur rivaux. Toutefois, pendant le mid-game, Gen.G parvient à arracher quelques kills et laisser parler leur skill, égalisant finalement le score à 2 partout et menant les deux équipes vers une game 5 couperet. Une game 5 dans laquelle Gen.G est apparu comme totalement confortable et il était apparent dès le début que sans un miracle, ils élimineraient SKT T1 des Worlds avant même qu'ils ne commencent et continueraient dans le gauntlet. Miracle il n'y eut point et Faker n'ira pas aux Worlds.