With their recent win at CS:GO's StarSeries Season 2, Ninja In Pyjamas continues what is a pretty impressive strong streak. The team might not challenge the top spots in every tournament it plays in, but its name is practically synonymous with Counter-Strike these days. That's mostly because of its long and storied history. So to celebrate NiP's recent victory and to give a little background to one of CS:GO's most prominent teams, we're giving you a brief history on the Swedish team's history...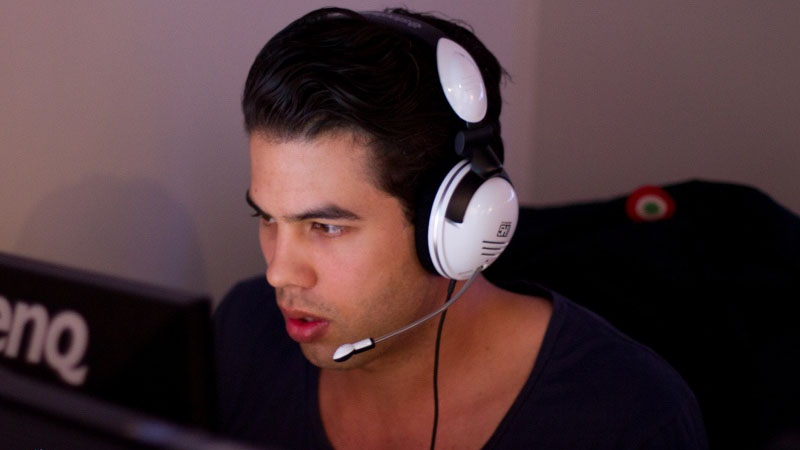 Tommy "Potti" Ingemarsson, one of the two founders of NiP
The Beginnings of Ninjas In Pyjamas
The earliest history of NiP began in June 2000, though the team's name wasn't always Ninjas In Pyjamas as it shifted throughout the early years. Initially formed by Tommy "Potti" Ingemarsson and his friend Tootzi, the pair began taking on competitors in online and minor offline events in the Swedish Counter-Strike circuit. The duo were particularly devoted to Counter-Strike and, having won a number of low-key events, began to build up a reputation. They sought additional players to solidify their place in the very young eSports scene. The earliest days were tumultuous, to say the least. Regular squad changes meant the team was always in flux, and often not the same team from one match to the next. Prior departures from the team had left the team unstable, and they continued to compete - even against a rival team formed from ex-Ninjas In Pyjamas players. Big names like Heaton, XeqtR and Hyb were often involved with the shifting team, in particular XeqtR who would be kicked from NiP before once again rejoining after the 2001 Cyberathlete Professional League - a tournament that NiP had just won. It was this win that put Ninjas In Pyjamas in the spotlight and, having been unable to find their own sponsors, the squad decided to join SK Gaming in 2002, thus ending the name they had just started to build up. Over the following three years, SK Gaming's CS:GO new Swedish squad would go on to perform well at a number of tournaments, claiming around $170,000 in winnings - an incredible feat considering the limited prize pools at the time.
Ninjas In Pyjamas has been a competitor in Counter-Strike from the very beginning
NiP's Rebirth
The name Ninjas In Pyjamas wasn't quite dead, however. In early 2005 disputes between SK Gaming and the CS:GO squad caused a separation between the two, with Potti reforming NiP with his hardened team-mates Xeaton, ahl, Hyper, fisker and SpawN. Despite the reborn NiP name the team failed to achieve quite the same results, though it would still achieve many high placing results. But the renewed name saw fans flock to support the long-running Counter-Strike team. Before long NiP had tens of thousands of fans across the world registered on their website, more still that followed the team's progress. This vigour led to a couple of years of great results for the squad, and was one of the driving reasons behind the progression from Counter-Strike 1.6 to the then-newly released Counter-Strike: Source. NiP vehemently defended the decision to move from CS1.6 to Valve's newest release, which - at the time - saw a lot of hesitant players refusing to adopt the newer rerelease. The team's popularity and success rolled on until a string of poor results led to the team disbanding once again. Having failed to achieve much at competitions meant that NiP could not survive, the eSports industry at the time begin only viable for the very best and most successful.
NiP even released a song for its devoted fanbase
The Unstoppable CS:GO Period
Though Potti retired from eSports in 2006, Ninjas In Pyjamas wouldn't stay gone for long. With a five year hiatus, Heaton reformed NiP bringing in renowned CS players f0rest, Get_right, friberg, Xizt and Fifflaren. This squad has remained mostly unchanged since its formation in 2012, but what was impressive was how quickly Ninjas In Pyjamas would go on to dominate the entire CS:GO scene. From its very match after reforming - a weekly match at ESL's Go4CSGO - the team would go on to win first place in practically every game it played. It began by winning 9 straight competitions in a row, with the team placing first in 30 of its 44 matches between its second rebirth until the end of 2013, with many more 2nd and 3rd place wins filling those gaps. Ninjas In Pyjamas was a considerable threat to any team looking to take on CS:GO, and became the biggest target for any rivals. It brought a consistency to eSports that had rarely been seen, and made for exciting matchups as teams sought to bring down the reigning champs. In the first half of 2014 NiP would mostly retain that winning streak, placing first in a large portion of its matches, earning top three in most that it didn't and failing to achieve high results in a handful of competitions. It began to struggle after June, and from September until the end of 2014 it failed to place first even once. It was during this point that Fifflaren dropped out of the team, the first change in the squad since its second rejuvenation and ultimately affected the squad's performance.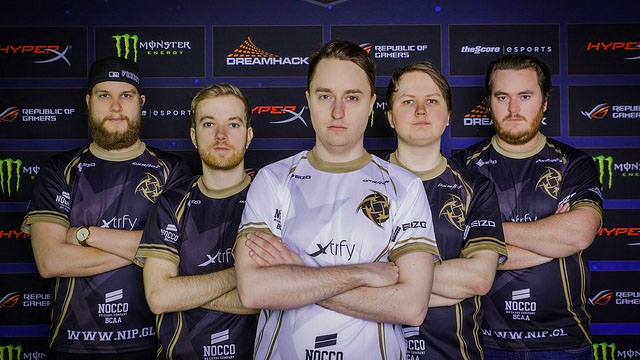 The current NiP lineup, with four of five 2012 roster still active
Modern Day Ninjas In Pyjamas
NiP never quite recovered from its glorious winning streak, initially replacing Fifflaren with Maikelele for a few months before he was then replaced by allu in February 2015. This new squad managed once more to claim a handful of first place wins, with many of its fans believing this was the start of yet another golden age for Ninjas In Pyjamas. However it was not to be. The rest of 2015 saw the team often struggling to even place in the top four, with the sporadic first place and second place victory dotted throughout. The CS:GO scene had begun to really heat up, and the competition was proving too much for the veteran team. Nonetheless, the heritage of NiP remained and many of its devoted fanbase continued to support the team. It had become such a staple in the Counter-Strike world that the name was synonymous with the game - and many knew the name and their threat even if that wasn't clear in the team's results. This would lead to allu's departure at the end of 2015, with his replacement coming only days later. Pyth would come into the team, effective immediately with the new roster's first event at the beginning on January 2016. It would go on to lose those initial matches of 2016, but after settling in with the squad it was clear that Ninjas In Pyjamas was becoming a significant threat once more. NiP would win two Premiers in April - DreamHack Malmo and ESL's Pro League Season 3 - followed by a trio of high placements in its following tournaments. Even though it would once again falter, there was a renewed pressure from NiP in many of its matches, and while it would often get knocked out by unfortunate circumstances, few could point to the team's lack of skill or determination as its reasons. After a confident victory in the recent StarSeries Season 2, many are claiming Ninjas In Pyjamas are back once again. It'll need to regain that consistency if that's to be the case, but its renewed vitality should certainly give fans the hopes of a comeback.