As we await 2017 to kick off properly, there's time to stop and think about the state of esports and the games that we all enjoy watching. It's clear that League Of Legends, CS:GO and Dota 2 all top the charts in terms of viewership and popularity, but what of those other upcoming titles that could become big esports in their own right in 2017? Or what about those titles that no longer maintain the popularity they once did? Will we see their ultimate decline this year? We look into our crystal ball to predict which games you might not be considering as your next favourite esport, and how the movers and shakers of 2017 will be affected.
Diabotical
Kickstarters are seemingly built around utilising our nostalgia for money, but for esports fans Diabotical is more than just that. As a genre the arena shooter has kind of fallen by the wayside, which is a shame because the earliest competitive gaming scene had a core community around the likes of Quake and Unreal Tournament. Diabotical looks to recapture that old school, fast-paced shooter combat and the developers have already insisted that core mechanics - movement, twitch-shooting and gun control - will be important if it's to target an esports crowd. Which it is. We're excited, you should be too.
Heroes Of The Storm
While as many claim HOTS is dying alongside SC2, Blizzard has at least been active in boosting the competitive scene surrounding it. StarCraft II is getting some reworkings to help it work, but arguably it is Heroes Of The Storm that is getting the brunt of the improvements. Before the new year the developer announced it would be tweaking the Championship, altering the format to make it more enjoyable for fans. And let's not forget HOTS is still receiving a number of updates through patches and new heroes all the time, and with the arrival of new game director Alan Dabiri there could be a few changes to keep the game fresh, too.
Super Smash Bros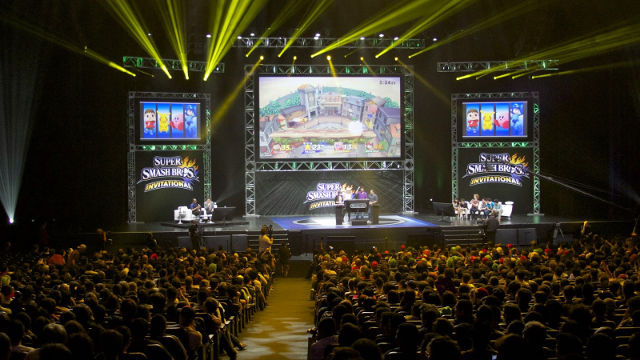 Nintendo has been making a much more concerted effort to appeal to esports towards the latter portion of last year with changes to Pokémon, Pokken Tournament and even Splatoon receiving tidbits of changes and news that obviously show Nintendo is paying attention to competitive gaming more overtly now. But Super Smash Bros manages a decent esport following in spite of the previous lack of interest from Nintendo. Where changes to the format will make it popular, there's also talk of Nintendo's new console - the Switch - set to receive either a port of a previous Smash Bros game or, perhaps, a whole new title. If it comes with a renewed competitive scene and with esports in mind, this could be huge news for the FGC.
Battlerite
Here's a game that is being hyped up quite a lot by esports fans, and for good reason. It takes the skill-based, distinctive heroes of MOBAs and pairs it with fighting game-style reactionary combat. Of all the upcoming games this has perhaps the biggest opportunity to make it as an esport, mostly thanks to the fact that it is at least trying to do something different. It's playable in Early Access right now, but with a focus on competitive gaming mean this will mean the mechanics should - in theory - be quite robust by the time it is ready for official release.
Rocket League
Psyonix's football-cum-racing game has gone from strength to strength since its release, but 2016 was a pretty big year for the game. It saw the first official Rocket League Championship Series and followed up with an even more successful second season in December with an even bigger prize pool. This is a game whose popularity is rising and rising as an esport, and you can be sure the developers will be looking to capitalise on that by enhancing and improving the scene around the game.
Atlas Reactor
The developers of Atlas Reactor were quite keen to push the potential esport angle of its turn-based strategy cross MOBA game, and while that hasn't quite carried over to a large number of viewers or players, that doesn't mean it can't possibly build on that. So we'll give this one a shout out. It's an interesting spin on multiplayer gaming that does combine two tried-and-tested genres but pairs them successfully enough for something genuinely different. Late last year the developer partnered with ESL for an official tournament and there are incentives for players to play competitively, even if that doesn't exactly mean big cash prizes. At least check it out.
Paragon
PC players might not have much love for Paragon, PS4 players are quite keen on the game. Smite has proven that a competitive scene can be built around a third-person MOBA, and the high-end, realistic-style visuals offers enough to distinguish itself from Smite. It's still in development and there's plenty of time left to see if Paragon has what it takes to build a competitive scene around the game, but there is potential here. Definitely one to keep an eye on.
Unreal Tournament
This in-development, free-to-play revival of Unreal Tournament is ticking all the right boxes. It's recreating a lot of what made classic UT such a popular multiplayer and competitive title, and it is continually progressing with new features and modes. It'd be pretty easy for an esport to build up around this game: it's a known title with a huge heritage, it's got the backing of a community already helping to create maps and mods for it and it's playable right now. All we need is to see some tournaments set up - preferably by Epic itself - and we could be good to go.
Lawbreakers
Speaking of Unreal Tournament, here's ex-Epic Games developers attempting to make something sort of a cross between the frantic pace of UT and the unique character-driven gameplay of Overwatch. Distinctive classes and fast-paced combat will certain appeal to an esport audience, and its realistic style is a contrast to Overwatch's already-iconic visuals to help it stand apart from its competition. The question surrounding Lawbreakers, however, is just whether it'll be any good as an alternative to the myriad other shooters out there.
Brawlout
To consider the popularity of the Smash Bros franchise - even as an esport - it's surprising to see how little it has been used as inspiration for other fighting games. While we've seen a couple of such titles recently - particularly Rivals Of Aether and Brawlhalla - these are 2D titles and, for whatever reason, these rarely get much traction as an esport. The hype, therefore, lands on Brawlout, a Smash-style fighting game with slick 3D graphics and animations. It's due for release in 2017 and should be launching in Early Access for players to help hone those gameplay mechanics to perfect.