It has recently been announced that WESG has partnered with South African esports authority Mettlestate to bring high-quality esports content and production to South Africa. We spoke with Barry Louzada, Director of Mettlestate, about the move.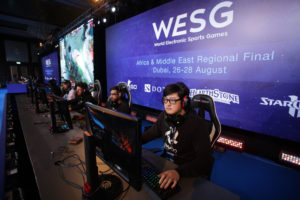 What is Mettlestate and what does the organization stand to achieve in South African esports?
Mettlestate is a premium esports authority in South Africa aiming to be the leader in content creation by combining outstanding production, excellent talent and lively events to cultivate more interest in the competitive gaming industry as well as compliment the casual video gaming scene. Together with our sponsors, we plan to forge the future of professional gaming in South Africa.
What role does Mettlestate play in SA esports?
Mettlestate has set itself up to be the safe way of getting new sponsors and brands involved in the South African gaming space and has done so successfully over the past two years, introducing brands such as Lenovo for ECL Season 1, Vodacom for the RUSH CS:GO Tournament and of course WESG. Providing high-quality content ensures that these sponsors stay in the gaming space, and in turn, help us forge the future of pro gaming in South Africa.
What is WESG's role in SA esports?
WESG is currently one of the few international organisations that are offering spots to developing countries not often considered on the global stage. This provides the smaller regions, such as South Africa, the unique opportunity to go over to China to meet and play against some of the best organisations and teams in the world.
What games will feature for the qualifiers?
There will be four games featured in the South African qualifiers –
Counter-Strike: Global Offensive
, Dota 2,
StarCraft 2
and Hearthstone.
What does the winner of the qualifier go on to do in China?
The winners will receive flights and accommodation to China for the WESG grand finals, where they will fight it out for a piece of the $5.5 million dollar prize pool. They will get the chance to get that much needed international exposure as well as take on some of the best teams in the world in their respective titles.
How has the South African community responded to this?
The community reaction is always massively positive, as opportunities like this in the local scene are rare no matter what title you play. The fact we get to send four different titles over to China to compete just means the competition is not only fierce but also comes with a camaraderie afterwards as the scene bands together to support the boys and girls overseas.
Where can the fans keep up with you?
For all the latest information, news and updates, make sure to follow Mettlestate on Facebook, Twitter at Instagram (all @Mettlestate). We update our social regularly and that is always the first place you can find what we've been up to! https://www.youtube.com/watch?v=jZ00qcnTn8s