Anyone that has tried streaming on Twitch will know that growing a channel on the streaming platform is incredibly tough. Many have tried and many have failed. We can therefore understand the rollercoaster of emotions that empathiise (an up-and-coming Twitch streamer) went through, when the captain of the 100 Thieves pro Valorant team, Spencer "Hiko" Martin, raided his stream with thousands of viewers.
The overwhelming influx of viewers and users in chat had empathiise literally burst into tears and left shaking, in what was obviously a completely unexpected event. Best of all, it would appear that emphathiise is also a massive Hiko fan; and even started off his stream saying, "I'm wearing my hat for Hiko." 
Hiko raids Empathiise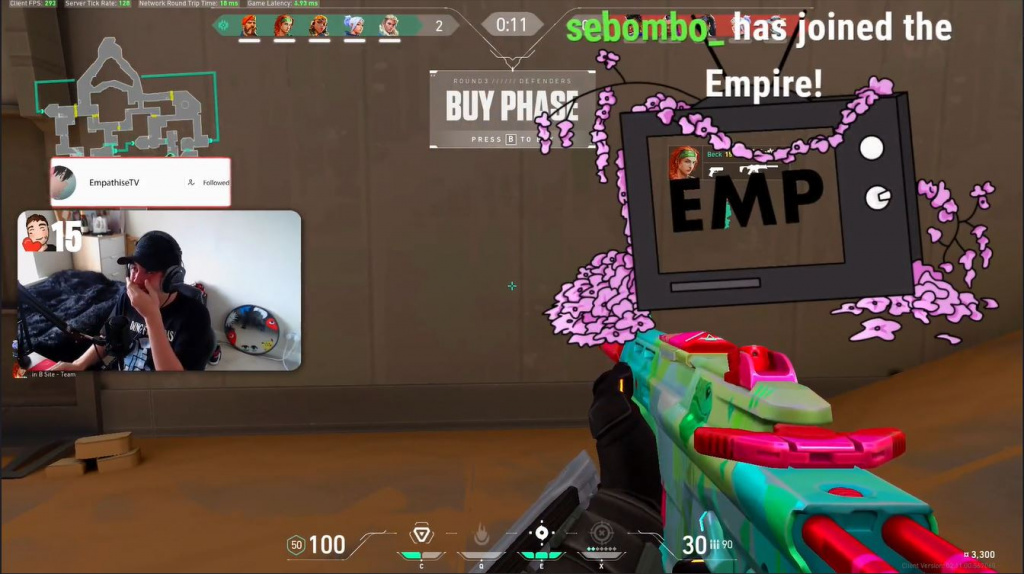 We're not crying, you are (Picture: Twitch / Empathiise)
It's truly a wholesome experience watching the raid of 7532 viewers unfold. Prior to Hiko raiding emphathiise's channel, the chat was slow; but Hiko's followers quickly filled up the stream and made themselves known in the chat.
Hiko is known for raiding smaller streamers, but this raid was truly special. You can watch the entire ordeal play out in the clip below.
After trying to regain his composure, empathiise broke down in tears once again, as Hiko proceeded to gift the streamer 50 subscriptions. What a lad! 
Empathiise lost his previous account
As the raid was unfolding, empathiise explained that he previously had a Twitch account with around 2,000 followers, which he built for about 6 years. He explained that the account was subsequently deleted since he created the account before he was 13 years of age.
Thanks to Hiko, empathiise just about doubled his follower count, gaining around 1,000 new followers from the raid alone! Best of all, the raid surged empathiise passed the 2K follower count of his previous account, garnering a total of 2295 followers.
We'd love to see more stories like this and trust that Hiko will continue to set the stage for other larger Twitch streamers to follow suit. 
What did you think about this wholesome story? Let us know what you think by tweeting us at @ginxtv and @newsginx. Otherwise, you can read another wholesome Twitch story, linked below.
Don't forget to check out our dedicated Twitch section, filled with news, drama and much more.
Header image credits: Twitch / Empathiise / HLTV