100 Thieves has decided to jump into the NFT, or non-fungible token, craze by announcing their very own collection, alongside a brand-new clothing line.
NFTs allow any artist, content creator, or company to release exclusive digital art with an assigned unique identifier, putting all their works on sale through different trade-in platforms as collectibles for hundreds and millions of dollars, as if these were on giant digital gallery art.
As mentioned, alongside the NFTs, a new clothing line dubbed the Enter Infinity apparel collection has been revealed, which serves as companion merch to the digital art. 
How to get 100 Thieves NFTs?
According to 100T, a total of eight NFTs are available through the blockchain platform Foundation, with four of these being auctioned while the remaining will be given away to fans.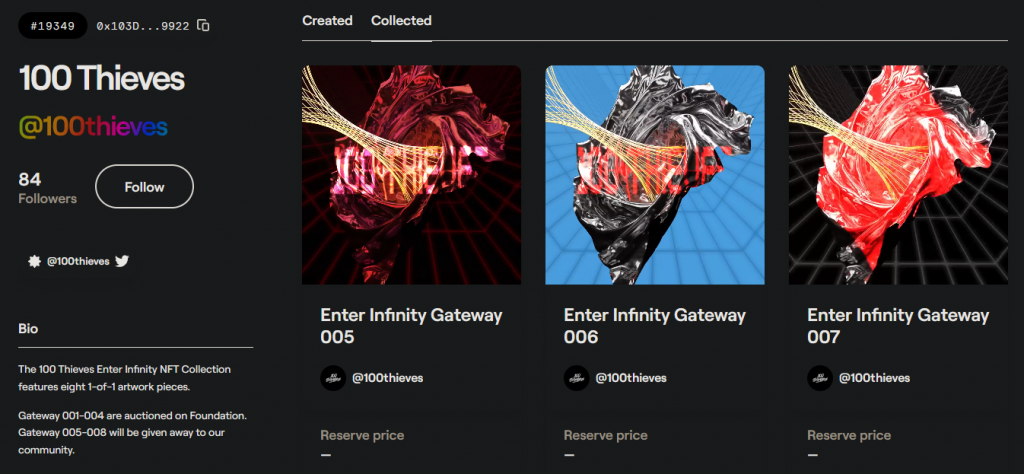 (Picture: 100 Thieves)
Some 100T NFTs have already reached $6,000 during the auctions. The bidding process involves the ETH cryptocurrency, with each piece of art numbered from 001 to 008, making them a must-have for all 100T fans.
In regards to the clothing line, "Enter Infinity" will be available starting April 10th starting at noon PST. You can check part of the clothing that will be part of this through the team's official website.
This is far from the first esports org to jump into the NFT train, with Sentinels announcing limited-edition pieces of digital art to celebrate their Valorant VCT Stage 1 Masters win.