Update: Adarnum has now been dropped from his talent agency, which you can read more about here.
Original story:
Jeremy "Arcadum" Black is a popular streamer and professional Dungeons and Dragons (D&D) Dungeon Master with over 269,000 followers on Twitch. The Dungeonmaster is popular for his D&D storylines on Twitch but has now found himself in hot water.
This follows after a former friend and fellow Twitch streamer, Momo, alleged that Arcadum was guilty of "grooming" more than ten women. Several other accounts of manipulation, harassment and unprofessional conduct have since surfaced by other D&D streamers, including those by Folkana, Uzuri Mia and RediculousStreams.
Momo accuses Twitch streamer of "grooming" 10+ women
On the 31st of August, Momo shared their account of being groomed and manipulated by Arcadum. According to Momo, Arcadum groomed them by manipulating their perception of their friends and other people. "I realize now that the ways he influenced my perception of my friends and other people, was simply to make sure that I would be around when he needed me, then when he got his bolster of support he would leave," Momo said.
This is all I want to say.

Read: https://t.co/EXa41Dmjd2

— Momo (@MomoMischief) August 31, 2021
"He would suggest things to me, analytical hyper complicated scenarios, where he would digest the things my friends did on social media, their streams, everything. He would prey on my doubt and instil in me that it was my idea to talk about it," Momo revealed.
Momo's friendship with Arcadum later crumbled after learning about how Arcadum treated several other streamers to the point that it "made [Momo] feel sick". It was after this that Momo realized that Arcadum "was not a good man."
Momo concluded that they do not wish to garner sympathy, nor do they want people to feel bad for them. "I just do not want for this cycle to repeat down the road. I want to know that without a shred of doubt I can recount my experiences with the intent to prevent them from happening again, of how he groomed me and how he manipulated me so deeply, that it began to affect my life outside of our friendship. I no longer want him to have the ability to disguise his predatory actions with the comfort of camaraderie and care," Momo said.
D&D Dungeon Master Arcadum accused of sexual assault and emotional abuse
Folkona, another former friend and Twitch streamer, claimed that Arcadum abused and sexually assaulted them. "I believe I was forced and groomed into silence about my experience up until this point [...] I was sexually assaulted by Arcadum in my own home [...] He took advantage of me on the night of the 25th and used my emotional vulnerability to attempt and perform sexual acts with me," Folkona said.
My experience with Arcadumhttps://t.co/HOtWBKdYRR

— folkona (@folkona_) August 31, 2021
Furthermore, Folkona explained that they endured "the onslaught of emotional and verbal abuse" by Arcadum, claiming that he "blatantly demonizing [them] to several of his other victims in an attempt to keep [their] voice from being heard."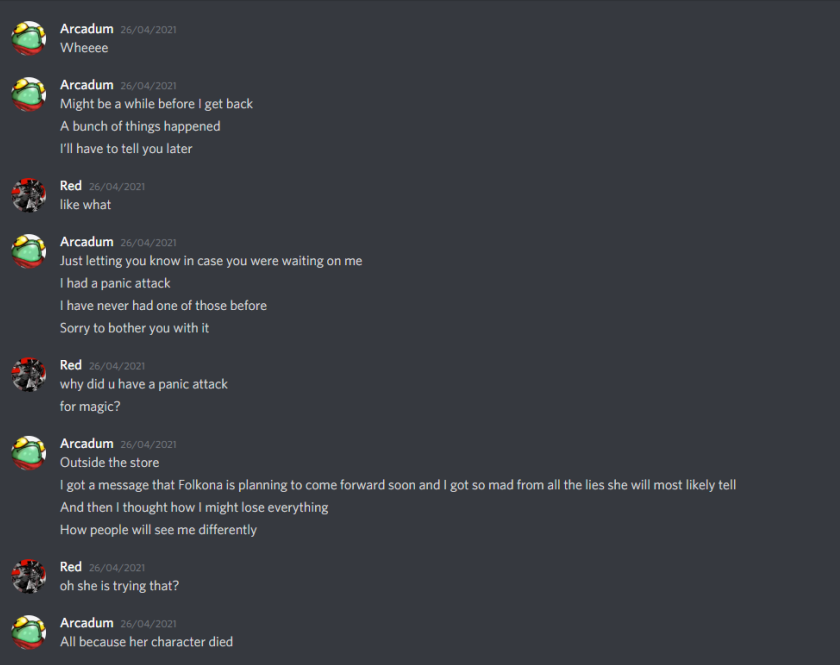 ChickaThuy, a former admin on Arcadum's server, further claimed that Arcadum "negatively [made] transphobic remarks about trans women" in his stream. "I was emotionally abused, gaslight by Arcadum", the streamer said.
Hi everyone,

My name is Chicka...

I was an admin on his server. I was emotionally abused, gaslight by Arcadum... https://t.co/AWRrMRnUpx via @ChickaThuy

— ChickaThuy (@ChickaThuy) August 31, 2021
Chicka went on to explain that their experience playing D&D with Arcadum gave them PTSD. "I have PTSD from playing D&D. [I have] nightmares about Arcadum yelling at me [...] I shouldn't feel this way. I have a PhD with a wonderful husband, job, friends, and dog. I quit the webcomic because I can't continue to be abused," they said.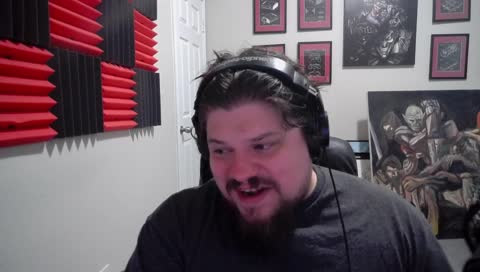 Several other streamers have also started to step forward to share their personal accounts with the Dungeonmaster, which arguably prompted Arcadum to respond.
On Twitter, Arcadum announced that he would address the claims in a stream tomorrow. "Right now I am trying to find a place to set up so I can," he explained.
I will be addressing the events tomorrow on stream. Right now I am trying to find a place to set up so I can.

— Arcadum (@GloriousArcadum) August 31, 2021
We'll have to wait to hear what Arcadum will have to say but one thing is certain: a simple apology stream may not cut it.
Don't forget to check out our dedicated Twitch section for news, streamer antics, drama, and more.
Header image via Twitch / Arcadum.