Coming up with the words to announce that you no longer want to be a part of something can be difficult, some people lie to get out of such things, often these "white lies" help save embarrassment for both parties; maybe you say you are busy that day or you've unexpectedly been called into work. However one Twitch streamer went even further in an effort to no longer be a part of something he himself had created... and how did he do it? He faked his own death - and perhaps unsurprisingly - he got caught out.
This is the situation Twitter user Plussy Knight finds himself he posed as his own mother to tell his followers that he had passed after Plussy Knight had previously claimed to have contracted COVID-19. 
Plussy Knight was a member of the "Plussy Community" a group of fans that sprung up around Alphared, a popular YouTuber with a focus on fighting game Smash Ultimate. The was believed so much that Alpharad uploaded a video to his channel acknowledging the passing of Plussy Knight.
However some didn't believe  Plussy Knight, and his "mothers" version of events with some questioning the timeline of events with his COVID-19 diagnosis and death happening suddenly.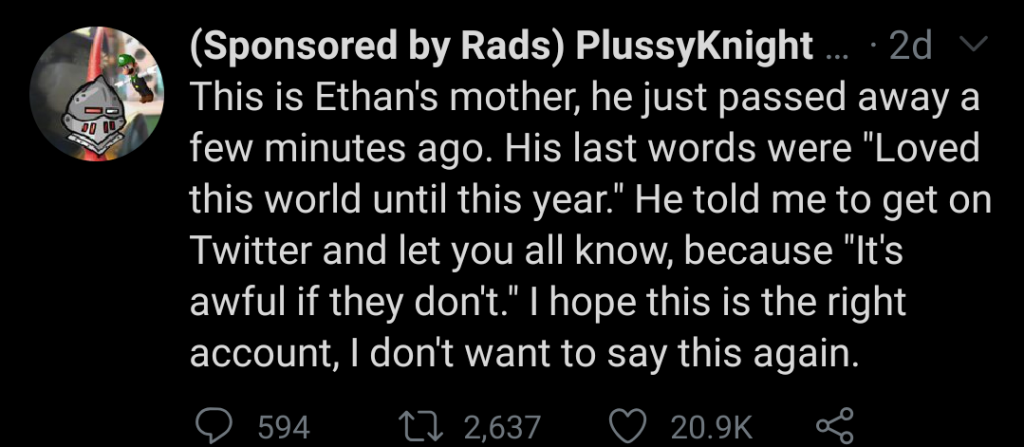 Behind-the-scenes, Alpharad was in constant communication with other community members trying to figure out if the death of Plussy Knight was real or a hoax. Eventually, the truth came out as several people shared private messages of Plussy Knight coming clean and explaining he faked his death because he saw no other way out.
                                                                                  
(Picture: @Plussyfan9)
Alpharad uploaded a lengthy follow-up video to his channel explaining the entire ordeal while talking with Budget, a medical expert that raised questions regarding Plussy's story via Reddit, stating how the timeline of events was suspect at best, and that the supposed death of Plussy Knight could have been a hoax.
"When someone dies of COVID, unless they are elderly and refuse advanced care, they're usually on a ventilator. The fact Plussy was never on one makes me suspicious. Plussy made his last tweet at 10:58 PM, and his mom reported his death at Midnight. If he is a young person who was in previously good health, doctors would do absolutely everything (to keep him alive). By all indications, he received none of that. It doesn't make sense. You can't tweet on a vent, you're heavily sedated on a large cocktail of anaesthetics so you don't pull the tube out," Budget would explain.
Despite the controversial circumstances regarding the hoax, the Alpharad Plus community rallied behind a good cause, raising (according to one of its members) around $100,000 for a COVID-19 relief fund.
As of the time of writing, the Plussy Knight Twitter account has been deactivated with no indication that the user that faked his death is planning on coming back to social media in the near future.