Every week, Zestats compile all the data surrounding the most streamed games and players of that week, condensing it down for the rest of us to understand and see what – or who – is trending. This week was no different and for the most part, neither is the top end of the charts.
The streamers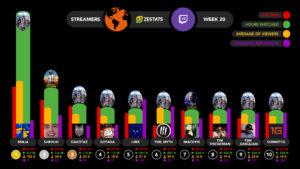 To nobody's surprise, Ninja once again tops the charts, having been watched for 9.5 MILLION hours. This is 1.5 million more than last week despite streaming for 6 hours less. Clearly, Ninja and Fortnite are showing no signs of slowingdown any time soon, especially since Epic have announced that they will be handing out $100m in prize pool funding over the next year. The top three streamers replicate last week's results, with Shroud and Dakotaz taking the second and third spots. However, we see some changes in the lower half of the table, with Sodapoppin, NICKMERCS and SypherPK all dropping out of the top ten. Instead, we see them replaced by popular League of Legends streamer imaqtpie, TSM's Fortnite streamer Daequan and former Counter-Strike player Summit1G. That said, don't be surprised if these all change again next week – it doesn't look like any are about to take off far more than their competitors.
The games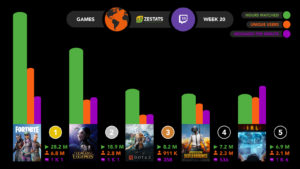 Fortnite, Fortnite, Fortnite. If you're anywhere near the gaming and esports industry, it's all you'll be hearing about right now, and for good reason. For anybody worried that Fortnite: Battle Royale may have peaked, the numbers suggest differently, with the game clocking in 28.2 million hours watched, in comparison to last week's 27.3 million, an increase of 900,000 hours. Coincidentally, League of Legends also saw an increase of 900,000 hours watched, jumping from 18 million hours to 18.9 million. This could be largely attributed to the Mid-Season Invitational, which saw Royal Never Give Up take down KingZone DragonX in a cracking Grand Final. This could also have contributed to Imaqtpie's hike in viewership, as viewers seek more League of Legends content before or after watching matches.
Rounding out the Top Five
We also see Dota 2 make its way in to the top five games watched, as anticipation for the ESL One Birmingham Major reaches a fever pitch. In the months leading up to The International 8, we expect to see Dota 2 picking up a lot more viewing hours on Twitch. Once again, PlayerUnknown's Battlegrounds and the IRL streaming category complete the top five, despite their viewing hours having decreased in the last week. Were it not for ESL's partnership with Facebook, we would likely see Counter-Strike make this list, following an incredible tournament in the form of the ESL Pro League Season 7 Finals. Check back next week to see which games and which streamers top the charts, and be sure to tune in to Ginx Esports TV this weekend to catch everything from the ESL One Birmingham Major.