Late last year, left-wing political pundit and Twitch streamer Hasan "Hasanabi" Piker revealed that he would be interviewing music icon Claire Boucher, better known by her stage name Grimes. Naturally, fans were excited; however, multiple delays sparked significant scepticism over whether the interview would happen.
However, on 1st April, Hasan shocked fans when he announced that Grimes would finally be coming over "to play Elden Ring and deliver a message to the communists," noting that it was not a joke, and indeed, it wasn't. The stream subsequently attracted thousands of fans, who flocked to what later materialised into a casual, free-flowing discussion about a range of topics.
Hasan and Grimes finally meet up for Twitch Livestream
The first few minutes of the stream saw Grimes blown away by how unnatural it was for Hasan to stream to thousands of viewers each day. "This is literally not good for your mental health, dude. This is f*cked. There are just people screaming at you. This is like -- good god, how do you do this?" said Grimes.
ITS FRIDAY AND APRIL FOOLS BUT WE'RE NOT ENGAGING IN THE TRICKERY (HARAM). AMAZONS FIRST LABOR UNION VICTORY IS HERE! RUSSIA CLAIMS UKRAINIAN ATTACK AT BELGOROD, MADISON CAWTHRON COCAINE PARTIES AND BRANDON COMBATS GAS PRICES!! GET IN NOW!! https://t.co/OTlQIU6Ehjpic.twitter.com/ywoX8sMOnK

— hasanabi (@hasanthehun) April 1, 2022
Followingly, Hasan explained that he's used to it and "figured out ways" of managing the stress, particularly when people brand him as the "bad" guy, which might include him taking a day off and doing "real human being sh*t."
They then briefly (and reluctantly) began to speak about politics, with Grimes saying that she's "so roasted and so cancelled" that there's not much left to lose regarding her publicising her beliefs or views. "I just say sh*t, a tonne of crazy sh*t, and sometimes that goes bad, but I think it's worth proposing ideas," the singer added.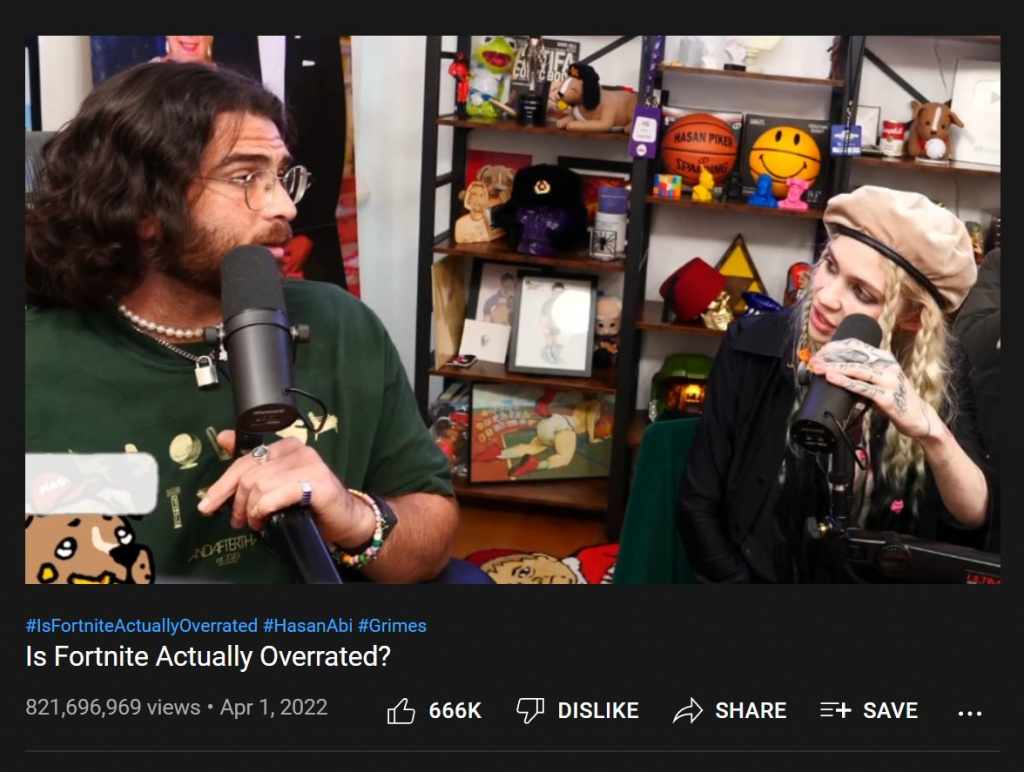 Hasan then brought up Grimes' famous "proposition for the communists," which involved artificial intelligence taking over manual labour and permitting a world "where nobody has to work." In her response, Grimes said she was "just being dumb there" and explained her role as an artist in the broader universe.
"I feel like my job as an artist is to like to throw out ideas in the world. And some of them are probably going to be huge failures; some of them might be good. I'm not a strategist or politician. I enjoy thinking about extreme potentialities [...] I think that's sort of the role of the artist," Grimes said.
Later in the stream, Hasan chatted to Grimes about gaming and the truth behind the Communist Manifesto picture she posted on Twitter months earlier. After several minutes, Nadya Tolokonnikova, a member of the anarchist feminist group Pussy Riot and a close friend of Grimes, also joined the stream and discussed the current Ukraine-Russia conflict.
Although the stream felt extremely awkward at times, Hasan explained that he had no topical points prepped, nor was he trying to clout chase by asking her "spicy" questions. Furthermore, Hasan said that his intention was not to host an interview but instead to have a casual discussion, chatting about literally anything.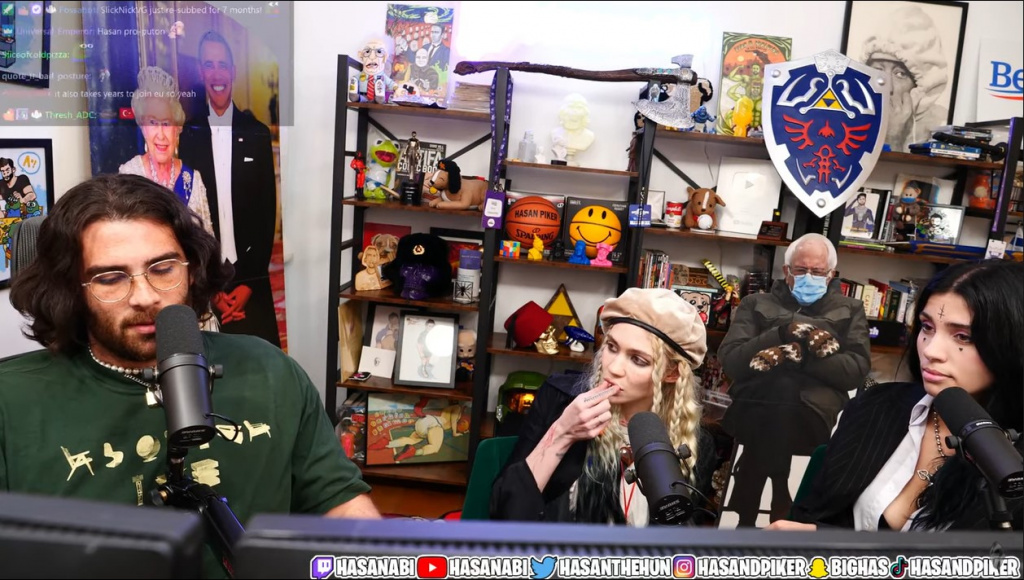 Grimes retorted that her brain was "fried" after managing several groups of people while shooting music videos in the days prior and apologised for not being able to discuss more "spicy" topics. The pop star further added that she would love to return in a month to discuss more contentious topics, which is something Grimes fans can look forward to seeing.
While the stream felt more like a blind date, in which neither party precisely knew what to expect, it was awesome to have Grimes on Hasan's stream. Admittedly, I think Hasan could have done a better job to make Grimes feel more comfortable (and the stream less awkward) at the start, but she did eventually warm up to him.
You can watch it in the embedded player below if you missed the stream.
Featured image courtesy of Twitch / Hasan Piker.