Matthew Rinaudo aka Mizkif has revealed that he has asked "4Conner" to leave the house which he and other streamers such as Eric "Erobb" Lamont Robbins and Joelle "jaycgee" Grieco also call home after numerous Discord messages that were openly racist, homophobic, transphobic and anti-Semitic were leaked as well as pictures of Conner posing with the Confederate flag.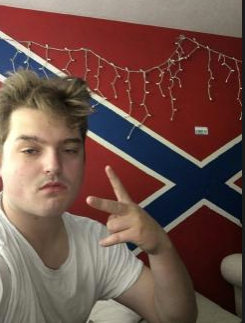 Probably the least offensive leak we can in good conscience include in this article.
The messages allegedly sent by 4Conner stretch back several years with the most recent leaked message being dated 6th, August 2020.
Similarly, racist and homophobic chat logs were leaked featuring Mizkif with the content creator appearing to realise just how wrong they are. with a member of the channel teasing Mizkif by saying he's gone "soft" to which the streamer replied he's cleaning up his act as he's "gotta get my G Fuel sponsor (sic)." Mizkif added that by not being racist he is "just playing the game".

On the 20th of February, after the messages came to light, Mizkif took to his stream to explain that 4Conner would no longer be welcome at the house.
"I have talked to 4Conner, and Conner is no longer allowed at my house, ever again," said Mizkif. "There is being edgy and I know people who have been edgy, including myself, I will never deny my edginess. I was an edgy person and you can learn from it but some of these logs are way too recent for me. Some just over a year old and it's not just a little bit it's a lot."
Mizkif also spoke of the friendship he and 4Conner had and how difficult it had been to come to the decision. 
"Conner was a really good friend, he has literally always been there when we've needed him. So it's not easy."
4Conner also made an apology via his stream, claiming that the messages which made him "sick" in hindsight, and that they were not a true representation of his personality.
"It's not me. It's not who I am. I was never racist, I was never transphobic, I was never homophobic. In my head, it was all a joke. I never meant any harm to anybody's mentals. But what I said was very bad and at the end of the day I was being racist, I was being transphobic, I was being homophobic, I was being anti-Semetic."
4Conner continued: "I'm really really disappointed with myself. This is not the person my parents raised[...] I just want to put it out there for the record, I am not the person I was back then. I left that Discord, I completely disassociated myself with everybody in there because I realized I was becoming who I was hanging out with."
4Conner also expressed the opinion that his time on Twitch has likely come to an end: 
"When it comes to my future on Twitch, I probably don't have one. So I'm gonna be gone for a long time I think, but I'll still be watching, I've made way too many friends who I care about through Twitch to just drop it all."
It is not exactly clear why 4Conner's messages were leaked now, though he recently caused some discomfort on group stream from Mizkif's house when he claimed all he would need to get through the power cuts people are experiencing in Texas was a "blanket".
Fellow Twitch streamer Tyler "Trainwreck" Niknam took offence at the statement:
"Half these motherf****rs make 25 thousand a year. We make that in a day. And they got kids. Man, f**k that. I don't like that high rolling bulls**t. You're in a 2.5-million-dollar house talking like that." Well, he's not anymore.