As expected, Tyler "Ninja" Blevins and Fortnite: Battle Royale have continued to dominate the Twitch streaming charts this week, each amassing numbers that far outshine their competitors.
The streamers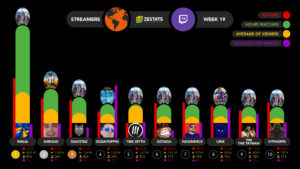 Thanks to Zestats, we can see that Ninja was watched for over three times as many hours as his nearest competitor, Michael "shroud" Grzesiek, with over 8 million hours viewed. Not only that, but with over double Shroud's average viewers, there is no doubt that Ninja continues to be the face of Twitch. Notable inclusions in this list include NickMercs, who dropped out of the top 10 last week but was guided by other top 10 streamer SypherPK to a win in Keemstar's Fortnite Friday tournament, in which popular YouTubers and streamers teamed up to find out which team could beat the rest in a double-elimination Fortnite bracket. It is also interesting to see the slow decline of Dr. DisRespect from being at the top just 6 months ago, to now not even making the top 10 list.
The Games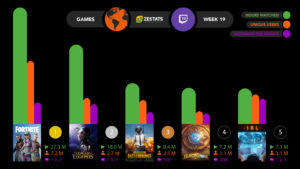 Clearly, much of Ninja's recent success - as well as that of other streamers - can be credited to Epic Games' Fortnite: Battle Royale, which has caused stirrings not only across the gaming and esports world but in mainstream media too. From Ninja playing with superstars such as Drake and Travis Scott, to Tottenham Hostpur player Dele Alli getting started as a Twitch streamer, it is fair to say that everyone wants a piece of the Fortnite pie. The figures above show just how popular Fortnite has become, with 10 million more hours watched of Fortnite than of long-term Twitch favourite, League of Legends. Of course, this could be partially attributed to Keemstar's Fortnite Friday tournament, but that would not explain the continued numbers that Fortnite has - and will - put up over the coming weeks. It is interesting to see that CS:GO has not taken a place in the top five games streamed; for many, it is considered to be a top esport, right alongside League of Legends and DOTA 2, as well as amassing incredible numbers during events. Clearly, that does not translate well to the more casual environment of Twitch streaming, as people seek out IRL streamers and Hearthstone content instead. Check back next week to see which streamers, and which games, you have been watching the most of, courtesy of Zestats.