Twitch superstar Imane "Pokimane" Anys has been at the centre of attention after recently being the victim of a "sexist" hate raid led by YouTube prankster JiDion.
While Twitch has appropriated an aggressive response to the hate raid by issuing JiDion an indefinite suspension from the streaming platform and rejecting his appeal, Pokimane continues to grapple with haters on her channel.
More recently, Pokimane clapped back at a hater, who claimed that they didn't hate her channel because she was a woman but instead hated "Twitch corruption." However, when Pokimane pressed the hater for further commentary, they deleted their Twitch account instead of explaining themselves.
Pokimane sends Twitch hater running for the hills
During a live stream on 19th January, a user with the handle "Markbeausng" said, "Not hating you because you're a woman, hating Twitch corruption." Followingly, Pokimane asked the user to go on and explain what part of Twitch was corrupted.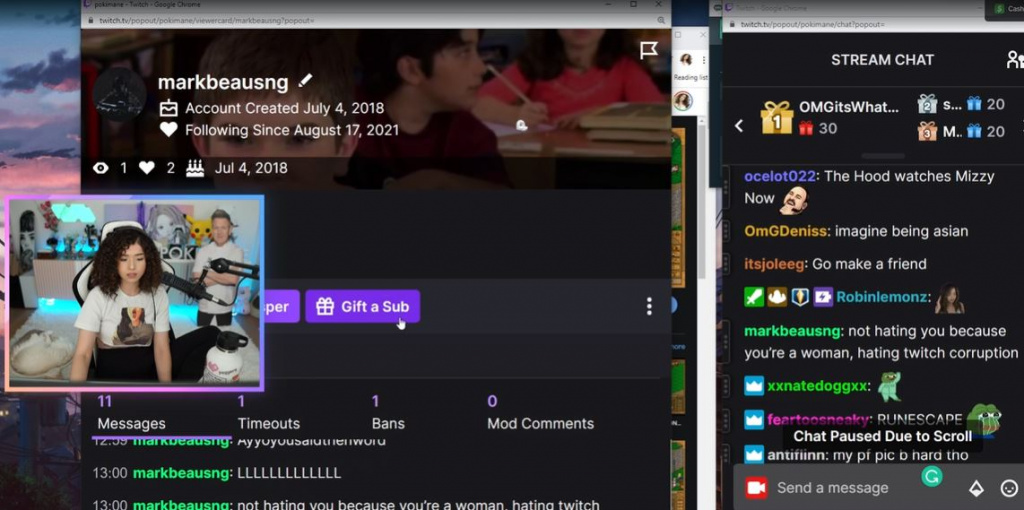 "Let's continue the conversation. What part of Twitch is corrupted. I'll wait-- I'll give you a couple of minutes if you want to consult with anyone to get the response, and then I'll refresh this," Pokimane said.
After waiting for a few minutes, the user did not respond. "This dude ran. Yo, Mark, hello? Where are you at; we're waiting. How is Twitch corrupted?" Pokimane asked. The Twitch superstar then refreshed the chat window to realise that the account was deleted.
According to the chat window, the user's account was "suspended or deactivated." Shocked by what transpired, Pokimane covered her mouth and said, "I've never had this happen."
"It's the same dudes that say you're making a big deal about nothing that wouldn't be able to handle 1% of the sh*t that I get on the daily. They would absolutely soil their little panties seeing 1% of the hate I get every day of my life for the last eight years," Pokimane added.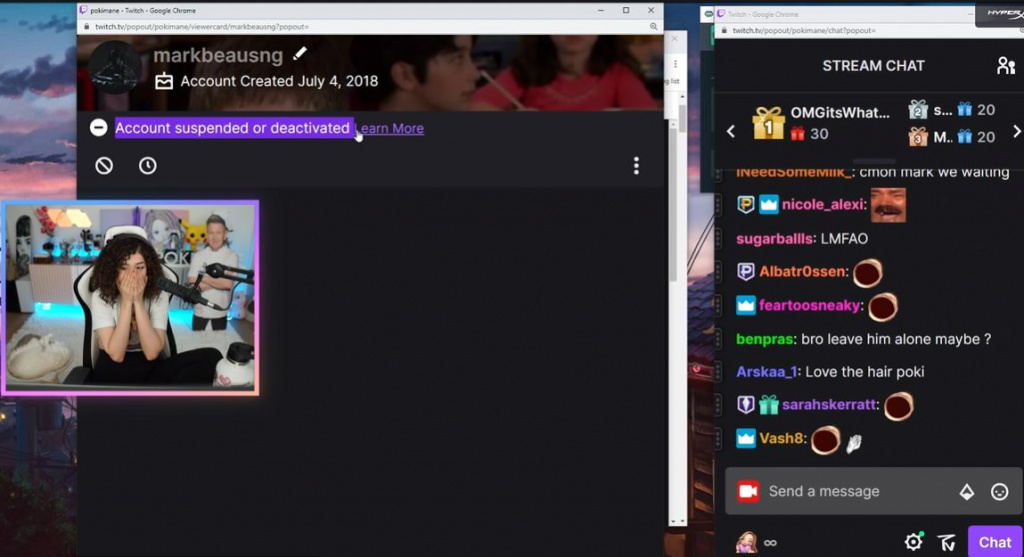 Furthermore, Pokimane noted that Twitch wouldn't randomly suspend an account and was confident that the user deactivated their account, adding that she's "never seen this message" in her entire life.
It's great to see Pokimane standing up against her haters, and it's even more satisfying seeing them run for the hills when confronted.
Don't forget to check out our dedicated Twitch section for news, streamer antics, drama, and more.
Featured image courtesy of Twitch / Pokimane.