A viewer has discovered that Twitch streamer Indiefoxx is using an official email to promote her explicative OnlyFans content.
It goes without saying that this is against all rules, but apparently, the streamer is abusing one of the functions available to partnered streamers, which allows them to send viewers notifications and messages through Twitch's official email.
This is possible to do directly from a streamer's revenue dashboard, but only to their subscribers.

(Picture: Twitch)
By using this function to promote her sexual OnlyFans content, Indiefoxx is clearly violating Twitch rules in regards to sexually explicit content and its promotion.
Indiefoxx is notorious for her NSFW (not safe for work) streams and rule violations. The streamer has been banned 4 times this year already, and the reason was always due to NSFW content, including things like writing the names of subscribers on her body and being in a see-through outfit in a jacuzzi.
Promoting sexual content of any kind is strictly against Twitch's rules, but some streamers with OnlyFans pages are constantly trying to find some way to push their content to fans through Twitch, and some, like Amouranth, are even keeping their OnlyFans links in their Twitch descriptions, along with other social media links.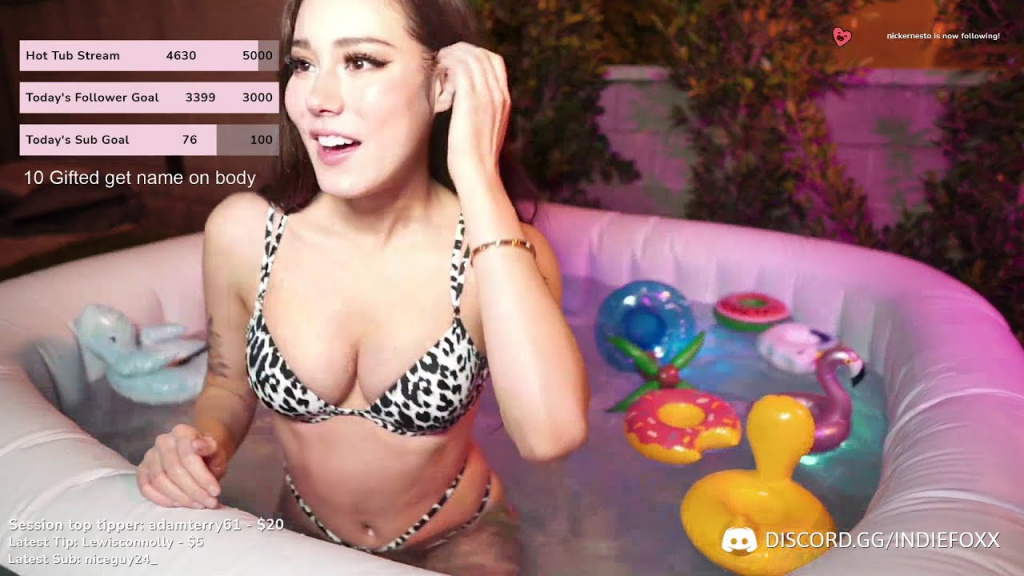 (Picture: Indiefoxx)
Twitch has been under fire recently for seemingly turning a blind eye when it comes to controversial trends, like Hot tub Twitch streams, but the company denies any favouritism, despite being directly accused by prominent content creators like H3H3 of doing so.
At the time of writing, Indiefoxx is live and streaming on Twitch, and it remains to be seen if Twitch will hand her ban or enforce any other punishment for her abuse of the official Twitch email.