Twitch superstar Jaryd "Summit1g" Russell has announced that he has finally done something he was dreaming his whole life of doing it.
During one of his recent streams, Summit1g shared a touching moment with his viewers, revealing a huge moment in his life.
"I'm super stoked boys. Not all things in life have gone according to plan. But yeah, some things do," he opens up. "I'm successfully getting some family members out of California. It has been a nice little dream of mine for a while."
Summit1g soon after revealed that he was finally able to buy his dad a house, something he was working on for a long time and he became overwhelmed with emotions the moment he started talking about his dad on stream.
"I can't wait to show my dad the skyline. My dad, that's the man I respect the most in life. No other human can have as much respect for me. And to get him out here, that's the dream - to buy your dad a house!"
This obviously means a lot to Summit1g, who cares about his dad. Soon after the announcement and overwhelmingly positive messages from the chat, the streamer wasn't able to handle his emotions anymore, and the tears of joy appeared, so Summit1g needed to take a few minutes off-stream after the announcement, to compose himself.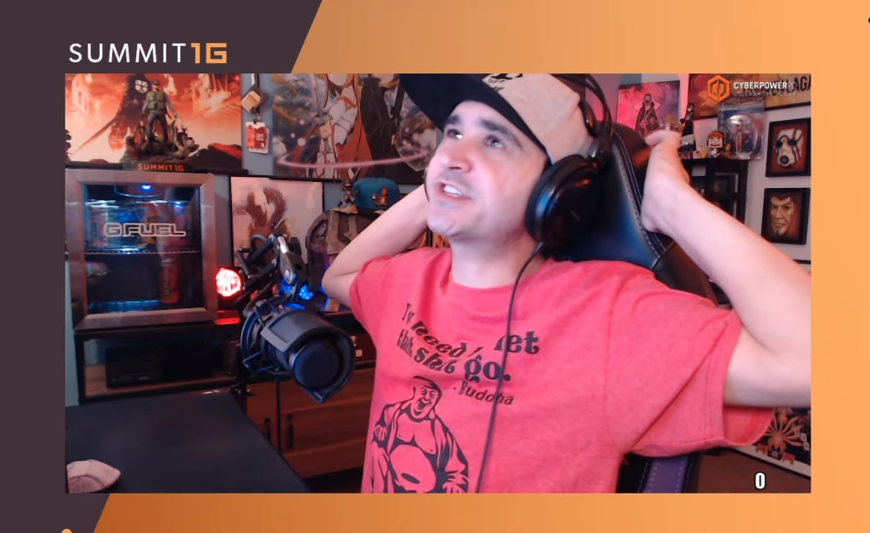 Summit1g couldn't hide his tears when he was talking about his dad (Picture: Summit1g)
When he returned, he further explained what this means for him and his dad.
"My dad, he's been living in apartments his whole life, you know? He's never even lived in his own house. He's gonna go from living in Santa Ana, a cruddy part of California, to living in a dope part of Colorado."
His fans wanted to know if he will introduce his dad on stream when he arrives.
"I don't know, to be honest," Summit1g responded. "I kinda want to keep him away from it, to be honest. I'll let him to kinda figure that out. He's never even seen my computer set up. I haven't seen my dad in..."
While he is not sure if he will get him on stream, Summit1g revealed that he looks just like him "with a different nose".
Summit1g has been trying for a long time to bring his girlfriend Lilchiipmunk to the US to start their life together there, but unfortunately, she is a Canadian citizen and they still can't finish all the necessary things for that to happen. That's why this moment when he was finally able to bring his dad to live close to him, and to buy him a house, means even more to him.