American Twitch streamer Steven Kenneth Bonnell II, aka Destiny, was recently banned for the fourth time after influencer Kaylee Kinzie took out her phone to show a NSFW image discussing an alleged sex tape involving Hunter Biden, the son of US President Joe Biden. The image appeared to be a still from the alleged sex tape, and hours later, Destiny received his fourth ban for the incident.
djWHEAT delivers burn on Destiny ban question
Recently, the Head of Creator Development, Marcus "djWHEAT" Graham. touched on the hot tub meta in a Let's Chat stream and gave a poor solution to the steamy problem currently facing the streaming service. 
Taking to Twitter, fans talked about djWHEAT's hot tub meta response and criticized djWHEAT, in response, he said that he doesn't watch streams he is not interested in, leading to the question of "why Destiny was banned then?", to which djWHEAT delivered quite the burn response.
djWHEAT's response was simple, and quite funny if you've been watching Destiny's Twitch streams from time to time, simply stating "He probably lost a debate."
What makes this burn on the reason for Destiny's ban funny is that the streamer is well-known for his political takes and opinions in Just Chatting streams, debating topics for hours on end and also getting involved in some Twitch drama. 
djWHEAT isn't backing down from comment's either, as you can see in the image below.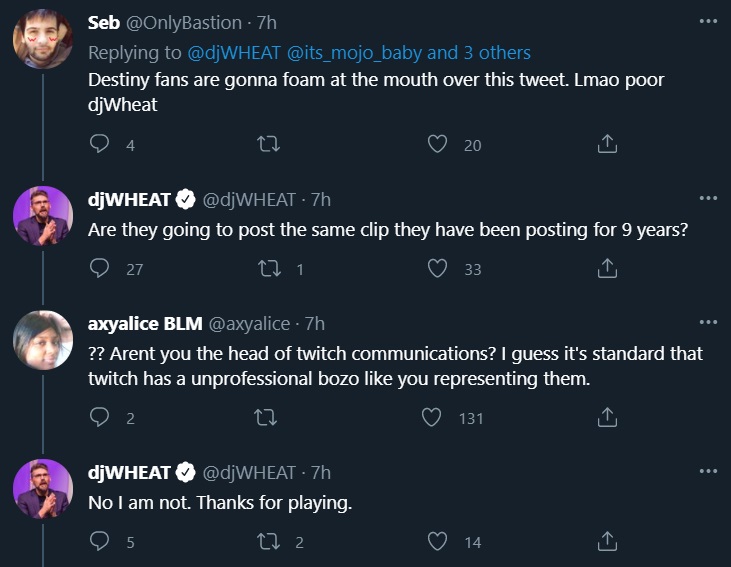 (Picture: Twitter)
Destiny did reveal this is a suspension and not a permanent ban. However, at the time of writing, it is unclear how long this latest ban will last. 
Destiny's followers might not find djWHEAT's comment all too funny but Twitch's Head of Creator Development doesn't appear to pull any punches.