Ben Goldhaber, CEO of JukedGG and a member of Twitch's founding team, has expressed his disapproval with the recent changes Twitch has made in regards to advertising.
Goldhaber was a part of the team who kickstarted Twitch back in 2011, but he's not associated with the company for a long time.
While he is no longer with the company he is still in the esports industry and as someone who still follows Twitch closely, he decided to share his thoughts on some changes Twitch has implemented in recent months.
And he absolutely doesn't agree with the current policy of Twitch.
He is especially not fond of infamous "unblockable" Twitch ads which were implemented back in September 2020 and the way Twitch is fighting against ad blockers.
I've hesitate to be the one to make a public statement about this, but I feel like I have to say something:@Twitch has recently made changes to their embed player that hurts streamers, viewers, and communities.

a 🧵:

— Ben Goldhaber (@FishStix) January 29, 2021
"Twitch has recently made changes to their embed player that hurts streamers, viewers, and communities," Goldhaber states.
The so-called "Purple Screen of Death" (PSoD) is an intrusive purple screen with a message that appears to anyone that uses adblockers or is watching the stream via some other site where the players are embedded.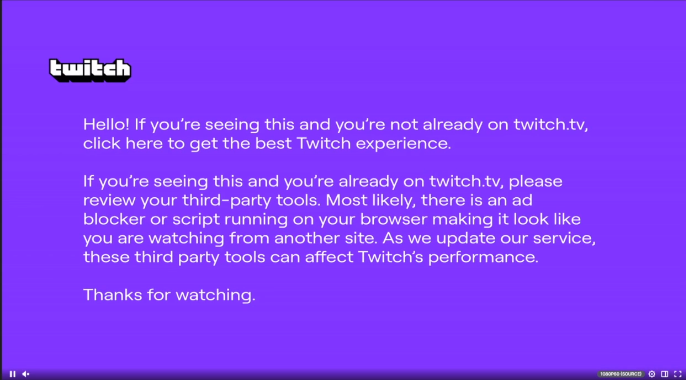 Twitch Purple Screen of Death (Picture: Twitch)
Initially, they were appearing just once, now they pop up every 15 minutes and are interfering with the stream even in some cases where users are not using ad blockers. One of those cases is when the stream is embedded on some other website.
"Many of you may have seen this screen months ago as an anti-adblock message. However, it has evolved far beyond an anti-adblock measure - the PSoD impacts *all* Twitch embeds, everywhere, regardless of where you are viewing them and regardless if you use adblock." Goldhaber explains.
Twitch has recently added another message that interferes with the stream if you are watching it embedded, which encourages viewers to "continue watching on Twitch".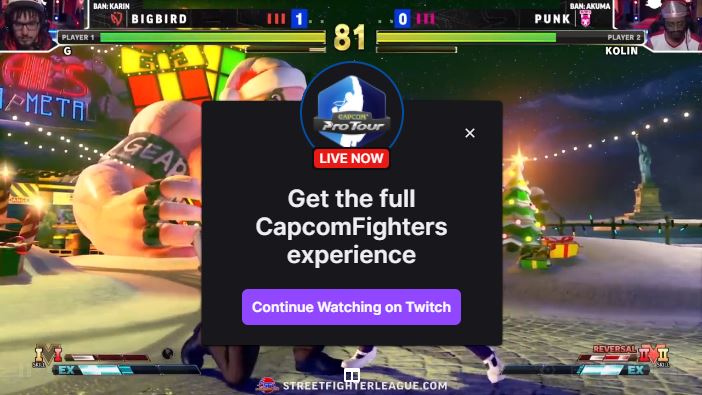 The message that appears when watching embeds (Picture: Twitch/CapcomFighters)
Goldhaber says that this clearly indicates "Twitch is doing what they can to hamstring their own embed product" and argues that Twitch is actually benefiting from the embed player.
"Views count towards their metric, embeds allow for users to subscribe and follow a channel directly. Developers are creating new experiences around the Twitch player, and facilitating discovery for new communities," Goldhaber explained.
Goldhaber reminds that TeamLiquid's StarCraft 2 stream embeds back in 2010 were crucial for Twitch to gain early momentum and start growing.
He expresses his concerns for developers who "have spent dozens, hundreds, thousands of hours building cool products and facilitating vibrant communities around Twitch streams," and states the fact that many of them rely on embeds.
Products like @JukedGG, @OutdoorIRL, @HLTVorg, @SaltyBet, and hundreds more use the Twitch API exactly as it was intended in interesting and unique ways. They, their users, and the streamers they support rely on embeds.

— Ben Goldhaber (@FishStix) January 29, 2021
Ultimately, his goal is to convince Twitch that embeds are worth supporting.
Goldhaber thinks that these aggressive changes to embeds hurt everyone, from viewers, streamers, and various communities, to developers and Twitch itself, and urges Twitch to roll back recent changes.