It's almost as if every other week, there's a tonne of drama between Twitch streamers. On 15th January, streamer Bob7 released a massive manifesto, in an attempt to refute Destiny's claims. 
It is the latest in a long series of Twitch drama which results in essays filled with allegations and rebuttals. Ironically, Destiny was the first to publically air Fedmyster's "expose" of Pokimane and it will be interesting to see if he enjoys the spotlight being on himself as much as he enjoyed putting on others.
Bob7 vs Destiny: Twitch drama alert
Earlier in January, Destiny and several women in the Twitch community notably, Melina his fiancee, and Boze who he also had a relationship made a series of accusations against Bob7 that amounted to him being a manipulator and of sharing private intimate photos without consent.
In a Twitlonger post on 15th January, Bob7 claims the allegations caused him to lose his job, all respect in the community, as well as harmed personal relationships.
The video of the "accusations" can be viewed below.
In response, Bob7 produced a 39-page manifesto on the issue. You can read Bob7's mammoth manifesto here.
The TLDR version which was posted in the document regarding the allegations from Destiny is:
"Bob7 has basically manipulated 10+ (?) girls into hating each other, getting close to him, with nudes/super personal details shared between different people to create drama/hate. He tried to get Boze and Melina to hate each other and possibly manipulate Melina to leave Destiny or something.
"If you check his vods, Bob7 basically had a hand in talking to all of Destiny's orbit of girls. He bamboozled them into thinking Destiny is super fucking crazy."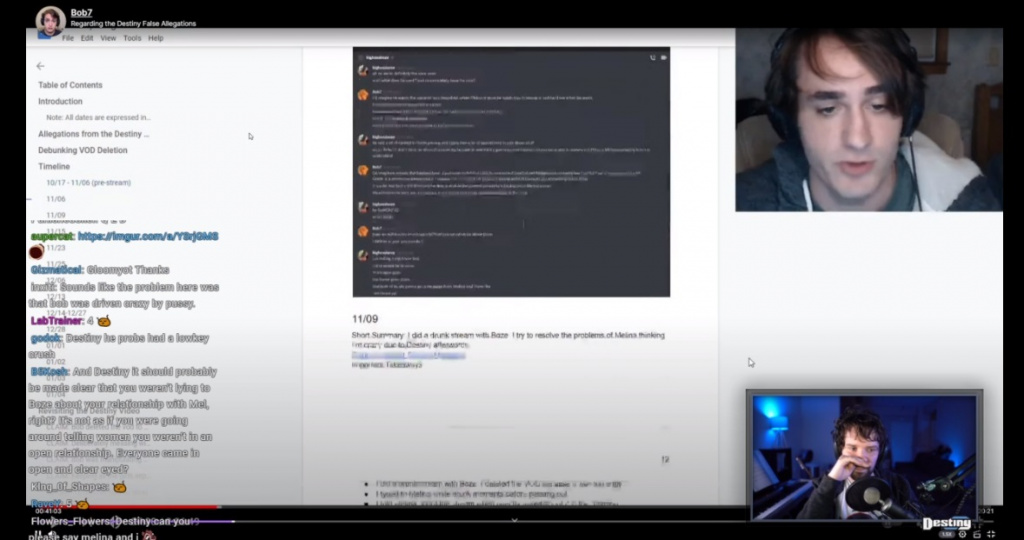 (Picture: Destiny)
Bob7 claims Destiny sought to wage a campaign to ruin his life after Bob7 had privately begun warning the women in Destiny's life that he was a "dangerious" individual. Bob7 provides screengrabs of numerous conversations between himself, Boze and Melina that attempt to refute the accusations Destiny and co made in the original stream.
In the end neither Bob7 or Destiny come off looking very good.
We will leave it up to you to decide who you believe in this latest convoluted drama between Twitch streamers.