Elite500 is a popular streamer on Twitch, with nearly 190,000 followers to date. He is best known for his League of Legends gameplay but also plays Dota 2, among other titles. Elite500 has been streaming since early 2014 and previously racked up two bans from the streaming platform, with the latter ban lasting 7 days for "hateful conduct, such as racism, sexism or homophobia".
After speculating that Twitch banned him for his inadvertent cursing on stream, Elite500 has tried to turn over a new leaf; until recently that is. Fortunately, it would appear that his most recent ban was not his fault. Here's what happened.
Twitch slams Elite500 with his 3rd ban
Elite500 was struck with the mighty Twitch ban hammer on the 1st of July 2021 at 6:15 PM BST. Fans were quick to jokingly speculate that the reason he was banned for "for playing Dota". Indeed, this was not the case.
❌ Twitch Partner "Elite500" (@Elite5002) has been banned! ❌https://t.co/yhbWqHrriq#twitch#ban#thirdban#partner#twitchpartner 💐

— StreamerBans (@StreamerBans) July 1, 2021
Elite500 later tweeted that it "was because someone with a slur invited [him] to a Dota guild [with] a [NSFW] pic". He further added that the ban would last for "7 days" and that he was "thankful for the lenient ban".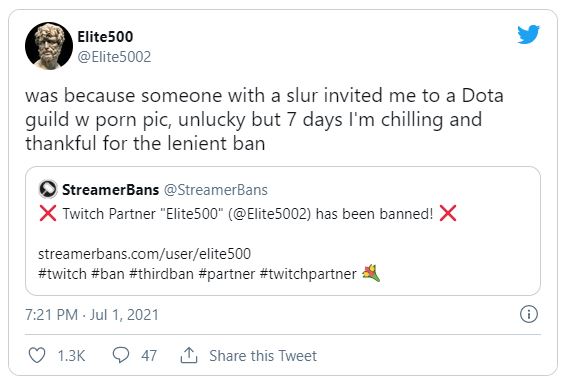 We can't say for sure what "slur" Elite500 was referring to exactly and would prefer not to think about what NSFW picture he was referring to. Although he did later clarify that he "had it on [his] screen along with a s*** covered c*** for 3 mins with anti LGBT name too like its the full package". Thanks for that, Elite.
He also mentioned that he's "seen people get permabanned over saying that slur", so we can imagine how thankful he is that it's not him.
One fan called him out, asking him how he didn't notice the slur was on screen for 3 whole minutes, to which he responded "maybe I was taking a s***, you dumb s***", which we suppose is a fair response.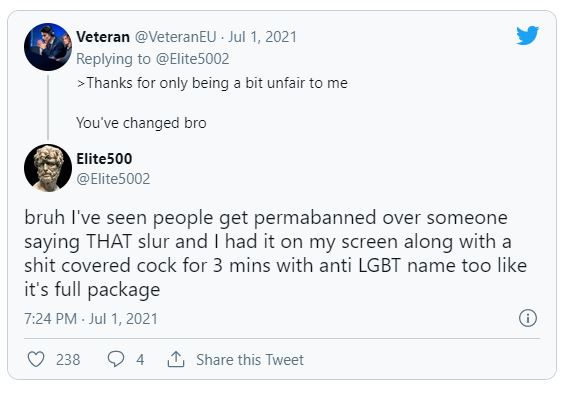 Despite this being his third ban, he's far from topping Indiefoxx, who has racked up a massive 6 bans this year alone (she ended up losing Twitch partner and affiliate status, ICYMI). On a different note, perhaps Valve should better moderate its guilds so this doesn't happen in the first place.
Although many fans are sad to hear about the ban, others continued to patronize him, citing: "that's what you get for going to Dota from League, betrayer". Perhaps they're right - just kidding.
It does, however, seem as though Elite500  is making light of the situation and claims that he's "chilling" and we suspect that he will likely continue to upload content to his YouTube channel, or even stream live there in the interim instead.
You can watch his most recent YouTube video linked below.
Don't forget to check out our dedicated Twitch section for news, streamer antics, drama, and more.
Header image via YouTube / Elite500