The Montero (Call Me By Your Name) single has set the interwebs on fire, pun intended -- and it might be trying harder to do so, at least by the looks of a recent Twitter interaction.
Lil Nas X has been doing what he does best to promote his work -- by sharing community creations, memes and TikToks that self-promote his work with humour with a non-invasive experience for the user.
This strategy is exactly the kind of work that skyrocketed him into stardom in the first place, and Montero is no exception to the rule.
In a totally successful marketing campaign and whilst sharing TikTok content, Lil Nas X found himself tweeting a sequence of TikTok posts, called duets, turning his single Montero into a heavy metal cover that got the gears turning.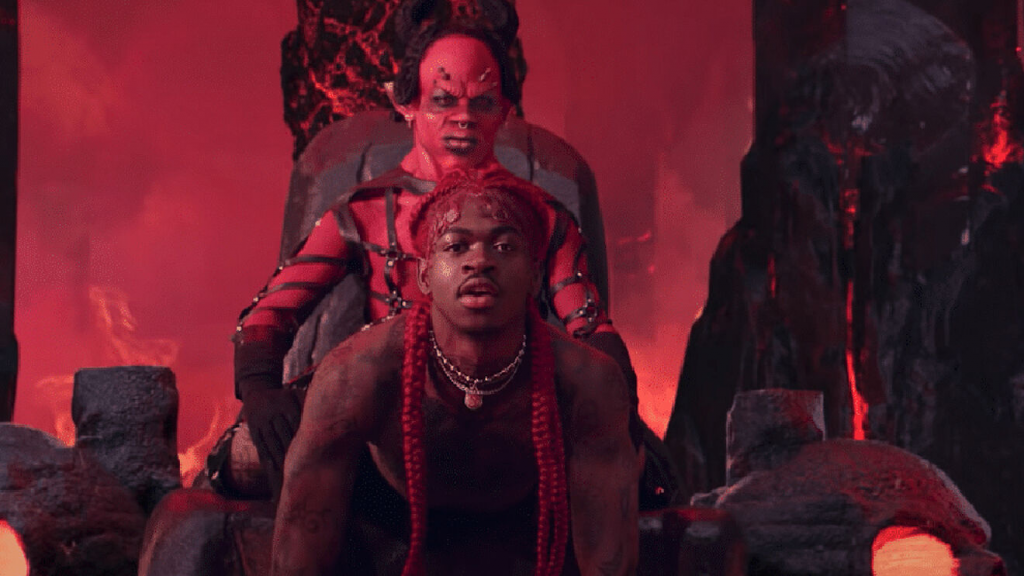 A still from Montero (Call Me By Your Name) Official Music Video that has the internet fighting over Lil Nas' art (Picture: YouTube)
The 21-year-old did not hesitate to tag and call YouTube personality and fellow musician, Corpse Husband AKA CORPSE, to action for a collaboration.
Lil Nas' "Let's do it" and CORPSE's "YASSS" have amounted to nearly 50 thousand likes within the hour.
The Old Town Road song has been remixed four times and with five total versions of the hit single, Lil Nas X is no stranger to shamelessly releasing his songs over and over, even taking jabs at himself over the years for his non-discriminatory artist selection.
CORPSE was recently featured in DAYWALKER!, the latest Machine Gun Kelly single where Rachel "Valkyrae" Hofstetter interpreted the faceless YouTuber in the official music video.
Whilst CORPSE has been releasing music for well over a year and producing himself from a very young age, maybe his work with a major artist like MGK caught the eye of one of the hottest musicians, pun intended again, of the modern age for a collaboration.
Although the two artists have shared Minecraft and Among Us lobbies before, we'll have to sit and wait as we know how Nas treats his Twitter followers.
We can only imagine what a Montero featuring CORPSE's brand will do to the internet comment sections, though. Good luck, mods.