There's a reason why Felix "PewDiePie' Kjellberg is labelled as the "King of YouTube". It's not the fact that he has over 110 million subscribers either. PewDiePie continues to demonstrate why he is beloved by millions of fans across the globe after he donated his 2020/2021 YouTube membership earnings, totalling over $1.5 million, to various charity initiatives.
PewDiePie raises $1.5 million for charity through YouTube channel membership
According to PewDiePie's YouTube Community post, he raised a total of $1,520,003 solely through channel memberships.
In keeping with his promise, PewDiePie indicated that the funds were donated to several charity benefits, including:
Winston's Wish
Save the Children (Lebanon)
Blue Ocean Foundation
Papyrus
Movember
Comic Relief / Red Nose Day
Book Trust
World Food Program
Make A Wish
Alzheimer's Research
Centre for Effective Altruism
"My biggest thanks to everyone for making this possible," the YouTube star said. Naturally, fans applauded Pewds for his generous contribution and shared their appreciation on YouTube.
One fan, by the name of Taylor Ives, said: "This means a lot. My grandma just passed away from Alzheimer's and it made me so angry that they don't have a cure. Thanks for putting donations forward to help others in need!"
Another user, by the name Dianna Abdala, posted: "Save the Children Lebanon hits close to my heart. I moved to Beirut last year after living all my life in America. The situation is dire, and the thug ruling class has stolen everything from the people; they've stolen the past, present, and future. Thank you for giving the future generation some hope.  Right now, it is hard to see a future, with or without hope."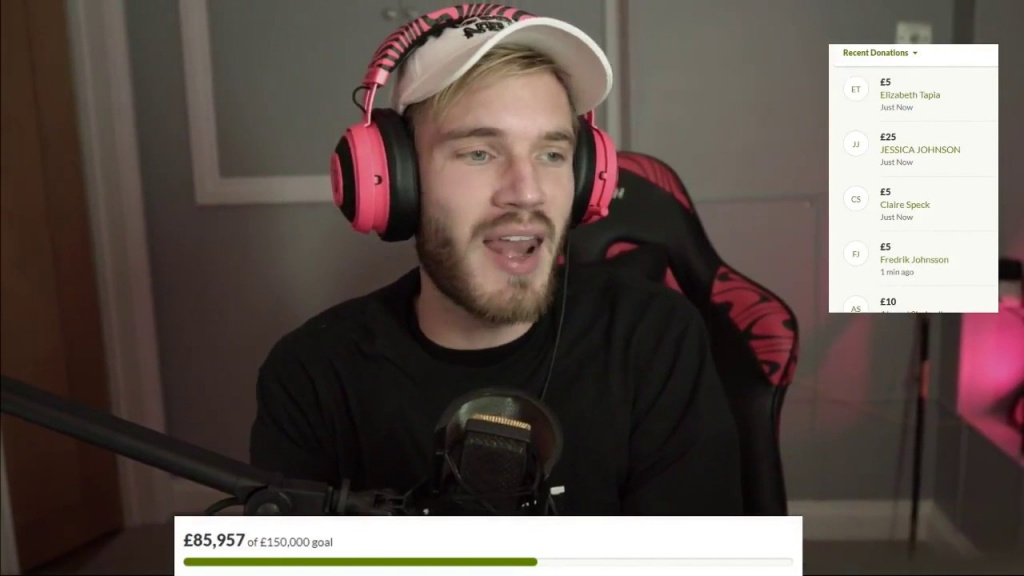 PewDiePie has donated several million dollars to charity over the years that he has been active on YouTube. Many of these contributions have also gone unnoticed. We reciprocate many of his fans' sentiments that we certainly need more YouTubers like him.
It's reasons like this that PewDiePie is, and will always be, the King of YouTube.
Don't forget to check out our dedicated YouTube section for news, streamer antics, drama, and more.
Header image via Jonas Ekströmer / TT.