YouTube streamer, Rachell "Valkyrae" Hofstetter is one of the most popular female streamers and content creators, earning high praise for her work and influence in the industry. From winning Content Creator of the Year at The Game Awards 2020 to becoming a co-owner of esports organisation, 100 Thieves, it was only a matter of time before she caught the attention of mainstream audiences.
Whether it be streaming on The Tonight Show with Jimmy Fallon or playing alongside US House representative, Alexandria Ocasio-Cortez in Among Us, Valkyrae has made her presence felt outside of the gaming industry. Given her incredible amount of success, however, her fans expressed concern for the streamer following a recent stream.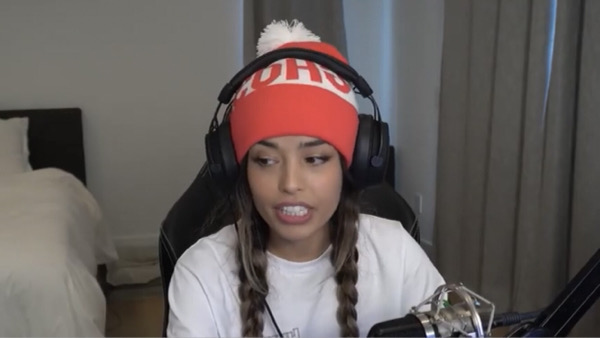 What caused Valkyrae's fans to have concerns for her?
The streamer had revealed during a recent stream on YouTube Gaming, she has been experiencing hallucinations during the night which led her fans to be greatly concerned despite all the hard work she has been doing. She commented that these hallucinations occur before bedtime or when she's exhausted she revealed to her chat.
"Sometimes, when I'm about to sleep, I hear voices in my head. Does that happen to you guys? I keep thinking to myself, 'I'm just tired. It's just my brain. Nothing is actually talking to me,'" the streamer explained.
She further revealed how frequently she experiences these hallucinations and how she's not letting the voices get the better of her. "It happens a few times and it's so creepy. I try not to let myself psych myself into thinking its' anything more than my brain shutting up and going to bed," she stated.
Naturally, this led to many in her chat asking whether the streamer is doing okay, it also created a space where many openly detailed their experiences relating to sleep problems and many other related issues. And while the streamer may not be the only person experiencing hallucinations, many hoped for her to rest up with the launch of her new merchandise soon approaching.
Merch drops TOMORROW!!!!!!
Fri 24th 11AM PST ☺️🎉https://t.co/cKHw7vgXUp pic.twitter.com/Ny1c3zkHwB

— rae☀️ (@Valkyrae) September 23, 2021
Don't forget to check out our dedicated YouTube section for news, streamer antics, drama, and more.
Featured image courtesy of Valkyrae / YouTube.