"Have you ever seen a group of men and women so excited by oversized dots on a screen?" asks Iain Macintosh. Macintosh, founding editor of football website The Set Pieces, is hosting the final of the inaugural FM17 Cup, admirably performing his duties as compere and ensuring a relaxed atmosphere despite the money on the line. The £5,000 first prize - put on by sponsors BetBright - might not yet be at the level of some larger eSports competitions. But it was still enough to attract entries from around 200 players worldwide, with 16 taking part in each of four regional finals and four battling it out for the top prize in London on May 4. And, after drawing several hundred thousand viewers across the five live streamed events, it feels like the interest is there for competitive Football Manager tournaments in the UK and further afield. For those unfamiliar with Football Manager - or its predecessor Championship Manager - it is simultaneously extremely simple and frightfully complex. The 2015 and 2016 versions each attracted more than 1.1m players, according to SteamSpy, with the 2017 edition closing in on 800,000 within months of its November 2016 release. Cut down to basics, it sees players set up a football team, master the transfer market to bolster a squad, and out-tactic opponents - either real or computerised - to win trophies. But it's much more than that.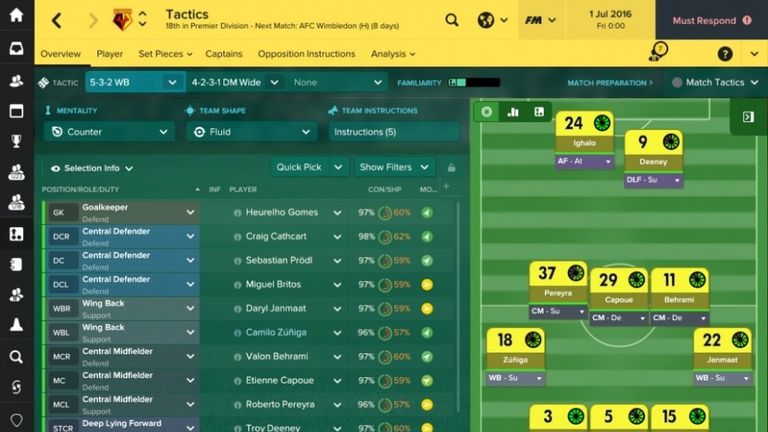 It uses real player names, which provides enthusiasts with a source for countless 'in-the-know' assessments of real-life transfer targets, and creators Sports Interactive have an in-depth scouting system in place to rival those of many professional and semi-pro clubs. "I remember when I was playing one manager came up to me and said 'bloody hell, you were very good in that stat," former Gambia international footballer and Football Manager cult hero Cherno Samba tells me. "You can see straight away that they do look at that. I think it's improved [over time] and it's going to be massive, because there's not too much exaggeration in there." Top clubs already use the game to some degree, predominantly in the realm of scouting, and - while no one is under the illusion that the stats and performances from the game are a be all and end all - the details do provide a solid base from which scouts and maybe even coaches can move forward.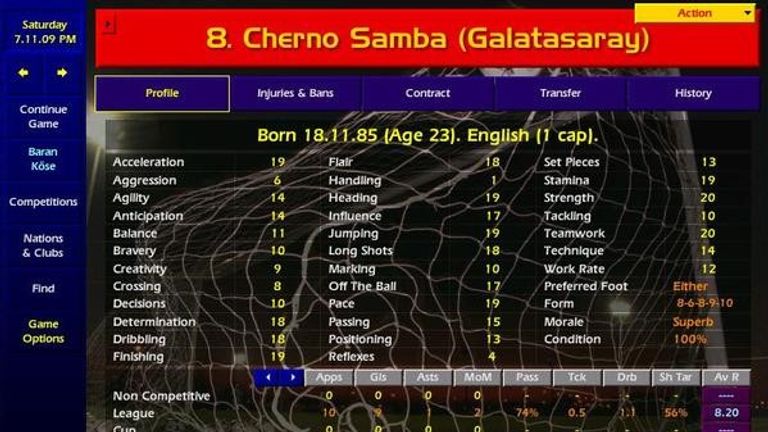 "We're not aware of FM being used as a coaching tool, but it is used in one of the modules of the LMA's Diploma in Football Management, where students are given specific management challenges and asked to address them using FM," Sports Interactive communications director Ciaran Brennan explains. "This generally makes for one of the most boisterous and competitive elements of the course… it almost becomes a mini tournament." The London grand final certainly fits that description, perhaps magnifying the competitive spirit that comes whenever a group of Football Manager enthusiasts find themselves in the same room. Considering the amount of time and effort that goes into mastering the latest and most complex versions of the game, it doesn't feel like too much of a stretch to foresee a competitive future for Football Manager. The interest will surely be there - the main question, perhaps, is whether we yet have the right balance between an audience of spectators and an incentivised player base. "Even if the money was taken out and you got little regional things, had little clubs and communities together, I think people would do it for the fun of it anyway," says Matt Hallsworth, the Manchester champion and runner-up in the grand final. "The money's great, but just playing and speaking to people who enjoy the game and tactics and stuff - it's what we do ourselves anyway, and now we can share it with everyone, which is great." Hallsworth fell just short in the end, losing out to a team whose unique route to victory added some spice to proceedings - Glasgow champions 'Wildcard FC' were originally only involved as spectators, but after being handed their chance they went all the way to claim the top prize. "There were loads of people watching and taking part [in the Glasgow final]," recalls co-manager Hans Potigadoo. "Most people stayed the full night, and because our name was Wildcard FC a lot of people were cheering us on because we were the underdogs." Both finalists took proceedings as seriously as one would imagine for such a high-stakes event, with Hallsworth putting in "tens of hours" in the week leading up to the final and Potigadoo playing a series of dummy games with co-manager Jordan Murphy in an effort to find the best tactical approach. While the competitors might have been initially inspired by a desire to add an extra element to something they enjoy anyway, it's clear that competitive Football Manager events are no joke. And, while Brennan notes the appeal of having current players and squads at one's disposal, alongside the increased realism year-on-year the cult following enjoyed by older versions - and older players such as Samba - means we maybe shouldn't be too quick to rule anything out. The inaugural tournament - while held exclusively in the UK - attracted entrants from as far afield as Denmark (for the live regional finals) and the United States (for the preliminary entries), and this certainly points towards a game with potential to spread its wings across the globe. "We've received a lot of requests to run the tournament again, including plenty of overseas fans who would like us to open it up to an international audience," notes The Set Pieces' Matt Stanger. "I think there are a lot more features we can explore in the latest version of the series, with its evolved gameplay and Fantasy Draft mode." Success in this field relies upon finding the sweet spot between enthusiastic and engaging players, and an audience as keen to invest time and energy into others' achievements as into their own. From what we've seen so far, Football Manager has these ingredients in abundance.