For the first time in nearly a decade, The Coalition and 343 Industries are bringing Gears of War and Halo esports together for a huge Xbox Esports Event in July 2018.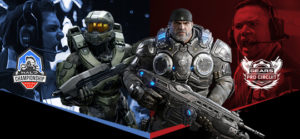 About the event
The event is on 13-15th July 2018, with MLG bringing the Gears Pro Circuit and Halo Championship Series to one huge stage and putting an accumulative $500,000 on the line, $250,000 to each title.
It is due to take place in the New Orleans Convention Centre, New Orleans, a first-time visit for both the Gears Pro Circuit and Halo Championship Series. The event is set to offer the unique opportunity to fans of both esports to experience the games played at the highest level, right next to each other in a live environment. Both tournaments are open to worldwide competition, featuring "hundreds of players, two main stages, multiple feature stations and two open bracket areas for what's sure to be a historic spectacle." With MLG's touch, Gears of War and Halo esports have both seen significant increases in viewership and production quality, so to bring the two worlds together could prove great for the Xbox esports ecosystem.
How to attend
More information surrounding tickets and team passes is due to release in the coming weeks, but 343's Tashi has confirmed on Twitter that whilst team passes and the tournaments are sold separately, spectators will only require one ticket to view both. A Halo and Gears of War crossover event has not occurred since the MLG Orlando Championships in January 2010, with Halo 3 and Gears of War 2 also sharing the stage with World of Warcraft at that event. https://youtu.be/gd0anNjidRE It will be interesting to see the grandiose scale of this year's Xbox Esports Event in comparison to 2010's MLG Orlando Championship – a direct vision of how far esports has come in the few years between them. Make sure to check Ginx TV around the time of the event for all the news and events surrounding it.