While rolling for… everything might be one of the core appeals to Genshin Impact, it is also one of its great frustrations. It's all well and good having an all-powerful 5*, fully levelled and raring to go, but when you realise you're lacking an appropriate bow to compliment your Venti, or are absent a catalyst to get your Klee rolling, things get more tricky.
Fortunately, there is a fair list of weapons you can get without trusting to luck that can help fill that void. Here is our list of the top free to play weapons in Genshin Impact:
Blackcliff Series
Rarity: 4*
How: Paimon's Bargains
While it might be tempting to save that Starglitter for characters, the Blackcliff series is particularly potent if you can bear to part with the valuable substance. Crit DMG as a substat is always valuable for DPS or Burst characters, and the Press the Advantage Weapon Ability offers huge ATK bonuses after defeating enemies, making the weapons excellent at dealing with numbers.
That said, by the same token the ability won't trigger against single enemies like boss characters, so bear that in mind. If you have a damage-focused character in need of a weapon, consider these weapons strongly.
Be advised they're not always in rotation, so keep your eye out when the store refreshes to see whether they're in stock.
Now, onto more specific options:
Bows
Compound Bow
Rarity: 4*
How: Forging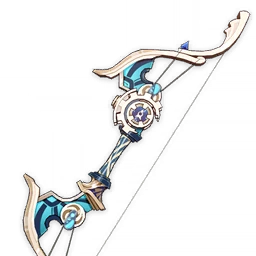 Physical DMG bonus as a sub-stat, with stacking attack damage and attack speed from its Weapon Ability make this an excellent weapon for archers who can abuse spamming lots of normal attacks. Fischl in particular can make good use of this.
Prototype Crescent
Rarity: 4*
How: Forging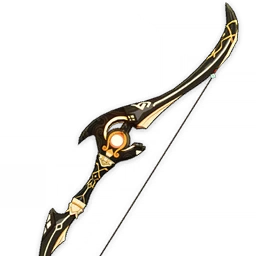 Raw Attack stats coupled with a Weapon Ability that empowers attacks on weak points make this a good damage bow for all archers that are using charged shots regularly… which can honestly be any of them. Ganyu, Venti and Amber can all do work with this weapon - especially with Constellation Levels.
Sharpshooter's Oath
Rarity: 3*
How: Open World Drop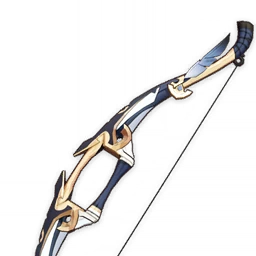 Crit DMG is a valuable substat, but as with all 3* weapons your eyes have to turn to the Weapon Ability to see whether the lower base stats make it worthwhile. The Precise ability is certainly that. At Refinement level 5 (easily achieved with 3* weapons), this bow offers 48% extra DMG against weak spots. Any archer who's using charged shots frequently can abuse that very easily.
Messenger
Rarity: 3*
How: Open World Drop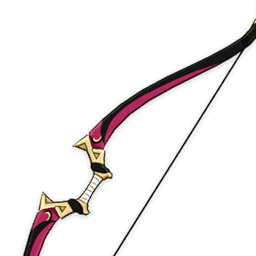 Another Crit DMG substat bow, with a similar Weapon Ability to Sharpshooter's Oath. However, the Messenger deals a massive 200% additional DMG against weak spots at max Refinement compared to Sharpshooter's Oath 48%. The big difference is the Messenger's ability has a 10s internal cooldown, so offers less consistent damage in trade for burst potential. Another bow for charged shot users.
Slingshot
Rarity: 3*
How: Open World Drop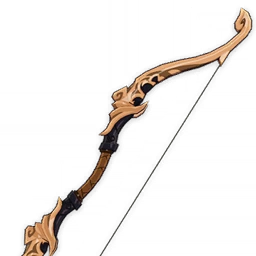 Slingshot has the holy grail of substats with Crit Rate, and an interesting Weapon Ability that increases normal or charged attack DMG by 60% at max refinement… assuming it hits within 0.3s of being fired, otherwise DMG is decreased by 10%. Good for archers and builds that don't mind getting up close and personal - Venti and Fischl probably foremost amongst those.
Catalysts
Mappa Mare
Rarity: 4*
How: Forging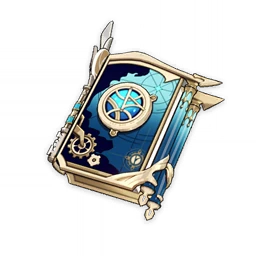 A generically excellent weapon for catalyst users. Elemental Mastery as a substat synergises very well with catalyst users' elementally infused basic attacks. Even better, it works well with its Infusion Scroll ability that grants an Elemental DMG Bonus upon triggering an Elemental reaction. A good DPS choice and a stellar one for Enabler builds on the likes of Sucrose, Lisa, or Mona.
Frostbearer
Rarity: 4*
How: Forging (gated by Dragonspine progress)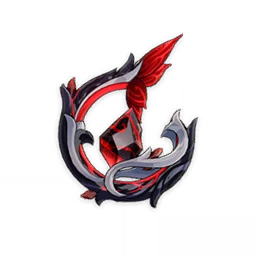 Raw ATK is always popular for damage focused mages, and the Frost Burial ability adding additional AoE damage in the form of periodic Everfrost Icicle makes this a strong catalyst indeed. However, to get the most out of this catalyst you really do need to keep Cryo applied to as many opponents as possible to empower the Frost Burial weapon ability.
Sadly, there are no Cryo catalyst users available in-game yet to really make the most out of Frostbearer (Signora remains distant speculation at the time of writing). Even so, basic attack heavy mages can certainly pump out the damage with this weapon with the right team set-ups. Read: Ningguang, though Klee, Mona and Lisa can all make use of it as well.
Prototype Amber
Rarity: 4*
How: Forging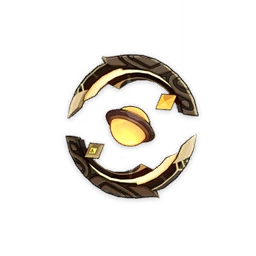 This weapon is all about its support capabilities. The HP substat is largely low value, though Barabara loves it and a support Ningguang can also make good use of it, but the Gilding Weapon Ability is fantastic for Supports and Enablers, offering party-wide HP regen after using an Elemental Burst. As stated, Barbara and Nigguang use this weapon well.
Magic Guide
Rarity: 3*
How: Open World Drop
Elemental Mastery is a high-value substat for mages, and Bane of Storm and Tide is an easily Refined Weapon Ability that increases DMG against enemies affected by Electro or Hydro. If you're in need of a DPS catalyst for Lisa, Mona or Barbara, this is a strong choice.
Thrilling Tales of Dragon Slayers
Rarity: 3*
How: Open World Drop
A legitimately incredible Weapon Ability in Legacy makes Thrilling Tales of Dragon Slayers a contender for Best in Slot for most Support or Enabler builds despite being 3*. It grants the next character to switch in after the wielder of Thrilling Tales an ATK buff of 48% at max Refinement and is activatable once every 10s. Barbara, Ningguang, Lisa, Mona… most mages can use this well.
Claymores
Prototype Archaic
Rarity: 4*
How: Forging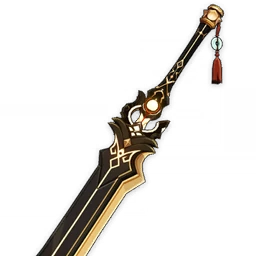 ATK substats are always valuable, and the Crush ability periodically makes attacks deal an additional 480% ATK DMG in AoE at max Refinement. Strong for any claymore user wanting to deal damage.
Whiteblind
Rarity: 4*
How: Forging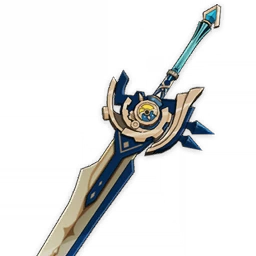 A more supportive option, with DEF% for a substat, and stacking ATK% and DEF% from normal and charged attacks courtesy of Infusion Blade. This is one of Noelle's absolute best weapons and is a solid choice for Xinyan too.
Debate Club
Rarity: 3*
How: Open World Drop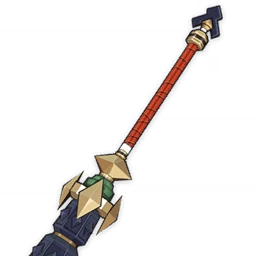 Think Prototype Archaic, but far easier to Refine. The Blunt Conclusion weapon ability can activate every 3s instead of every 15s, but does deal less damage, and triggers on attacks made after using an Elemental Skill. Diluc and Razor make great use of this, but every claymore user is very happy to make this weapon sing.
Skyrider's Greatsword
Rarity: 3*
How: Open World Drop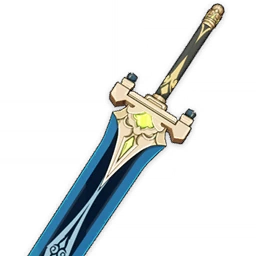 Physical DMG Bonus is a strong substat if used correctly, and up to 40% additional normal and charged attack DMG from the Courage weapon ability at max Refinement is both accessible and powerful.
Polearms
Crescent Pike
Rarity: 4*
How: Forging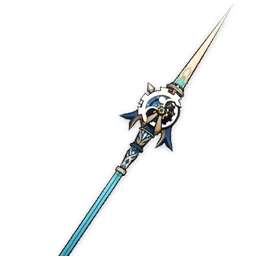 Physical DMG Bonus and the Infusion Needle ability empowering attacks after picking up an Elemental Orb or Particle make this a premier damage polearm. Just don't use it on Xiao, as he can't pick up Elemental Particles during his all-important Elemental Burst, nor will he be dealing Physical DMG...
Dragonsine Spear
Rarity: 4*
How: Forging (gated by Dragonspine progress)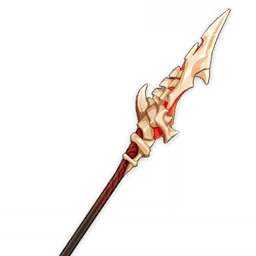 Another Physical DMG Bonus polearm, but this one comes with the Frost Burial ability. The additional AoE from Frost Burial is a welcome DPS addition, but you likely want a Cryo user in your party to get the increased damage from said Weapon Ability. Strong on DPS builds for Xiangling and Zhongli, who can use flurries of normal attacks to get the most out of the Physical DMG Bonus. 
Prototype Starglitter
Rarity: 4*
How: Forging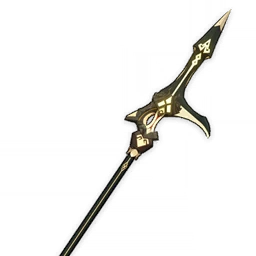 Energy Recharge is a high value for substat if you're looking for an Enabler, Support or even a Burst build, and the Magic Affinity weapon ability rewards switching in to use your Elemental Skill, making use of the buff, then switching out. Fantastic on Xiangling, and good on other polearm users.
Halberd
Rarity: 3*
How: Open World Drop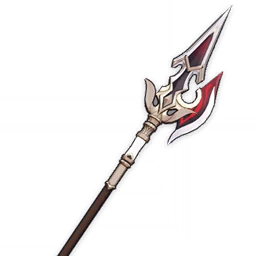 ATK stats and the Heavy weapon ability offering periodically empowered normal attacks (320% at max Refinement) make this a solid damage polearm. Generically good.
White Tassel
Rarity: 3*
How: Open World Drop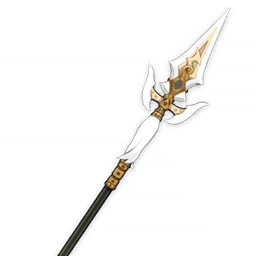 Crit Rate is always a desirable substat, and the Sharp ability offers a constant 48% DMG Bonus to normal attacks at max Refinement. Xiao will gratefully accept all these stats, though once again it's a generically strong polearm considering it is a 3*.
Swords
Festering Desire
Rarity: 4*
How: Story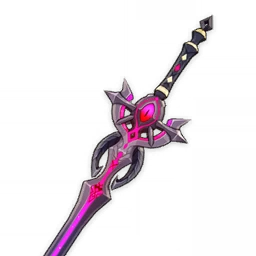 Granted to players via the story in Dragonspine and was easily Refined up level 5 during The Chalk Prince and the Dragon event. Having Energy Recharge for a substat plus increased DMG and Crit Rate for Elemental Skills via Undying Admiration make this a top-tier weapon for skill spammers. Albedo, Jean, Kaeya, Bennett, Xingqiu, and more wield Festering Desire well.
Iron Sting
Rarity: 4*
How: Forging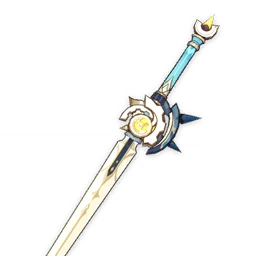 A versatile weapon that really pushes elemental damage via its Elemental Mastery and the Infusion Stinger ability, with Elemental DMG empowering all DMG afterwards for 6s. Good on the Traveller (Geo or Anemo), Keqing, Bennett and Albedo.
Prototype Rancour
Rarity: 4*
How: Forging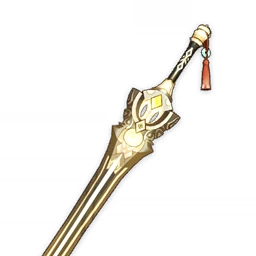 Physical DMG Bonus plus Smashed Stone providing stacking ATK% and DEF% on attacks make this a good weapon for basic attack reliant characters, like Qiqi, Jean, or a Physical DMG build on Keqing. That said, this is a generically strong weapon on most characters.
Skyrider Sword
Rarity: 3*
How: Talking to Pan Guan'er
A bit of an odd weapon to obtain. Like other 3*s you can get it via gacha, but you can get a free one by talking to Pan Guan'er in Jueyan Karst. It offers Energy Recharge alongside a big ATK and Movement SPD buff after using an Elemental Burst, making it a strong choice for Burst carries or Supports like Bennett or Xingqiu.
Harbinger of Dawn
Rarity: 3*
How: Open World Drop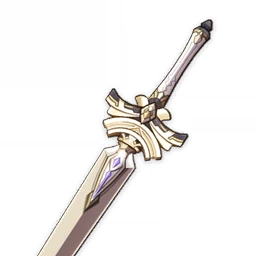 Crit DMG and Crit Rate? It seems too good to be true! And it kind of is. To keep that Crit Rate, you need to stay above 90% HP, making this a weapon either for characters that don't have to stay on the field to make use of its upsides and can therefore avoid being hurt, or characters that have enough in-built sustain to keep themselves healed above 90% HP. Albedo, Jean, Qiqi and Bennett are at the top of that list.
That, or just get good.
Fillet Blade
Rarity: 3*
How: Open World Drop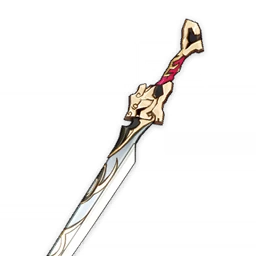 ATK stats plus an additional 50% change to deal 400% ATK DMG to a single enemy on hit every 11s at max Refinement makes this a potent DPS option for swordsmen. It's a little lower on the totem poll of options, but it's easy-to-use strengths make it applicable to most characters.
And that wraps it up! We wish you the best of luck in your Genshin Wishing… and if your luck fails you, you can always fall back on this guide. Happy adventuring, Traveller.