On 19th July, Twitch took steps to shut down hot tub streamers invading the ASMR category, with the loudest thumps coming in the form of bans against Jenelle "Indiefoxx" Dagres and Kaitlyn "Amouranth" Siragusa. The latter is, of course, the queen of the Twitch hot tub meta. Amouranth has received a lot of criticism from various avenues, with the likes of virtual streamer CodeMiko firing shots at the "ear licking meta" and Pokimane even slamming the practice. In case you haven't been caught up, many hot tub streamers invaded the ASMR category, laying on their beds in very suggestive poses, with tight outfits all while licking microphones...
Well, Amouranth has hit out at some of the criticism lodged towards herself about that invasion of the ASMR category on Twitch, calling it "enormously ironic". Wait, what?
Amouranth slams Twitch ASMR licking criticism
Taking to Twitter roughly one day following her ban, Amouranth spoke out against critics. Specifically, she slammed those who believe that ASMR licking could lead to harassment of other female content creators on Twitch.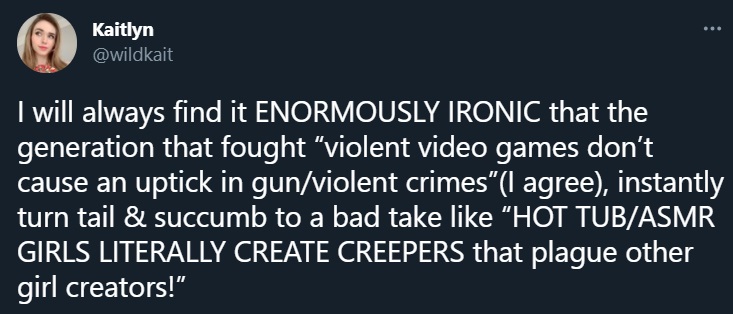 (Picture: Amouranth via Twitter)
Amouranth continued by staying: "Like I always wondered how 'think of the children and other slap-a-bandaid solutions came about.  Like why do people try and gloss over systemic issues by blaming causes that have no basis in reality? Zoomers & millennials are more alike with boomers than we thought!"
She further claimed that: "popular narratives and finger-pointing flows like water - the path of least resistance".
The Twitch ASMR licking trend was, without a doubt, due to the platform's move to create a dedicated "Pools, Hot Tubs & Beaches" category, which saw the viewership of hot tub streams drop for most.
However, according to Amouranth, this wasn't the case for her, as she explained on Twitter.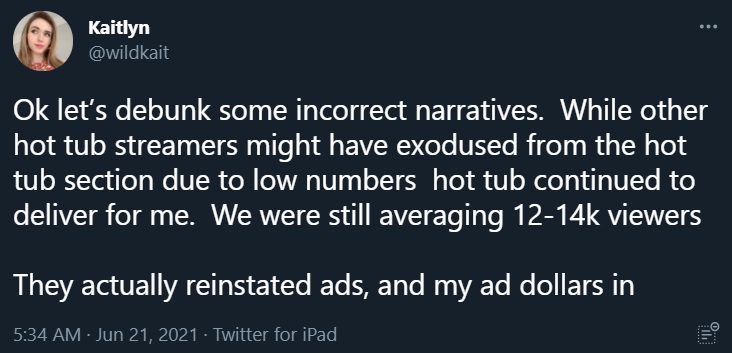 (Picture: Amouranth via Twitter)
Amouranth further notes that she has and will continue to use the ASMR. While many might believe she did this due to possibly less revenue on hot tub streams, Amouranth notes how she made time for ASMR streams on Twitch at least twice a week even during the height of the hot tub meta.
We will leave it up to each reader to decide if this type of content, where streamers in suggestive poses, licking microphones in tight outfits, belong in the ASMR section...and why this type of content is being produced.
Twitch has not made an official comment on the Indiefoxx and Amouranth bans, and we don't really expect them to. While the bans don't seem to be permanent, there's no exact timeline to work with at this point.
Don't forget to check out our dedicated Twitch section, filled with news, drama, and much more.