Ben "Cohh Carnage" Cassell's charity stream hit the headlines last weekend when a single 0,000 donation helped smash the million goal, it was all in aid of St. Jude Children's Research Hospital but it now appears that the charity can expect a lot less money coming its way after that donation turned out to be fake.
The donation was originally billed as coming from a "lottery winner" -- and long term viewer - but who now appears to have got caught up in the moment and ultimately made a fool out of himself and Cohh Carnage.
In a statement posted to his Twitter and an explanation given on stream, Cohh Carnage explained the timeline of events and spoke of how "incredibly sorry" he was for not being "more careful" and for running a second stream -- soliciting more donations -- to reach a $1m target that wasn't close to being reached.
No easy way to say it and I'll make it quick...

Read: https://t.co/YznLVjdEqL

— Cohh Carnage (@CohhCarnage) July 2, 2021
"I jumped the gun. I counted the money as there before it had been confirmed.," said Cohh Carnage "I did a second charity stream with goals that wouldn't have been hit if it wasn't for that donation that, frankly, I dropped the ball on confirming. That part is 100% on me."
Coh Carnage recounted how the original $600k donation actually arrived on Thursday, a day before the stream, with the supposed benefactor claiming he couldn't donate through Cohh Carnage's chosen platform but instead had wired the money straight to St. Judes.
Initially, Coh Carnage didn't count the donation during the charity stream which saw him raise over $300k in legitimate donations. However, once word reached the community about the massive donation calls were made for it to be counted towards the goal. Cohh listened and added it to the donations.
With that money banked, a second charity stream was held that Sunday to raise the $80k more needed to hit the $1m goal, which was ultimately successful.
In the days following the stream, things began to unravel. Cohh Carnage was liaising with both the donator and St. Judes but to no avail, then on Friday, a week after the initial charity stream, the donator claimed he was being "accused of a money laundering crime". Pushed by Cohh Carnage, he revealed that he had been "lying about everything."
"It was a situation where he thought he was being nice," explained Coh Carnage on stream later that night. "He lied about donating. He then fabricated a bank statement showing a transfer."
It was a situation that left the streamer "blown away", in part because the supposed benefactor had gone to great lengths to make the donation appear legitimate even using bank details -- offered on the St. Jude website for donations -- that in a bizarre twist turned out to be wrong.
It certainly leaves a sour note to what was a momentous occasion, Cohh Carnage held the initial stream on his birthday and had set a variety of targets with $1m being the highest with promises of a hot tub stream if it were met.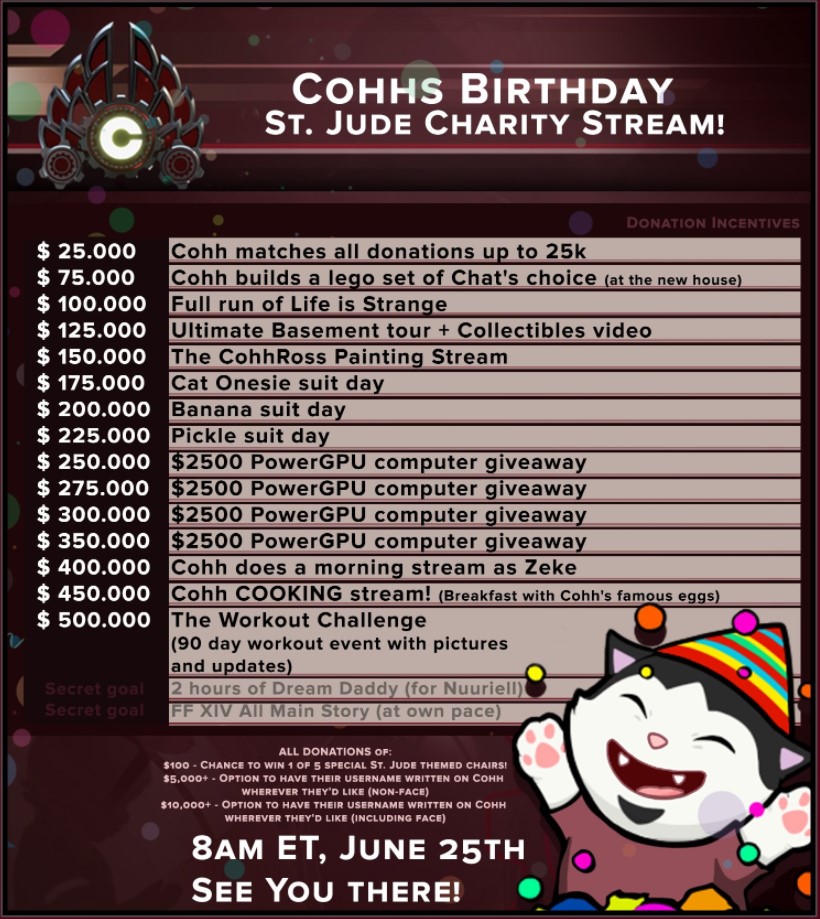 Cohh Carnage had donation incentives running through his charity stream. (Picture: Cohh Carnage)
Thankfully, Cohh Carnage has confirmed that all the donation incentives that would have happened if they raised $1m will go ahead, while also revealing that the true amount raised for St. Jude Children's Research Hospital was $420,742.69.
"I'm still incredibly, exceptionally proud of the community and everyone who donated," said Cohh Carnage. "You guys really came through and did something special. It wasn't your fault that this happened, it's mine. And I'm definitely not going to screw you out of what you thought you were getting with those donations."