Twitch megastar Steven "Destiny" Bonnel is considered a pioneer in the livestreaming space, having been among the first individuals to quit his traditional day job in favour of streaming video games online as a full-time occupation.
However, despite his veteran status, Destiny's recent violation of Twitch's Terms of Service has brought his ability to stream on the Amazon-owned streaming platform to a grinding halt after the company served him with an indefinite suspension for "hateful conduct."
Why was Destiny permabanned from Twitch?
According to a screenshot of Destiny's email, Twitch banned him for "hateful conduct." Further, the company stated that Destiny was guilty of "promoting, encouraging, or facilitating the discrimination or denigration of a group of people based on their protected characteristics."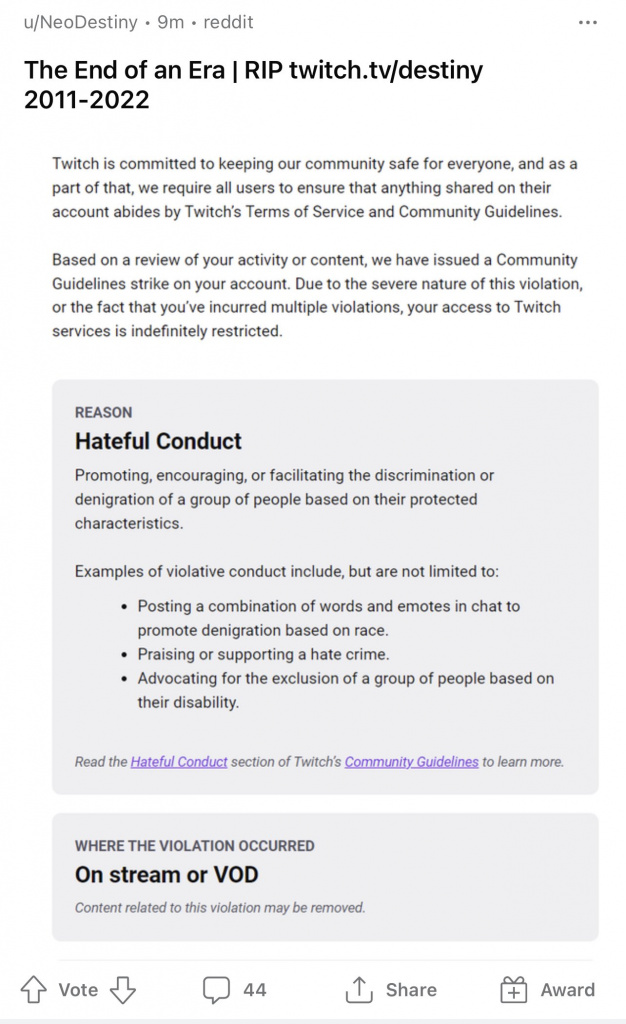 Moreover, Twitch noted that "due to the severe nature of this violation or the fact that [Destiny] occurred multiple violations," his access to Twitch services would be "indefinitely restricted."
During a YouTube stream on 23rd March addressing the ban, Destiny added that Twitch did not expressly tell him what he said to earn the permaban. Instead, they provided vague broad-spanning examples of his violation. 
Twitch explained that examples of violative conduct included: (i) posting a combination of words and emotes in chat to promote denigration based on race, (ii) praising or supporting a hate crime, or (iii) advocating for the exclusion of a group of people based on their disability.
It's clear from Destiny's reaction to the notice that he outright disagrees with Twitch's decision, noting that if the reason for his ban were related to the third point above, it would blow his mind. "There's no way, right?" he said to his viewers.
In a Reddit thread, Destiny speculated that he "will probably never know what the ban reason was," adding, "but I think it's because of my claims that transwomen shouldn't compete with ciswomen in women's athletics."
Several users on Reddit have since criticised Twitch's decision to ban Destiny. One user writes, "Permabanned, and in the reply to his appeal, they don't even confirm what he's actually banned for. Even if you don't like him, you have to admit that's completely f*cking insane. No well-functioning platform should operate like this."

Others noted the irony of Twitch banning him for being a transphobe. "I can recognise very easily if someone is transphobic, but Destiny just isn't and his track record of debating people on trans rights over the years kinda speaks for itself," said a different user.
"[It's] actually mind blowing. You can criticise Destiny for a lot [of reasons], but you definitely cannot call him a transphobe," added a third.
While the prospect of Destiny being unbanned does not look promising, the Twitch star has one last opportunity to request a ban appeal. In the meantime, fans will have to resort to watching him stream on YouTube.
Featured image courtesy of Twitch / Destiny.