Just before Pride Month started (June 2021), on 30th May 2021, the infamous
Minecraft
speedrunner
Dream finally admitted to cheating
. Dream didn't stream on Twitch for a very long time, which led to
accusations of homophobia
. You see, at the start of June, Dream promised to donate "any money from subs, donations, bits, or otherwise from streaming this month" to an LGBTQIA+ non-profit called The Trevor Project.
On 30th June, however, Dream's Twitch channel went live with a Q&A Charity stream featuring George "GeorgeNotFound" Henry Davidson. Now, on 1st July 2021, Dream has revealed the amount raised for charity.
Dream reveals Pride Month charity donations
While many believed the Minecraft speedrunner and content creator, Dream, didn't do enough due to nearly no streaming, this might not be the case after all.
Dream took to Twitter to announce that a total of $140,000 is going to The Trevor Project. Dream explains: "This month with 2 streams and 3 Twitter/Discord podcasts we were able to raise $20,000 in subs, $60,000 in donations, and over $10,000 in ads from streaming. Totaling $90,000! Plus the promised contribution from the dteam of $50,000. $140,000 is all going to an LGBTQIA+ charity!"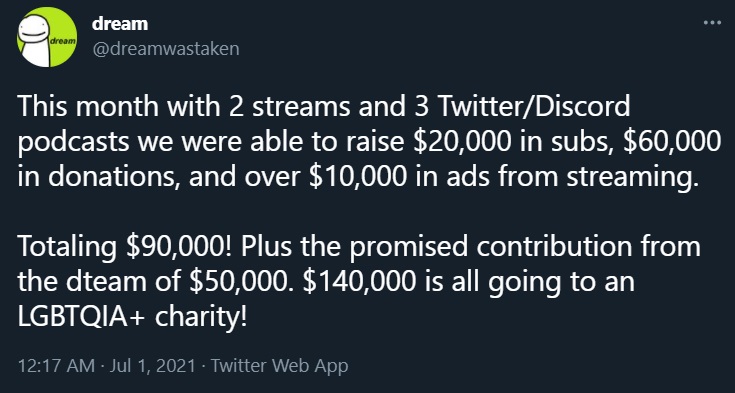 In a follow-up tweet, Dream confirmed that the $140,000 is being donated to The Trevor Project, a charity dedicated to LGBTQIA+ youth.
The Trevor Project is an American non-profit which was: "Founded in 1998 by the creators of the Academy Award®-winning short film TREVOR, The Trevor Project is the leading national organization providing crisis intervention and suicide prevention services to lesbian, gay, bisexual, transgender, queer & questioning (LGBTQ) young people under 25."
For those who want to learn more about the charity, you can head on over to The Trevor Project website. 
Dream finished off his announcement by stating: "Happy end of pride month, and I'm glad we were able to raise so much for such an amazing cause!"
Sure, Dream didn't stream a lot during Pride Month. However, he did stick to his word and donated in celebration of Pride Month. 
Don't forget to check out our dedicated Twitch section for news, drama, bans and more.