Yesterday evening, the two worlds of Twitch and Hollywood clashed when popular streamer Ben "DrLupo" Lupo and Borat Sagdiyev (played by Sacha Baron Cohen) met live on stream.
Titled '#1 Gamer in Kazakhstan vs #1 Gamer in Nebraska' and lasted for about 40 minutes. However, those minutes were chock-full of hilarious banter and memorable lines from both DrLupo and Borat.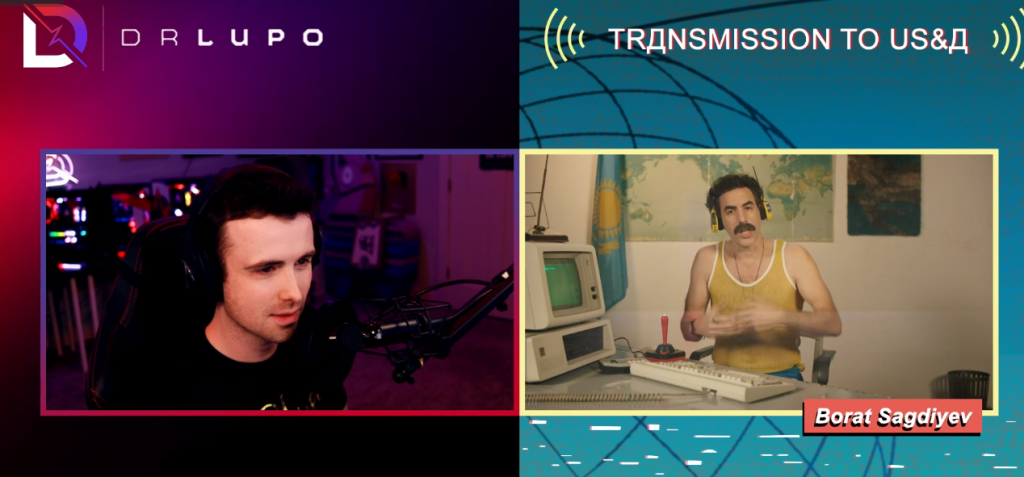 (Picture: DrLupo)
Streamed as a promotion for the new Borat movie, 'Borat 2' (releasing on 23rd October), the broadcast was simply DrLupo and Borat going back and forth with jokes. The Kazakhstan citizen was streaming from his country's technology room and attempting to figure out what DrLupo was talking about when it came to video games. 
DrLupo and Borat team up for hilarious Twitch stream
It was quite the day for the renowned Twitch streamer, as DrLupo went live to the world initially for his promotional stream with Borat. It began with the controversial Kazakhstanian trying to understand who DrLupo was and what he did.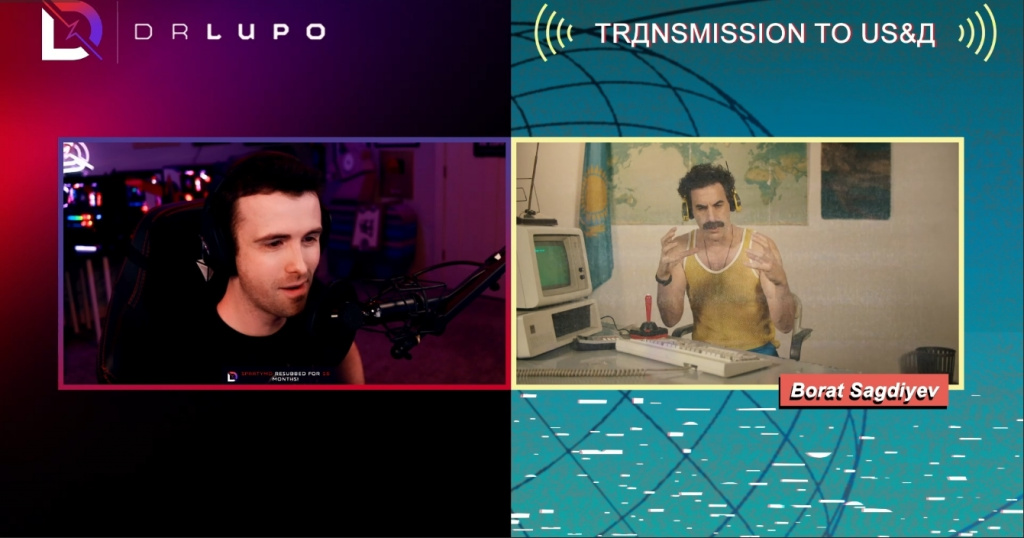 (Picture: DrLupo)
Of course, DrLupo attempted to explain that he plays video games on Twitch but that exchange didn't necessarily make it all the way through to Borat. When DrLupo stated that he wanted to play a video game with Borat, he replied with what he thought that meant. 
"Yes, you play with yourself. You play with yourself for young men to watch, I want to watch. Please play with your ****."
No @BoratSagdiyev I'm not... I don't... That's not... nevermind pic.twitter.com/vzYvpKgwzf

— DrLupo (@DrLupo) October 21, 2020
Obviously, DrLupo tried to explain that Twitch wasn't that kind of streaming platform. However, this seemed to go right over Borat's head, as he then called DrLupo a "Ninja" and picked up a calculator to attack him. This then led to Borat trying to attack coronavirus on his desk with that same calculator and talking about Dr. Anthony Fauci, President Donald Trump, and even ANTIFA. 
The stream itself was hilarious in every concievable way and was a huge hit with fans.
DrLupo's rather bizzare day at work wasn't done though, as he then streamed later with Democratic U.S. House Candidate Alexandria Ocasio-Cortez (AOC). He, along with the likes of Pokimane, xQc, Valkyrae, and fellow House Candidate Ilhan Omar, played some Among Us on stream. This was AOC's first broadcast and she reached an astounding 453,000 viewers.
This, paired with talking to Borat for the better part of an hour, made for quite the day for DrLupo and one that won't be soon forgotten.