Each week, Zestats provide us at Ginx with some of the most in-depth statistics surrounding Twitch and people's viewing habits. Here, we take a look at the streamers and games that have taken your fancy this week.
The streamers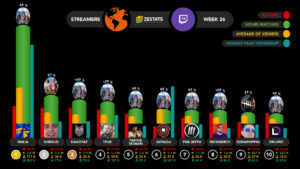 Naturally, Ninja sits atop the charts as he will until the end of time. After a short blip last week, we also see Shroud back in second place following a rare week in which he was replaced there by FaZe Clan's pro Fortnite player, Tfue. This week, Tfue has been pushed down to fourth behind Ninja, Shroud and TSM streamer Dakotaz. Despite this, he will still be very happy with his placement, having not been there in recent weeks, showing that his hard work is paying off. He even peaked at 107,000 viewers, significantly higher than the peak viewerships of Shroud and Dakotaz. Speaking of peak viewership, it's impossible to ignore Gotaga in the above graphic. The Frenchman peaked at 241,000 viewers, beaten only by Ninja himself, who clocked in at over 434,000 viewers during the final of the Friday Fortnite tournament. Commendations also should be given to Nickmercs, who retained his eighth place position in the standings, reaching one million hours watched and finally hitting one million followers last week.
The games
Naturally Fortnite sits atop the Twitch charts, and we do not see any other titles occupy the top five than the usual culprits. In fact, Fortnite was watched for 28 million hours last week; almost five million more than last week! The popular battle royale game seems to have taken some of the viewers from League of Legends, Dota 2 and the IRL category, who all saw somewhat of a loss this week. This couldn't be more true than for Dota 2, which saw hours watched drop from 14.6 million to 6.2 million – a difference of eight million hours. It is interesting to see Fortnite continue to be such a widespread, viral trend, and even more interesting to consider what game could potentially one day take it's place. With the movies and montages coming out of Fortnite, however, it is no surprise to see why people are interested. For now, Fortnite and Ninja continue to work together to dominate the world of Twitch, and they're doing it in fine fashion. Make sure to check back next week to see how Twitch has changed, and which streamers are making names for themselves.