Each week, Zestats provide us at Ginx with some of the most in-depth statistics surrounding Twitch and people's viewing habits. Here, we take a look at the streamers and games that have taken your fancy this week.
The streamers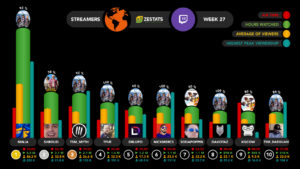 Once more, Ninja and Shroud occupy the top two spots, whilst Myth takes the third place spot that he has regularly visited over the weeks, which was held by teammate Dakotaz last week. Pro Fortnite player Tfue is once again in fourth place and will be looking to move into the podium spots in the coming week. The rest of the top 10 are fairly expected: Dr Lupo, Nickmercs, Sodapoppin and TSM Daequan are all streamers we regularly see here. However, Overwatch League outcast xQc sits in ninth place, having put in more hours than any of the other streamers in the top ten. This is xQc's first foray into the top ten streamers, but is unlikely to be his last if he continues putting his efforts in to the stream.
The games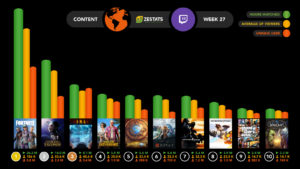 This week, we've got a surprise for readers – Zestats actually gave us the top ten games for the last week, as opposed to the usual top five. For the first time since I started covering these statistics, Dota 2 fell out of the top five, making way for Hearthstone to make its first entry into this bracket. It was incredibly tight though, with both titles having 5.6 million hours watched and only around 100 average viewers favouring Hearthstone over Valve's MOBA hit. Below these we see Counter-Strike: Global Offensive and Overwatch, which isn't much of a surprise considering their reach and market appeal. In ninth place is the ever-popular Grand Theft Auto V, whilst World of Warcraft rounds out the top 10 with 2.3 million hours watched. It is almost not worth mentioning that we continue to see Fortnite: Battle Royale absolutely dominate the top of the chart, making League of Legends look like a meagre indie game in comparison. It's looking like Fortnite may forever occupy the top spot in this list.