YouTube content creator and Twitch streamer, Kaceytron, has been in hot water as of late, following where it seemed like she was using a racial slur whilst streaming and singing along with a rap song back in 2020. While Kaceytron denied using the slur, blaming the facemask for the confusion. Now, Kaceytron is being harassed by "Minecraft stans" following a comment she made on Friday, 19th March 2021 where she mentioned gay-baiting and cancel culture.
Kaceytron harassed by Minecraft stans
First off, Kaceytron calls her harassers Minecraft stans. This is basically a slang term that means overzealous fans, and in this case, Minecraft YouTuber fans. The word "stan" originates from Eminem's song entitled "Stan" which revolves around an obsessed fan.
On Friday, 19th March 2021, Kaceytron made the following comment on Twitter: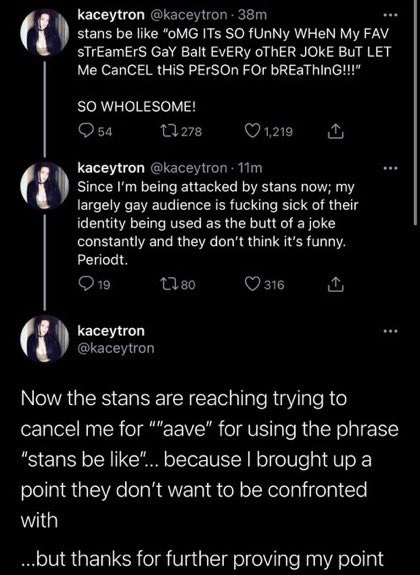 (Picture: Kaceytron)
In a lengthy explanation via a Google Document about all the harassment and false allegations, Kaceytron explained:
"Addressing an extremely false narrative that is being painted of me by angry MCYT fans who assumed I was talking about Dream & George specifically when I mentioned "gaybaiting".
Following this comment, these "Minecraft stans" have apparently been harassing Kaceytron, making up falsities according to the content creator.
False accusations according to Kaceytron include using several offensive terms, being a Trump supporter, and being homophobic.
This has also led to these apparent Minecraft stans harassing Kaceytron in multiple ways, from phone calls to getting doxxed, which means "publish private or identifying information".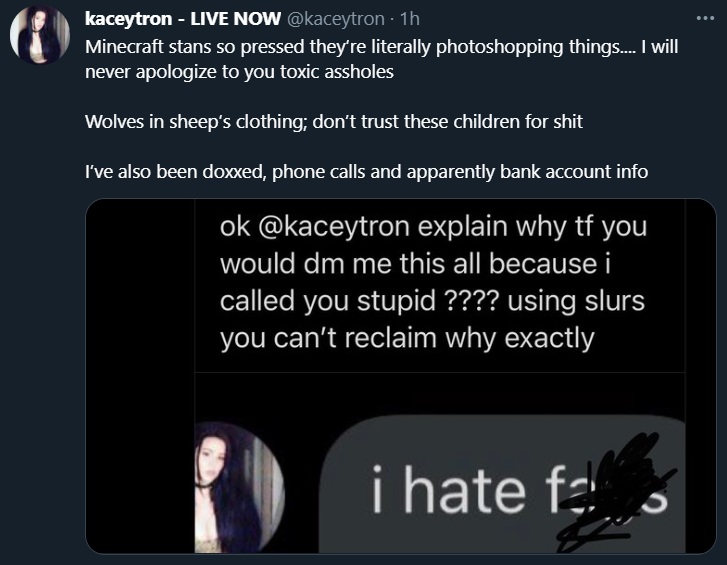 Kaceytron talks harassment from Minecraft stans (Picture: Kaceytron)
According to Kaceytron, her harassers are also photoshopping images to make up homophobic comments.
Kaceytron isn't taking things laying down, however, as the content creator is hitting back on Twitter.
It is clear things might escalate even further. However, it is never okay to harass someone and falsify statements. Neither side is backing off at this point, and it might only be a matter of time before things go too far.