Every week, Zestats compile some of the most comprehensive statistics around Twitch streams, both the games and the streamers. This week was no different, and here is a breakdown of some of the most interesting statistics surrounding Twitch this last week.
The streamers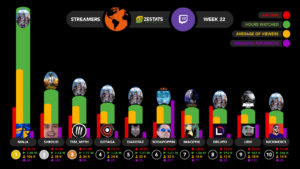 It is almost starting to border on boring, frequently telling you that Ninja is far-and-away the most watched Twitch streamer. Alas, here we are. Just look at that those numbers. It's worth considering this doesn't include the numbers he puts up on YouTube, too – it is simply his Twitch channel. For the most part, the rest of the chart is fairly predictable, with all the same faces that we see each week. Interestingly, we see NICKMERCS make it back into the top 10 for the first time since the first Friday Fortnite tournament. Fortnite has grown his brand exponentially – like it has done for many – and even prompted me to include him in my list of top Fortnite streamers. I predict we'll start seeing him a lot more. Another interesting observation is that Myth has basically doubled his air time on Twitch. This comes after my ranking list saw him lose points because he doesn't stream enough. As you can see in last week's stats, Myth rarely streams anywhere near the level of his competitors, but has been successful regardless. If he can keep up his streaming hours, we may see Myth break the Ninja-Shroud duo that has sat at the top for the last two months.
The games
Much like Ninja in his category, Fortnite is the dominant force amongst the games being streamed on Twitch, and perhaps this is only going to be even more prominent as Fortnite esports develops and begins to grow.. Similarly to Shroud's trailing of Ninja, we always see League of Legends trailing in second place. What is interesting here though, is that we see Dota 2 drop out of the top five and replaced by Counter-Strike: Global Offensive. Since we started documenting these stats last month, CSGO has not placed in the top five, always behind Dota and other popular titles such as PUBG and Hearthstone as well as IRL streamers. I've always found this curious considering CSGO's standings as a top tier esport, right up there alongside Dota 2 and League of Legends. This may suggest that Twitch viewers prefer a casual stream or game to a high-tier level of competition, and the case of Fortnite's success can definitely be attributed to this. Make sure to check back next week to find out if somehow, someone has overtaken Ninja and Fortnite. Or perhaps more interestingly, which streamers we see break into the top ten.