Australian Twitch streamer and Escape from Tarkov champion, Pestily, has achieved a massive feat that not many can. With still 20 days remaining of his 50-day subathon, he has surged to about 82,000 active subscribers on Twitch.
Pestily has since overtaken popular icons, including NICKMERCS and former reigning champion, Felix "xQc" Lengyel, to achieve the highest active sub count on Twitch. While it is a far shoot of Ludwig's all-time high of nearly 300,000 subs, it is nonetheless a massive milestone for the Aussie Twitch star.
Pestily subathon surges to highest active sub count on Twitch
On the 30th of July at 7:24 AM BST, Pestily announced on Twitter that he reached a total of 81,926 subscribers on Twitch. "What a ride", he said before thanking everyone for the incredible experience.
81,926 Subs - Day 30 complete! What a ride! With 20 days to go! Lets see what random crap I can do from here

Thanks so much for this incredible experience! pic.twitter.com/mKr2FES8KZ

— Pestily (@Pestily) July 30, 2021
We must admit that this is a monumental time for Tarkov fans. The game doesn't draw nearly as much attention as popular titles like  Call of Duty,Grand Theft Auto, or League of Legends streams.
"It's one of the biggest shooters out there. The times of Tarkov being a small unknown game are over", a user on Twitter commented.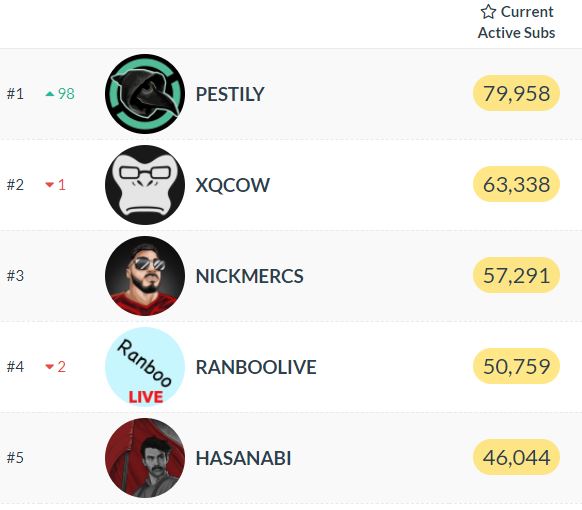 Other fans cheered Pestily on with congratulations and words of encouragement. Another Twitter user tweeted: "Insane... It always blows my mind, that's the equivalent of 200k $ per month, congrats on winning at life my man".
Pestily has been live for a little over 724 hours at the time of writing. For every 10 days passed, Pestily will deliver special milestone rewards.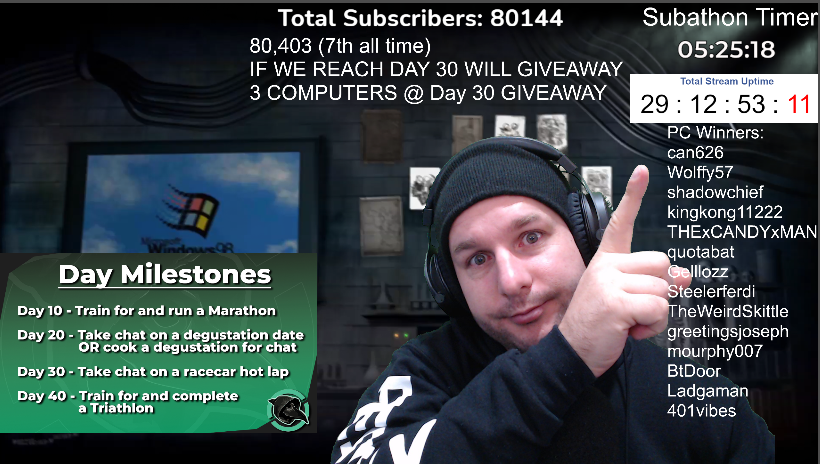 Day 10 - Train for and run a Marathon
Day 20 - Take chat on a degustation date or cook a degustation for chat
Day 30 -Take chat on a racecar hot lap
Day 40 - Train for and complete a triathlon
Of course, Pestily cannot complete his Day 10 milestone reward right now but has promised to do this once the subathon is over. 
Pestily indicated that he doesn't want to keep setting bigger targets, citing that he didn't need to "force anything". He said that when his 50 days are up, "it's straight to the beach!"
While we're sure that is something Pestily is looking forward to, there are still 20 days remaining of his subathon. Best of all, Pestily is running a 3 PC giveaway as part of his 30-day milestone. This is certainly something you don't want to miss out on.
3 PC Giveaway today when we hit 30 days streamed!

Lets gooooooooo

@ https://t.co/ufsHrgCCtHpic.twitter.com/7tov9e4nsa

— Pestily (@Pestily) July 29, 2021
Be sure to tune into Pestily's stream to get a crack of the action. We've linked to his channel below for your viewing convenience.
Don't forget to check out our dedicated Twitch section for news, streamer antics, drama, and more.
Header image via Pestily / Twitch.