Twitch megastar Imane "Pokimane" Anys, or as we like to call her, the "Queen of Twitch" is one of the most successful content creators on the Amazon-owned streaming platform, beloved by fans across the globe. There has, however, been some issues as of late, and shortly following the JiDion hate raid drama's apparent conclusion, Pokimane teased a "new chapter" in her career.
Since the tease, Twitch appeared to have accidentally leaked that Pokimane would likely be staying on their platform via Gameplan. On 8th February 2022, Pokimane officially confirmed the news that she would be staying on Twitch, and announced a Tesla giveaway to celebrate.
Pokimane Tesla giveaway announced
There was speculation prior to the announcement about Pokimane's "new chapter", with some thinking she would move to YouTube or even Facebook gaming as her previous contract expired.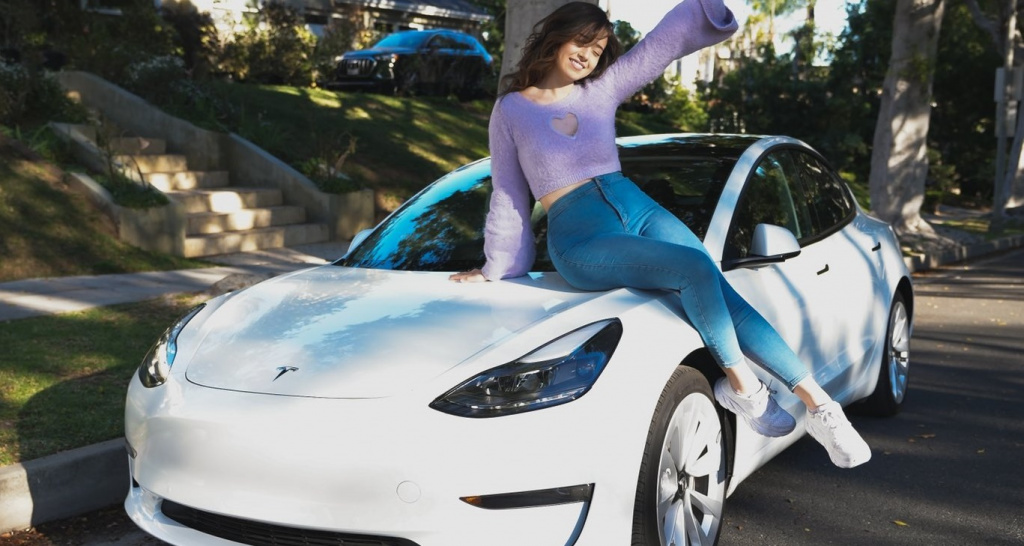 Pokimane, however, has now confirmed that she is staying with the purple team in the best possible way.
Instead of just announcing her stay with Twitch, Pokimane went the extra mile, with a purple shirt and all, sitting on a Tesla.
Yes, in a recent Tweet from Pokimane, she announced a Tesla giveaway, and the response from fans on Twitter has been overwhelmingly positive.
Pokimane announces: "About that platform announcement... instead of choosing between a red or purple car, I'M GIVING ONE AWAY."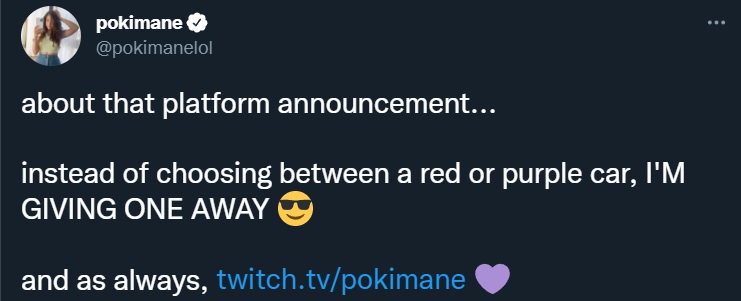 So how do you enter Pokimane's Tesla giveaway? Well, at the time of writing, details on this very generous giveaway have not been confirmed. 
Pokimane did note that: "Giveaway details will be posted in the next few days!! ty guys for your support, it makes me forever want to give back."
Since the announcement of her stay on Twitch, Imane has completed one stream, the first in nine days, to the joy of her 8.9 million followers.
We will endeavour to update our readers once more information about the Tesla giveaway from Pokimane becomes available. The queen of Twitch did note that giveaway details will be posted in the "next few days" which means we should have more information before 14th February 2022.
Want more Twitch news? Then check out our dedicated Twitch section where we follow all the biggest streamers, drama and much more.
Featured image courtesy of Pokimane.