It's no easy task smashing the 31-day subathon of Ludwig Ahgren, who ended up overtaking Ninja in having the most subscriptions on Twitch, ever. Well, that's not the case for Starcraft caster and Twitch streamer, Jared "PiG'' Krensel, who later went on to smash Ludwig's record subathon. 
PiG shaves his head to celebrate landslide victory
To celebrate his victory, PiG ended up shaving all of his hair on stream. To put the cherry on top, his newly shaven hair will soon be up for purchase. You can watch the moment his luscious locks were removed, in the clip below. We're not sure if this look suits him though. What do you think?
Check out PiG's Twitch channel here.
He has since painted a blue arrow on top of his head and now looks like the kid in The Last Airbender.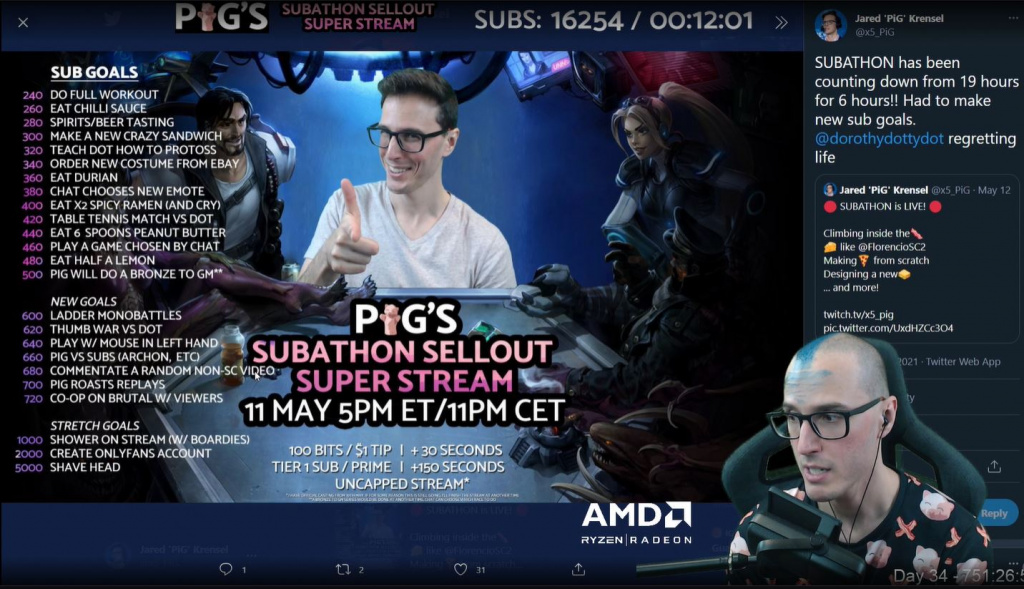 (Picture: Twitch / x5_PiG)
How long is PiG's subathon been going on?
PiG began the subathon at 7am AEST on 12th May and has, to date, streamed consecutively for 34 days. At the time of writing, he has amassed over 750 streaming hours from the subathon alone; equal to an entire month of non-stop streaming.
Better still - it doesn't seem as though PiG has any intention of stopping. Appropriately titled "PiG's Subathon Sellout Super Stream", viewers can extend the duration of the subathon by tipping or subbing to his channel. 
100 BITS or $1 tip - extends stream by 30 seconds
500 BITS or $5 tip or Tier 1 subscription (or resub) - extends stream by 75 seconds
Likewise, each additional subscription contributes toward sub goal achievements, which included PiG shaving his hair (and is soon to be for sale) at the initially set sub goal of 12,750 subs. Currently, PiG has acquired 16,222 new subscriptions, which places him above notable streamers, such as Asmongold and Pokimane.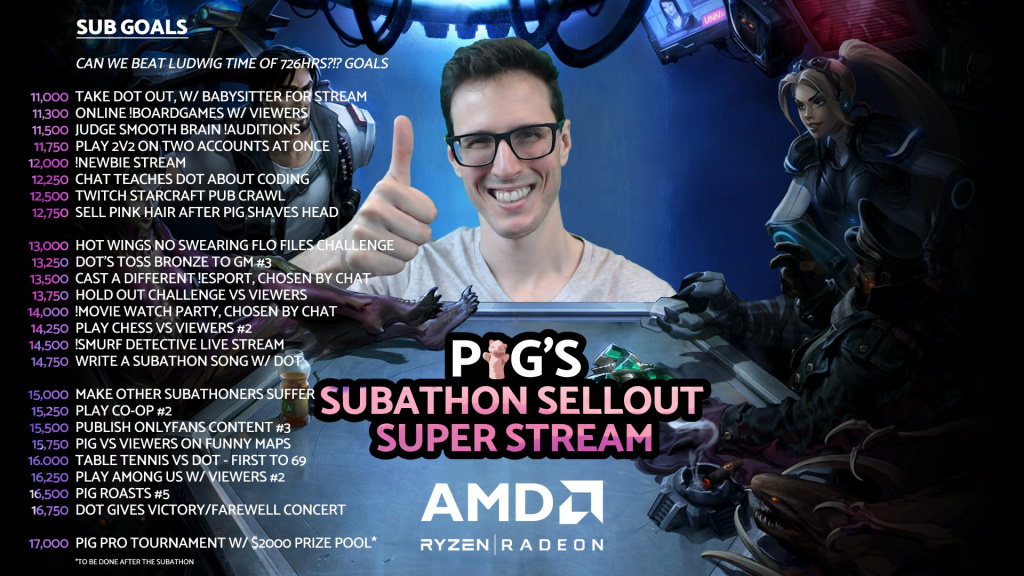 (Picture: Twitch / Jared "PiG" Krensel)
When will PiG's Twitch subathon end?
It's also apparent that viewers want him to continue, as the timer appears to increase seemingly endlessly. At 17,000 subscriptions, PiG will host a pro tournament (presumably Starcraft 2) with a $2000 prize pool, after the subathon has concluded.
We're not sure how much longer PiG can keep this going, but he has surely inspired other streamers to follow suit. Recently, Felix "xQc" Lengyel, has announced that he would be doing a 60-day subathon of his own. We don't currently have any further details on when the subathon will occur but will endeavour to update you as more developments are made.
Do you want more news and updates about your favourite Twitch streamers? Well, you're in luck because we have an entire section on the GINX website, which is available right here.
Header image credit: PiG Facebook