Twitch icons Imane "Pokimane" Anys and Hasan "Hasanabi" Piker have slammed streaming software giant Streamlabs over their debacle with competitor Lightstream and open-source software company Open Broadcast Software (OBS). The Twitch stars threatened they would never use the service again unless Streamlabs immediately ameliorated the matter with OBS.
According to sources, Streamlabs reportedly copied the informational section on the Lightstream website nearly verbatim and, in a separate matter, trademarked their software SLOBS after OBS explicitly requested them not to do so.
Streamlabs slammed after trademarking SLOBS
In a Twitter post on 17th November, Lightstream inadvertently claimed that Streamlabs copied their website, to which Streamlabs replied and acknowledged their mistake, calling it "placeholder text."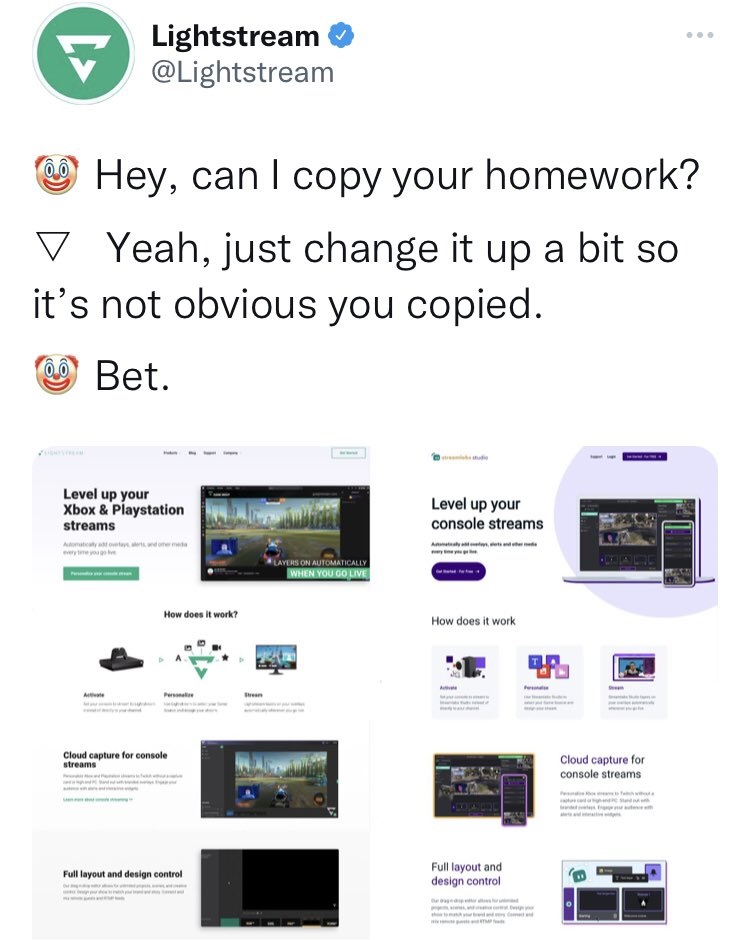 "We made a mistake. Text on the landing page was placeholder text that went into production by error. This is our fault. We removed the text as soon as we found out. Our intended version is now live," Streamlabs responded, noting that they have reached out directly to the Lightstream team to apologise.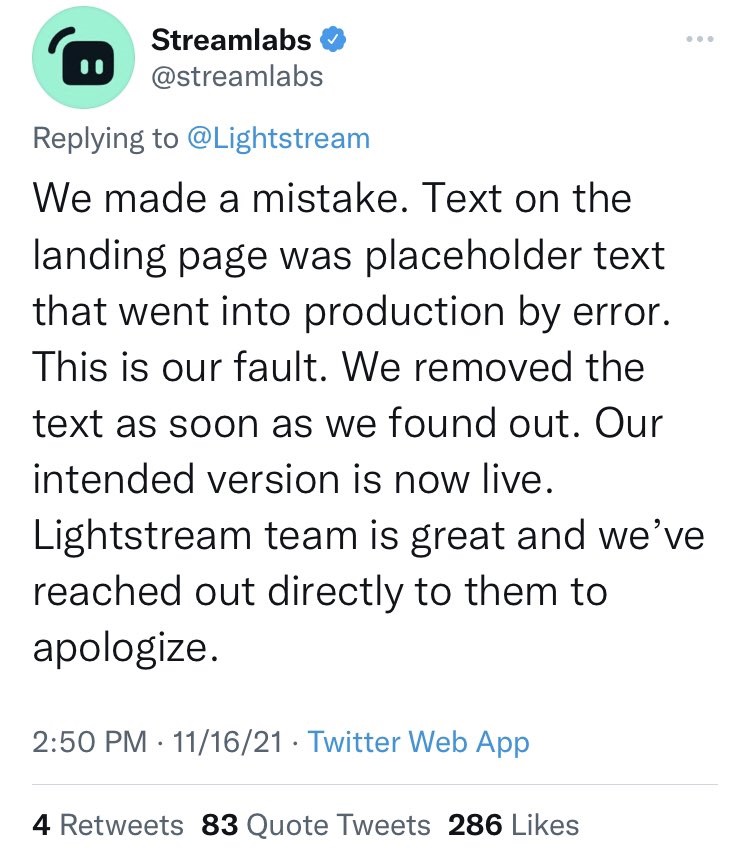 Followingly, open-source company OBS revealed that they initially rejected Streamlabs request to use the OBS name in their streaming software product SLOBS (Streamlabs OBS), but Streamlabs proceeded to do so anyway.
In a statement, OBS said: "Near the launch of SLOBS, Streamlabs reach out to us about using the OBS name. We kindly asked them not to. They did so anyway and followed up by filing a trademark." OBS continued to explain that they attempted to resolve the matter privately, but Streamlabs were "uncooperative at every turn."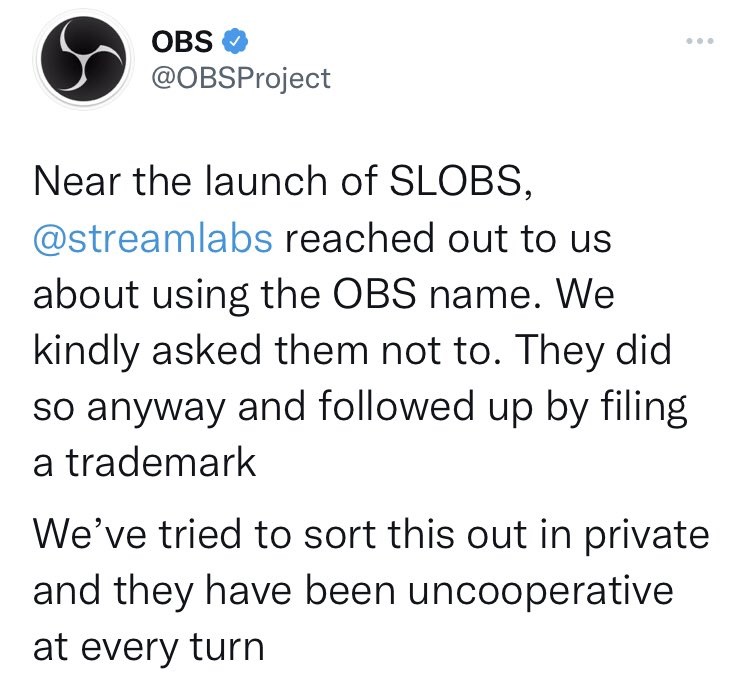 Followingly, the OBS team noted that they often face confused users and companies that do not understand the difference between SLOBS and OBS. "Support volunteers are sometimes met with angry users demanding refunds. We've had interactions with several companies who did not realise our apps were separate," the company tweeted.
"Legally [Streamlabs] have obeyed the terms of the GPL, but they have repeatedly disregarded the spirit of open source and of giving back," the company added.
OBS concluded by saying that despite Streamlab's actions, "the OBS Project will continue to provide free, open software and tools for everybody" and that they will continue to support the community for their hard work.
Many people on Twitter indicated that they were under the impression that "SLOBS was a collaborative effort" between the two companies, citing confusion from the product's misleading name. Other people have hit back at Streamlabs, vowing not to use Streamlabs any longer, including popular Twitch streamers Pokimane and Hasanabi.
Pokimane and Hasanabi threatened never to use Streamlabs again
After the matters gained traction on social media, Twitch streamers Pokimane and Hasanabi condemned Streamlabs actions. "I will never use Streamlabs again if they don't immediately resolve this matter," Hasanabi said in a Twitter post.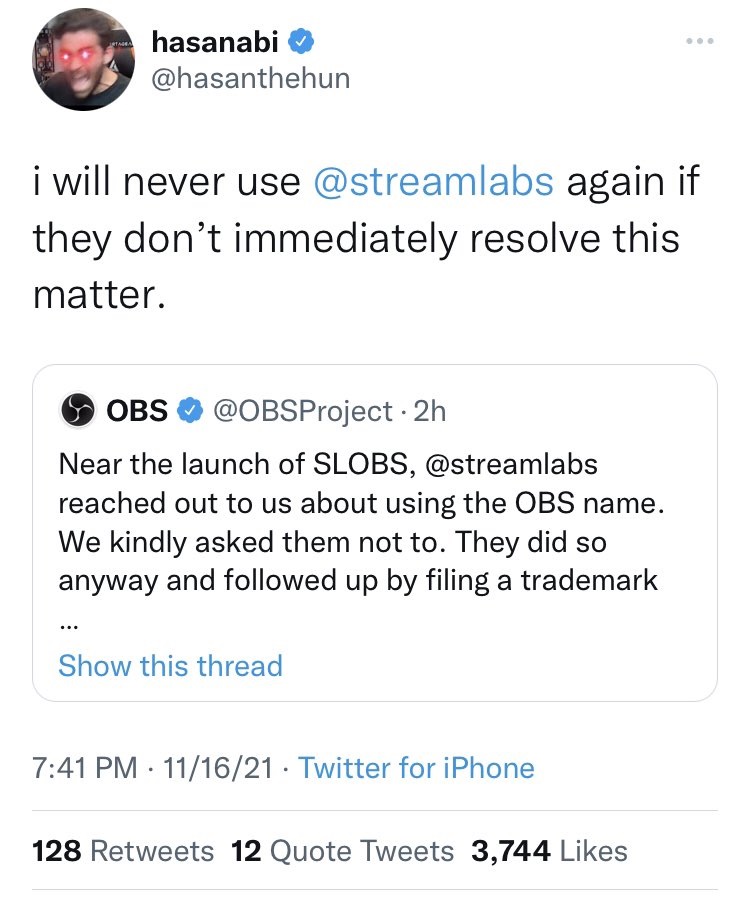 Pokimane reciprocated this by threatening to rescind her deal with Streamlabs if they didn't resolve the matter. "Streamlabs better resolve this entire thread of issues, or I'll be asking them to take my face off the platform [and] look to use another donation service," she said.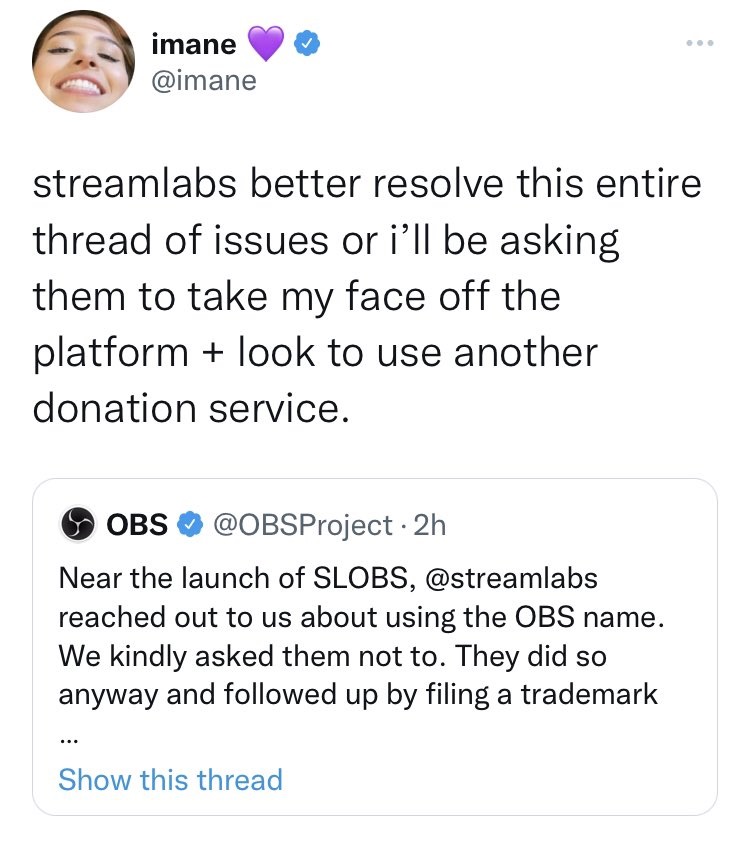 Indeed, Streamlab's business practices sound sketchy at best, and while they are not legally in the wrong, I concur that their actions do not echo the "spirit of open source and of giving back."
Admittedly, I was also under the impression that OBS and Streamlabs had a mutual collaborative relationship, and I am gobsmacked to learn about what transpired.
Streamlabs has not issued any response to the mounting backlash at the time of writing. However, we will endeavour to provide an update on this developing story.
Don't forget to check out our dedicated Twitch section for the latest news, updates, streamer antics, drama and more.
Featured image courtesy of Twitch / Pokimane & Hasanabi.