Twitch streamer Alisha12287 has been banned recently from the streaming platform under unexplained circumstances.
And while she's a not a huge streamer, she still has a decent fanbase, with around 132,000 followers at the time of her ban.
She is mostly known as a RuneScape streamer, which she streams almost exclusively.
Out of the RuneScape community and her fan base, her ban would have gone mostly unnoticed, if it wasn't for tonight's serious claims brought out by another, much bigger Twitch streamer, Destiny.
While he was streaming StarCraft 2 on Friday evening, at one point he asked his viewers if they remember what Alisha did a while ago.
"Do you guys know that stream Alisha did a while ago, about that kitty mill, on Twitch," Destiny says, after which his friend he was talking with confirms that he remembers that stream.
He then claims that the kitty mill was the reason for her being banned from Twitch and that they were directly involved in that.
"Apparently, their lawyers sent Twitch a letter and got her fucking banned," he claims in the video.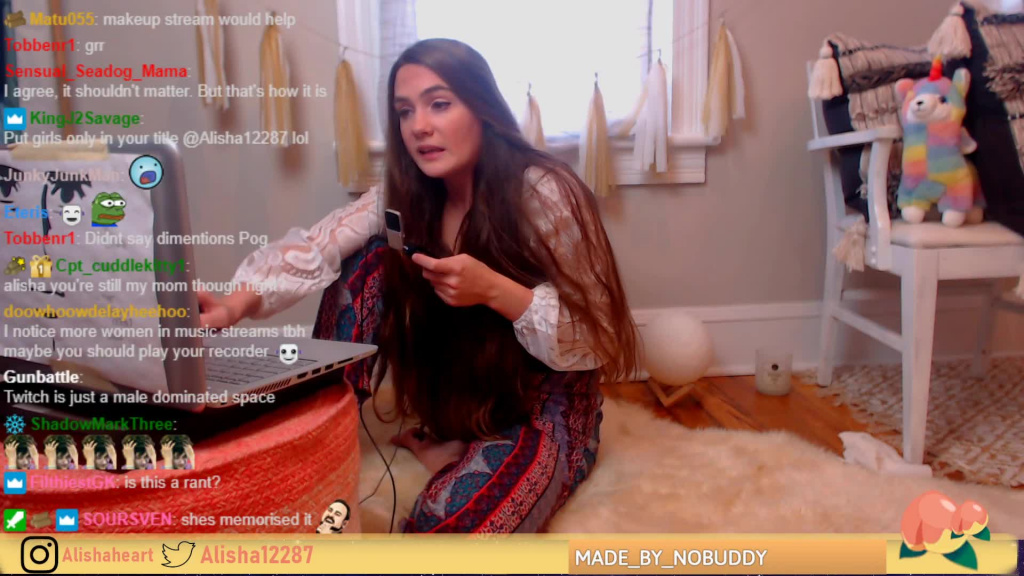 (Picture: Alisha12287)
"A kitten mill is a breeding location where purebred cats and kittens are living in tight conditions, share space with too many cats, go without medical attention and often live in their own waste", says Petful, an organisation founded by Pulitzer Prize-winning journalist and editor Dave Baker, which is focused on saving pets' lives and educating people about pets.
The stream where Alisha12287 talks about the cat breeding mill has been deleted, but a mirror can be seen below.
In the video, Alisha12287 lists some of the accusations against the mill: "Ringworm, flea infestation, a kitten died in my arms, my cat has genetic disorders which are due to bad breeding habits." 
If accusations are true, then the situation is very serious, both for Twitch and the cat breeding mill she talks about.
In just a few hours Reddit thread about Destiny's claims absolutely exploded, with more than 38K upvotes at the time of writing.
People are shocked and disgusted with Twitch's actions and they can not believe that they did this.
"Twitch over the years have shown to have no backbone, spineless freaks whoever deals with these type of situations," says Tyr46.
A few hours ago Alisha quoted a Tweet where Adorable Stars, apparently the cat breeding mill she was talking about, is asking her to check her mail, on which she responds with a plea not to harass her anymore.
Please stop harassing me @Twitchhttps://t.co/KIOGUwt6yy

— Alisha12287 (@Alisha12287) October 16, 2020
While some fans are baffled that breeding mill's lawyers can be more powerful than Twitch, others think that it's simply because it's financially unviable for them to go to court and it is easier and simpler for them to just ban a streamer from the platform, but they probably didn't account for the backlash that is currently occurring.
At the time of writing this article, Twitch remains silent to these accusations.