We have said this before and we'll say it again: we all know "big time" Twitch streamers and YouTubers make bank. But it's always surprising when we find out exactly how much money it actually is. Last month, we revealed that the sponsorship earnings of Twitch streamer, Adin Ross, were in the millions of dollars after he leaked his Discord DMs live to his chat.
It would, however, seem that not everybody got the memo. American Twitch streamer, Brandon "Atrioc" Ewing, recently followed suit and leaked his own YouTube revenue during his live stream.
Atrioc leaks YouTube revenue on stream
Atrioc, for those who don't know, is an American-born YouTuber and Twitch streamer popularly known for his collaborative League of Legends and Hitman gaming content. He also frequently in the "Just Chatting" category on Twitch, where he talks about various topics. 
On the 30th of June 2021, Atrioc inadvertently revealed a bit more than he would have liked, when he mistakenly leaked his earnings from the YouTube Studio Dashboard live on stream.
From the clip, we can see under the "Channel Analytics" section, that over the last 28 days, Atrioc amassed around 3.7 million views and more than 627,000 hours watched. This totalled revenue earnings of $18,728.57 for the month.
This is an impressive figure on YouTube, considering that Atrioc's YouTube channel only has about 123,000 subscribers.
In fact, his actual earnings are substantially higher than his SocialBlade earning projections of between $1,000 to $16,000 per month. We can't even begin to imagine how much "top dogs" like PewDiePie and Dr. Disrespect must be earning.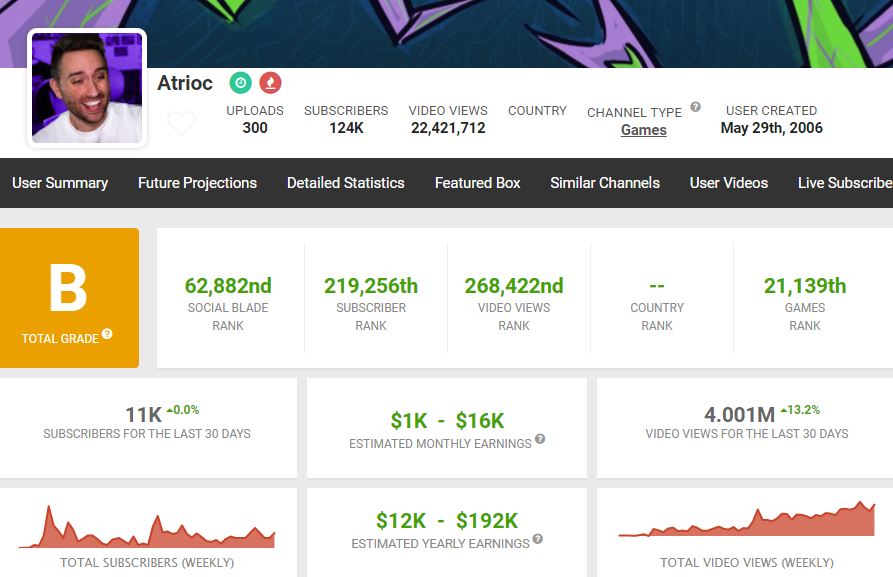 Doing the math on this, we can guess that Atrioc earns approximately $5 per every 1000 views. This may not seem like much, but considering that his most recent videos topped between 16,000 and 73,000 views, we can infer that each video raked in an easy $222. 
It's clear that his content is well received, as he mentions his most recent video upload (of 180 views in the first 2 minutes) was "low" and that it's "usually a little higher than that". To top it off, Atrioc has around 4,689 active subs on Twitch at present with around 124,000 followers. In addition to his lucrative YouTube earnings, we can assume that he is making some serious bank from both platforms.
Indeed, it is no surprise and we really shouldn't be shocked. But man, that's some serious coin bro. At the end of the day, influencers work extremely hard to build their channels to such levels and they deserve all the rewards for doing so.
GGWP Atrioc!
Don't forget to check out our dedicated Twitch section for news, streamer antics, drama, and more.
Header image via Twitch / Atrioc