William "Willneff" Neff, a variety streamer with more than 78,000 followers on Twitch, has claimed that Saturday Night Live stole his sketch and lied about it. 
It all started when he applied to join the show, and his application included a sketch that he wrote and performed. His application was ultimately unsuccessful, but he claims they enjoyed his sketch to the point where they stole it and used it on their show.
"You showed my sketch after you, like, turned me down," he said, reenacting a conversation with a producer from the show. Apparently, the producer played it down, saying, "Oh, are those sketches similar?"
"Dude, they're the same sketch," insisted Willneff. "And I'll never forget his uhh, his response." The real kick in the guts happened when the producer responded by saying, "I guess great minds think alike."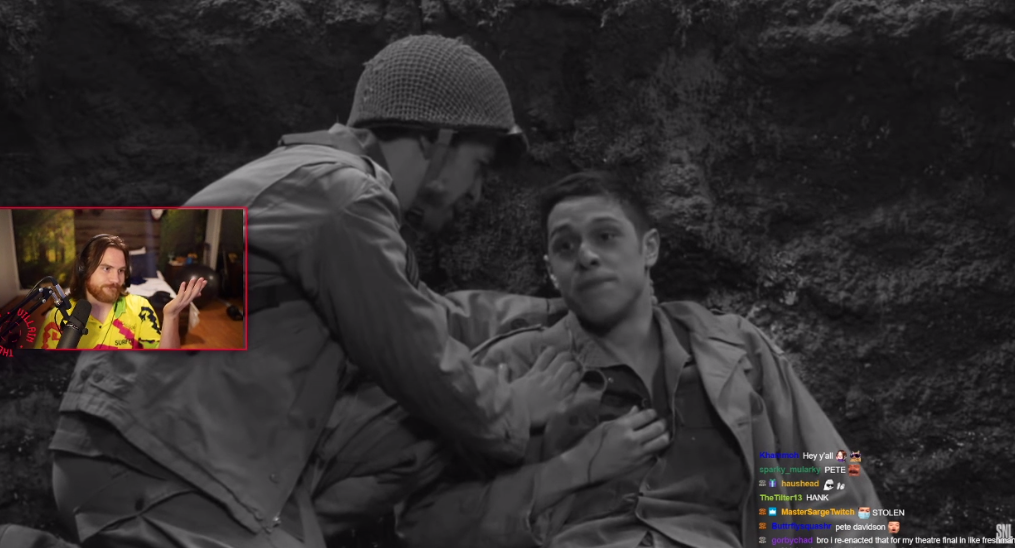 Not entirely sure who to credit for this image...(Picture: WillNeff)
"I guess they do, dude. I guess they do," said Wilneff. He opened up about it further to his fans, telling them what he wishes he said. "Even though I know you watched the sketch. Like, I know you guys watched the sketch when I applied. It was a part of my application."
The sketch revolved around a wounded soldier making a series of funny and bizarre requests to his sergeant, which included telling recovering a "toy for the butt" from a box in his garage, as well as forgiving his grandma for supporting a rival baseball team.
"Yeah, I mean, so they literally, they literally stole this," said Willneff, while watching the sketch. "This is literally like, verbatim, my and Joe's sketch."
Will Neff's content revolves around comedy, which is made apparent in the about me section of his Twitch channel. It reads: "If I don't make you laugh that's on you, don't put your baggage on me." 
He's made countless comedy skits and sketches throughout the years. Some of them have even included collaborations with other popular streamers like Hasan "HasanAbi" Piker.
Plagiarism is a serious issue but it's not the first time SNL has been accused of stealing sketches. 
In 2014, the show came under fire for allegedly stealing an idea for the Tina Turner "River Sisters" sketch. It happened again in 2017 when they allegedly stole the "Birthday Clown" sketch from a short-film titled "Clown Service." There are many other examples, too.
Willneff is certainly in no doubt about SNL's guilt, but whether anyone outside the comedy community really cares is another matter - it's a well-known fact that comics mostly get their jokes second hand from taxi drivers, so the idea that SNL falls on their sword for this one is highly unlikely.