Dimitri "Greekgodx" Antonatos (otherwise known as "Greek") is a popular influencer with over 1.4 million followers on Twitch. Greek is a variety streamer and is best known for his Rust and Call of Duty content, but also streams other titles like Grand Theft Auto and Valorant as well. He is also popular for his IRL streams and commentary in the "Just Chatting" category on Twitch.
Greek was previously a hot topic late last year after he was served his second ban from the streaming platform, arguably owing to a slew of DMCA takedowns and from his overall toxic behaviour. It would seem that the toxicity has caught up to him as the Twitch star recently revealed that he has been hospitalized.
Greek reveals he has been hospitalized via Twitter
Greek first revealed that he was "not feeling very well" on the 3rd of July. In the tweet he posted, he mentioned that it was "nothing bad" and that he was "just out of juice", adding that "even gods get sick apparently".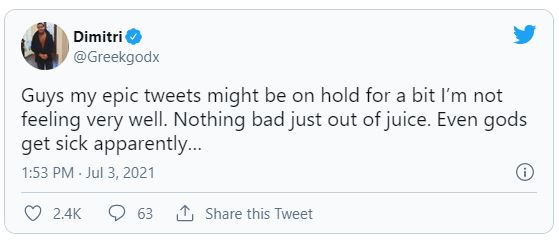 This would seem to have escalated in severity as the Twitch star recently tweeted at 9:25 PM BST on the 5th of July that he had been hospitalized as a result of him falling ill.
Fortunately, the Twitch star also announced that he was "feeling better", which is good news. He also added that "every time [he is] sick it just reminds [him of] how important health is" and we couldn't agree more. 
Me last night. I'm feeling better now. Every time I'm sick it just reminds me how important health is stay safe 🙏and look after yourself pic.twitter.com/BvVc5txxM9

— Dimitri (@Greekgodx) July 5, 2021
In the tweet, we can see Greek lying in a hospital bed attached to a drip. He does not appear to look all that well and his condition appears to be quite serious. We're happy to hear that he is feeling better but can't imagine what illness pushed him to the point of hospitalization.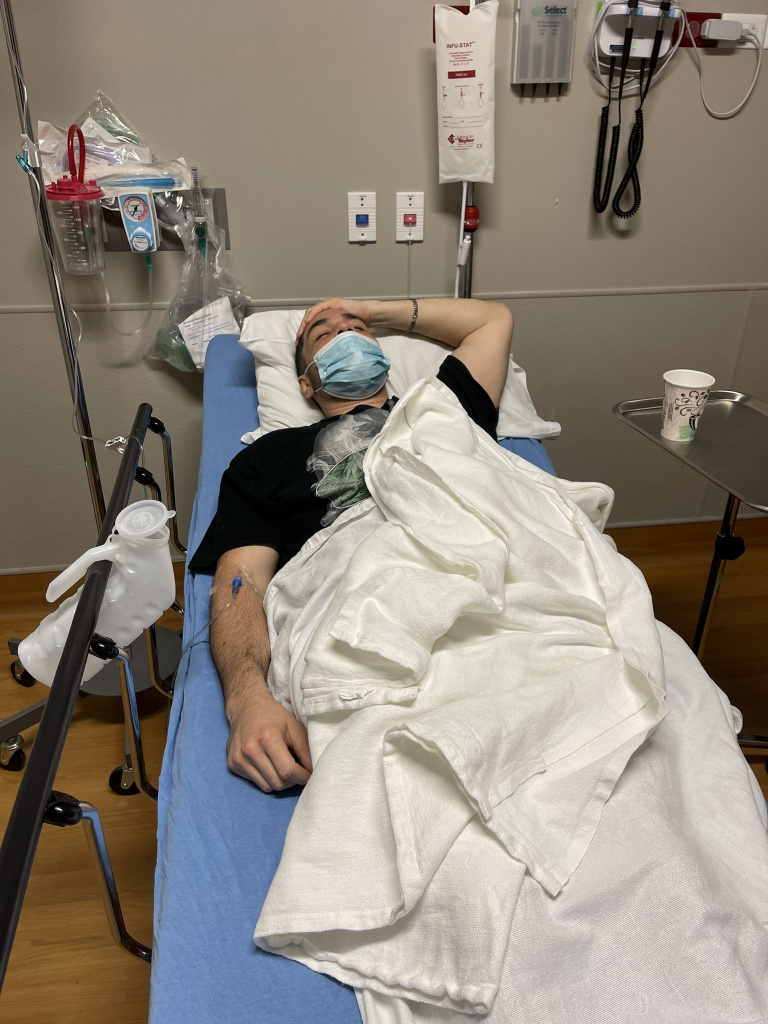 Greek did not reveal the reason for his hospitalization, so we can only guess at this point. Some fans speculate that he may have the coronavirus, although this is pure speculation. Another fan jokingly indicated that he may have caught "ligma", which of course is a hoax meme popularized by Ninja.
We certainly hope that Greek will make a hasty recovery and wish him the very best as he fights whatever illness he may have caught. Fans have since sent their well-wishes and anticipate his return to Twitch once he has started to feel better.
Don't forget to check out our dedicated Twitch section for news, streamer antics, drama, and more.
Header image via Twitch / Greekgodx