Twitch has policies in place to protect viewers, especially younger users who might get exposed to adult content. However, this doesn't stop some raunchy content from sometimes appearing, with a prime example being the MissBehavin incident. Now, Twitch streamer Indiefoxx has been banned for the second time in less than a week, this time for writing subscriber names on her body.
Indiefoxx gets another Twitch ban for her content
Indiefoxx received her first Twitch ban on 28th January 2021, following a stream where she might have broken Twitch's nudity rules due to what some believe to be a see-through outfit in a jacuzzi.
Indiefoxx believed this ban to be in error and accused fellow streamer JakeNBake of being responsible for her ban after showcasing a clip of the incident. She also showed the swimsuit in question in a video on Twitter, revealing it was in fact not see-through.
Her first ban lasted three days, and just after coming back, she got handed a second ban on 1st February at roughly 19:00 GMT.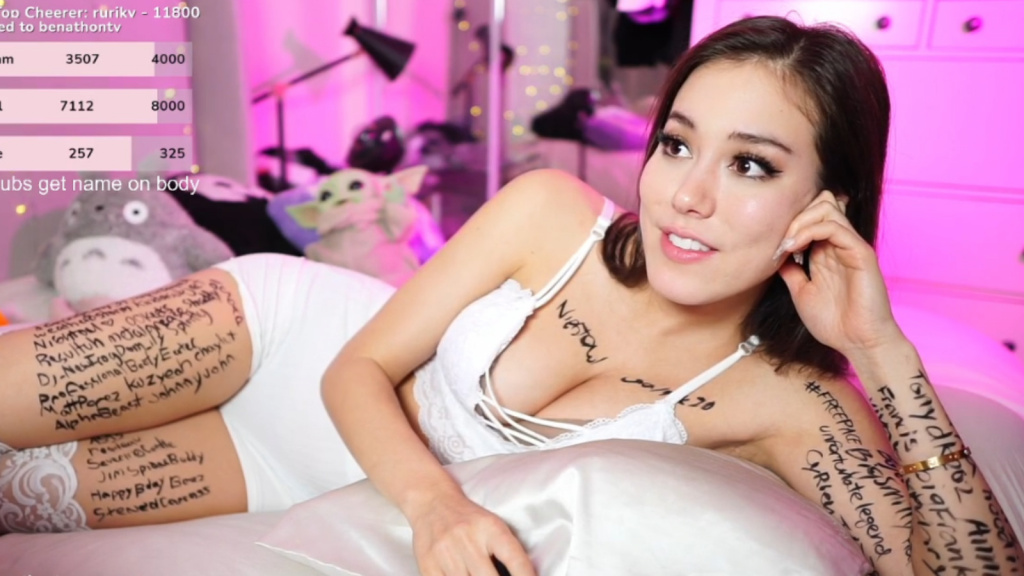 In what must be one of the fastest re-bans ever, Indiefoxx was writing the names of her subscribers on her body, while lying on a bed wearing lingerie.
Her legs and left arm were already covered in subscriber names when she decided to write names of subscribers on her chest.
This clip has since been removed Twitch, and the LiveStreamFails post on Reddit which blew up earlier today also got locked. 
Indiefoxx took to Twitter, claiming she is being harassed by people, questioning how the LiveStreamFails subreddit is even allowed to exist.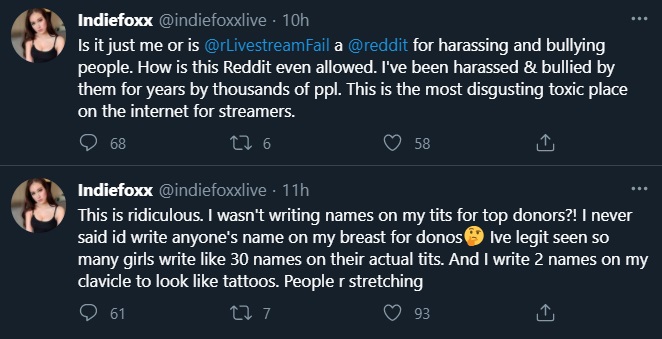 (Picture: Twitter)
According to Twitch's policy on nudity, explicit gestures directed towards breasts are not allowed.
Online harassment and bullying are never, ever, justified. Indiefoxx's content could arguably be considered on the raunchy/adult side but it doesn't appear to be explicit.
Keep in mind underaged children could stumble upon such a stream, and not know exactly what they are seeing, or how to process a situation such as this.
At the time of writing, it is unclear how long Indiefoxx's second ban will last. On the LiveStreamFails post, a member said: "She's a speedrunner. She's going for fastest ban world record Any%".