Most people would think that their dad bombing their stream would be the cringiest thing ever. But not KTbop (or KT), who embraced the moment by inviting her dad to meet her Twitch fans. In what can only be described as "wholesome", her dad (without any hesitation) began to sing upon her request, live on stream.
KTbop is a self-taught artist and Twitch streamer with 9,059 followers and about 157,079 views to date. Her channel covers mostly art content (duh), as she streams herself doing oil paintings; but also some graphite and ink drawings, for her fans. Having only started streaming in early 2017, KT is steadily growing in popularity.
KTbop shares wholesome Twitch moment with her dad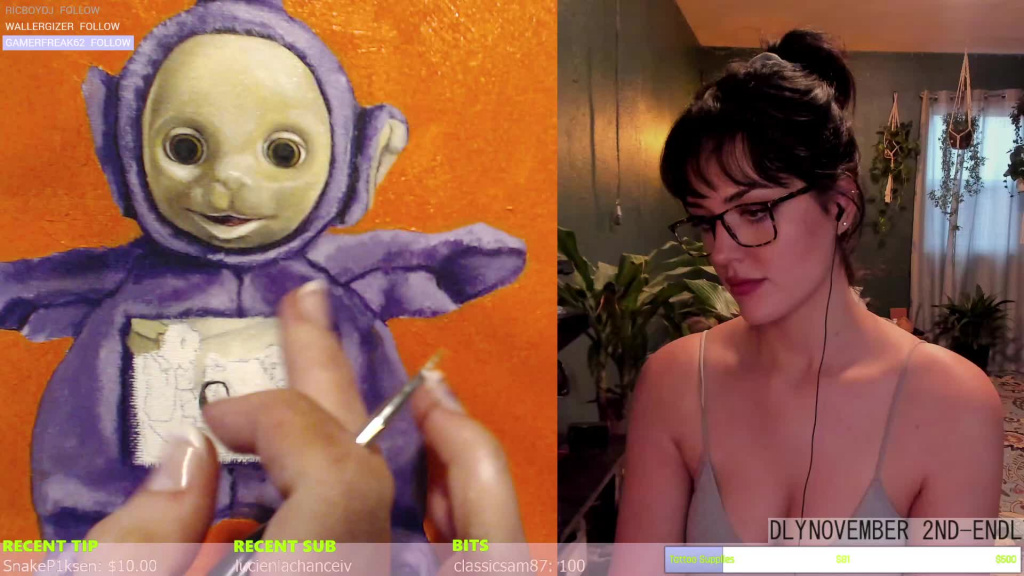 (Picture: Twitch / KTbop)
In a clip uploaded to r/livestreamfails, we can see that KT and her pops share a great bond. After having her dogs intrude on her stream, her dad came in to shush them up.
She then proceeded to invite her dad to meet her online friends in the chat. KT then suggested that her dad sing a song, which he proceeded to do willingly, for thousands of viewers to later see.
Singing, "goodbye Joe me gotta go me oh my oh; me gotta go --- pirogue down the bayou", it appears that her dad was serenading the song "Jambalaya on the Bayou" by Hank Williams. In all fairness, he did a great job with it, too!
Most streamers would have chased their dad off their stream, but not KT, who ended off saying,  "Beautiful! I love you dad", as he took his leave.
(Picture: Twitch / KTbop)
Who is Twitch streamer KTbop?
KT is an amazingly talented artist. So if chilled art content is your thing, then be sure to tune in to her streams. She also sells her original pieces via her website and is a singer in a band called "Carface", with her brother and sister. We've linked to a few of her social platforms, down below.
While there's a whole lot of drama on Twitch, it's great to see there can still be wholesome moments as well.
Do you want more Twitch news and updates? Well, you're in luck because we have an entire section on the GINX website, which is available right here.