Streaming platform Twitch continues with measures against people who are using ad blockers on their platform.
It all started in September when Twitch introduced new mid-roll ads, and soon after the infamous  "unblockable" ads started to appear.
Nonetheless, Twitch users managed to find solutions for these new measures, and now even these supposedly unblockable ads can be blocked with regular ad blockers.
Still, Twitch is not giving up on their advertising revenue, and they are actively working on new ways to get rid of ad blockers.
In November, they started restricting ad blockers to lower stream resolutions, and now they are introducing new still images that will replace the stream when you are watching it with an ad blocker.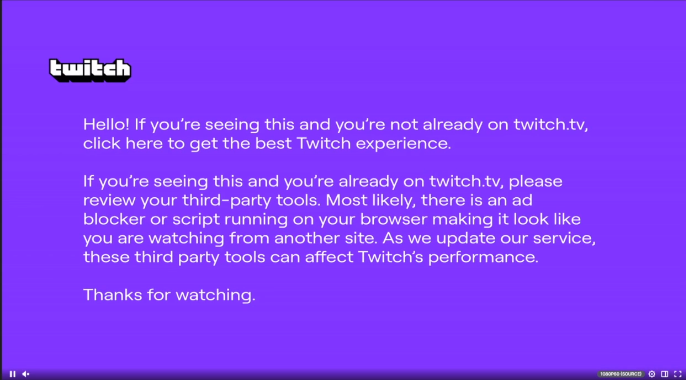 Viewers are already calling it "the purple screen of death"(Picture: Twitch)
"If you are seeing this and you're already on twitch.tv, please review your third-party tools," the message reads. "Most likely, there is an ad blocker or script running on your browser making it look like you are watching from another site. As we update our service, this third party tool can affect Twitch's performance."
Some Twitch users are reporting that the image shows up only when normally there would be an ad running, while others say that the image appears randomly and quite often, and it will stay for around ~15 seconds before it disappears.
How to remove Twitch ad blocker message?
The message will appear either when you are using ad blockers or when you are using scripts that will allow you to watch Twitch through other websites.
Currently, there is no clear workaround for this.
Some users are reporting that TTV adEraser might do the trick, but others are saying that it doesn't help them and that the message still appears even after they have installed iTTV adEraser.
Other users are recommending Streamlink and Streamlink-GUI as a great solution for this, but those have some other issues, like stream dropouts and desynchronization.